This is a sea-change in New Zealand's housing markets.  New Zealand's prices haven't risen at all in real terms over the past year, after inflation is factored in.  Instead, they declined by 0.73% during the year to September 2017 (though in nominal terms the nationwide median house price rose by 1.2%, to NZ$ 525,000 (US$ 362,932). 

During the latest quarter, house prices fell by 0.76% (-1.24% inflation-adjusted).

What a change!  Last year, house prices were rising at breakneck speed, surging 13.91% (+12.41% inflation-adjusted). In 2015 and house prices rose by 11.15% (+11.06% inflation-adjusted), according to the Real Estate Institute of New Zealand (REINZ).

Why the reversal?  Mortgage interest rates are inching up. A ban on buying by non-resident foreigners is imminent. Days-on-market are rising.  And, frankly, house prices have become very high - especially in Auckland.

(But are prices "too high" in Auckland?  Maybe not - read on below).

Auckland has average prices of NZ$ 845,000 (US$ 604,513) - the country's most expensive - followed by Bay of Plenty, with an average price of NZ$ 547,500 (US$ 391,682), and Wellington, with an average price of NZ$ 531,000 (US$ 379,878).

Auckland saw no price movement from the previous year, while house prices declined in the West Coast (-15.6%) and Canterbury (-3.2%).

The highest price increase was recorded in Hawke's Bay, with prices surging by 18.3% during the year to Q3 2017. Double digit house price hikes were also observed in Gisborne (14.9%), Northland (14.4%), Wellington (10.6%), and Southland (10%).

Modest to minimal house price increases were seen in Manawatu/Wanganui (8.4%), Bay of Plenty (7.9%), Otago (6%), Nelson/Marlborough/Tasman (4.9%), Waikato (4.7%), and Taranaki (4%).

The cheapest housing can be found in West Coast, with an average price of NZ$ 208,500 (US$ 149,161), followed by Southland (NZ$ 220,000 or US$ 157,388), Gisborne (NZ$ 270,000 or US$ 193,158), and Manawatu/Wanganui (NZ$ 271,000 or US$ 193,873).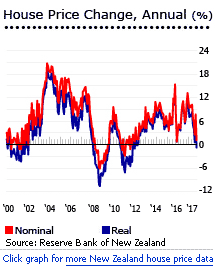 "House price inflation has moderated due to loan-to-value ratio restrictions, affordability constraints, reduced foreign demand, and a tightening in credit conditions. Low house price inflation is expected to continue, reinforced by new government policies on housing," according to Reserve Bank of New Zealand (RBNZ) Governor Grant Spencer.

New Zealand saw spectacular house price rises of about 114% (82.6% inflation-adjusted) from 2001 to 2007. Then after a pause, there were five further years of substantial price rises 2012-2016. Because of this, housing in New Zealand has become really expensive, for a country with such a small population relative to its landmass.


Analysis of New Zealand Residential Property Market »