Australia's house price rises accelerating
November 03, 2017

After five years of strong house price rises, Australia's housing market is still powering ahead. House prices in the country's eight major cities rose by 11.1% during the year to end-Q2 2017 (8.98% inflation-adjusted), a sharp acceleration from an annual rise of 4.65% a year earlier, based on figures from the Australian Bureau of Statistics (ABS).

Quarter-on-quarter, house prices increased 1.9% (1.72% inflation-adjusted) in Q2 2017.

Melbourne saw the biggest increase, with the established house price index surging by 16% (13.8% inflation-adjusted) during the year to Q2 2017, followed by Sydney (14.8%), Hobart (12.2%), Canberra (9%), Adelaide (5.1%), and Brisbane (3.9%). On the other hand, house prices dropped in Darwin (-4.7%) and Perth (-2.8%) over the same period.

The mean price of residential dwellings in Australia was AU$679,100 (US$530,173) by end-Q2 2017, up 9% from the same period last year, according to the ABS.

New South Wales, especially Sydney, has the most expensive housing in the country, with the mean house price at AU$903,700 (US$705,880) in Q2 2017, about 33% above the national mean house price. In contrast, Tasmania has the cheapest housing in Australia, at a mean price of AU$360,400 (US$281,508) over the same period.

House prices in Australia surged 44.2% (30.9% inflation-adjusted) from 2011 to 2016. As such, many believe that Australia's housing market is severely overvalued.

Residential construction activity continues to increase. During the first seven months of 2017, construction of dwellings in the country rose both in number and in value, by 5.6% and 9.8%, respectively, according to the ABS.

However demand is mixed. During the first seven months of 2017, purchases of new dwellings increased 9.4% y-o-y to 19,400 units while the value of new dwelling purchases soared by 11.7% to almost AU$7.39 billion (US$5.77 billion), according to ABS. In contrast, purchases of established dwellings fell by 3.5% y-o-y to 313,216 units during the first seven months of 2017 while  the value of established dwelling purchases dropped slightly by 0.3% to AU$117.36 billion (US$91.61 billion).

In the second quarter of 2017, the total residential housing loans outstanding in the country rose by around 6.1% y-o-y to about AU$1.72 trillion (US$1.34 trillion), based on figures from the Reserve Bank of Australia (RBA).

"We believe the fast and sustained growth in credit and house prices will increase risks to fiscal accounts, real economic growth, and financial stability," said credit rating agency Standard and Poor's.

In an effort to cool the surging property prices and address building risks caused by high household debt, the Australian Prudential Regulation Authority (APRA), the country's regulator of the financial services industry, recentlyintroduced new limits to interest-only lending at 30% of new mortgages. Moreover, stamp duty charges for foreign homebuyers were also raised to slow foreign property demand.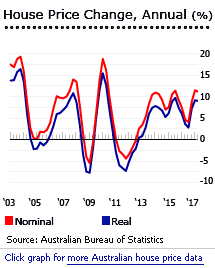 In the second quarter of 2017, Australia's economy grew by 1.8% from a year earlier, at par with the previous quarter's growth. The economy expanded by a modest 2.5% in 2016, after GDP growth of 2.4% in 2015, 2.7% in 2014, 2% in 2013, 3.6% in 2012, 2.7% in 2011, 2.3% in 2010 and 1.8% in 2009, according to the IMF. The RBA kept the official cash rate unchanged at a record low of 1.5% in September 2017, after cutting it by a cumulative 50 basis points last year, in an effort to stoke price growth and bolster the economy.

Acquisition of residential real estate by foreign nationals and corporations is subject to FIRB approval. Foreigners are not allowed to buy an established (previously occupied) house. They may buy an unoccupied new dwelling, but only if the FIRB feels that the purchase will not add to the shortage of properties available to native Australians.