U.S. house price rises continue to accelerate
February 12, 2018

After five years of strong house price growth, the U.S. housing market remains surprisingly vibrant. Demand remains robust, and residential construction activity continues to rise.

The S&P/Case-Shiller seasonally-adjusted national home price index rose by 6.21% during the year to November 2017 (3.91% inflation-adjusted), its strongest y-o-y growth since June 2014. This was supported by Federal Housing Finance Agency's seasonally-adjusted purchase-only U.S. house price index, which rose by 6.54% y-o-y in November 2017 (4.24% inflation-adjusted), a slight increase from y-o-y rises of 6.44% in November 2016 and 6% in November 2015.

All 20 major U.S. cities experienced relatively strong house price hikes, according to Standard and Poor's, with Seattle posting the highest increase of 12.71% during the year to November 2017, followed by Las Vegas (10.6%), San Francisco (9.04%), San Diego (7.45%), Los Angeles (7.02%), Tampa (7.02%), and Dallas (7.02%). Strong house price rises were also registered in Detroit (6.98%), Denver (6.94%), Portland (6.94%), Boston (6.26%), Charlotte (5.76%), New York (5.71%), Phoenix (5.54%), Minneapolis (5.41%), Atlanta (5.14%), Cleveland (4.13%), and Miami (4.06%).

Washington and Chicago saw the lowest growth in inflation-adjusted house prices at 3.28% and 3.59%, respectively.

The Mountain region had the highest house price increases of 8.9% y-o-y in November 2017, followed by the Pacific region (8.6%), South Atlantic (6.9%), East North Central (6.3%), West North Central (5.9%), and West South Central region (5.8%), according to the FHFA.

The average sales price of new homes sold in the U.S. rose by about 4.3% y-o-y in December 2017, to US$398,900, according to the U.S. Census Bureau. On the other hand, the median sales price of new homes sold increased by a more modest 2.6% to US$335,400 over the same period.

For existing homes, the median price was up 5.8% to US$246,800 in December 2017 from a year earlier, according to the National Association of Realtors (NAR). December's price increase marks the 70th consecutive month of year-over-year gains.

Demand continues to rise. Sales of new single-family houses rose by 8.4% to 608,000 units in 2017 from the previous year, according to the U.S. Census Bureau. Likewise, existing home sales were up by 1.1% to 5.51 million units in 2017, the highest level since 2006, according to NAR.

U.S. homebuilder sentiment surged to 74 in December 2017, up from 69 a year earlier and the highest level in more than 18 years, according to the National Association of Home Builders (NAHB)/Wells Fargo Housing Market Index (HMI). A reading of 50 is the midpoint between positive and negative sentiment.

Construction activity remains robust. In 2017, new housing starts rose by 2.4% y-o-y to 1,202,100 units, while completions were up 8.7% to 1,152,300 units, according to the U.S. Census Bureau. Building permits authorized for new housing units rose by 4.7% y-o-y to 1,263,400 units in 2017.

"With low unemployment rates, favorable demographics and a tight supply of existing home inventory, we can expect continued upward movement of the single-family construction sector next year," said NAHB Chief Economist Robert Dietz.

The U.S. housing market is expected to remain buoyant. NAR projects about 5% increase in the national median existing-home price this year. In addition, new home sales are forecast to increase to 700,000 units this year and existing home sales to rise to 5.7 million units.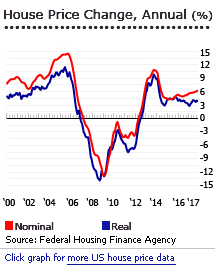 The U.S. economy grew by 2.3% in 2017, an acceleration from a 1.5% growth in 2016 but still short of the government's target growth of 3%, according to US Department of Commerce. The economic growth was mainly fuelled by strong consumer spending, which is supported by rising household wealth, the stock market rally, higher house prices, tax cuts, and wage growth. The International Monetary Fund (IMF) recently raised its growth forecast for the world's largest economy from 2.3% to 2.7%, after President Donald Trump signed a landmark tax law (known as the Tax Cuts and Jobs Act or TCJA) considered to be the largest overhaul of the U.S. tax code in over 30 years.

The new tax law includes a massive reduction in the corporate tax rate from 35% to 21%, in an effort to boost economic growth and stimulate business investment. However, the new law also includes provisions such as reduction of the mortgage interest deduction cap, increasing standard deduction, and the restriction of state and local tax deductions that may hurt the housing market.