Is Canada's amazing house price boom coming to an end?
February 14, 2018

Canada's housing market remains very strong, with house prices continue to accelerate. However, it is expected to slow this year, amidst the introduction of another set of market-cooling measures, on the backdrop of rising mortgage interest rates.

House prices in Canada's eleven major cities rose by 9.07% during 2017 (7.07% inflation-adjusted), after y-o-y rises of 12.34% in 2016, 6.19% in 2015, 4.95% in 2014, 3.81% in 2013, and 3.08% in 2012, based on figures from Teranet – National Bank of Canada.

During the latest quarter house prices actually declined 1.3% in Q4 2017 (-1.3% inflation-adjusted).

The central bank has taken action repeatedly–from raising mortgage downpayment requirements to reducing amortization periods–but house prices still spiral up as if nothing could stop them. The latest round, which became effective January 1, 2018, targets borrowers in the uninsured mortgage market.

Serious people who understand these things have been issuing dire warnings. The Canada Mortgage and Housing Corporation (CMHC) recently made clear that overvaluation and price acceleration were causing stresses in the housing market.

"While house price growth has slowed, house price levels remained high relative to underlying economic fundamentals such as income and population growth," said Dana Senagama of CMHC. "Therefore, we continue to find strong evidence of overvaluation."

According to the Canadian Real Estate Association (CREA):

Apartment prices, on average, posted the strongest year-on-year gains of 20.5% in December 2017.
Townhouses/row houses prices also increased by 13% in December 2017 from a year earlier.
The average price of a one-storey single family home rose by 5.5% during the year to December 2017.
The average price of a two-storey single family home rose by 4.5% over the same period.

The national average MLS home price stood at CA$600,300 (US$476,600) in December 2017, up 9.1% from the previous year, according to CREA. The figure is pushed up by strong house price rises in Greater Vancouver and Greater Toronto, Canada's most active and expensive housing markets.

House prices continue to rise in Canada's eleven major cities.

Vancouver's house prices recorded the biggest year-on-year rise of 15.97% during 2017, followed by Victoria (11.47%), Hamilton (11.28%), Toronto (9.02%) and Montreal (7.05%).
There were more modest house price increases in Ottawa (5.1%), Winnipeg (4.02%), and Halifax (3.59%).
Marginal house price increases were seen in Calgary (0.53%), Quebec (0.42%), and Edmonton (0.22%).

Canada escaped the major post-2008 collapse in house prices which took place in Europe and the U.S. But the situation looks worrying. House prices have risen almost continuously for 16 years:

From Q1 2000 to Q1 2009, house prices rose by 79% (49% inflation-adjusted), due to low interest rates and economic growth.
From Q2 2009 to Q3 2012, house prices increased by another 24% (17% inflation-adjusted), despite government efforts to cool the housing market.
From Q4 2012 to Q4 2015, tighter mortgage rules implemented in July 2012 helped calm the market, but house prices still rose by around 15.7% (10.8% inflation-adjusted).
From 2016 to 2017, house prices surged by 22.5% (18.5% inflation-adjusted).

However there are signs that demand may be slowing, after repeated moves to tighten mortgage lending. There were about 513,900 homes sold in 2017, down by 4% from a year earlier, according to CREA - but it is still the second highest level ever recorded. Ontario and British Columbia accounted for about two-thirds of total transactions.

"The national average price is forecast to edge down by 1.4% to CA$503,100 in 2018, in large part due to a record number of higher-priced home sales in and around Toronto in early 2017 that is not expected to be repeated in 2018," said CREA.

Home sales are also projected to decline by 5.3% to 486,600 units in 2018, according to CREA. Ontario is forecast to see the largest decline in sales in 2018 at 9.6%, followed by Price Edward Island (-7.4%), Manitoba (-3.9%), Saskatchewan (-3.8%), and British Columbia (-3.7%).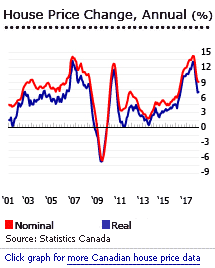 The Canadian economy grew by a healthy 3% in 2017, the highest growth since 2011, amidst strong growth in consumption and residential investment, as well as business investment, according to the Bank of Canada. The economy is expected to expand by 2.2% this year and by another 1.9% in 2019.

There are virtually no restrictions on foreigners buying properties in Canada.


Analysis of Canada Residential Property Market »
Canada: rental yields are good in Montreal
Rental returns on apartments in Montreal tend to outpace those in Toronto. We've found in recent years that even on a largish 120 sq. m. apartment in Montreal, you are likely to earn a gross rental return over of 5 %. If you own a small apartment of 60 sq. m. in Montreal and rent it out, you are likely to make a return of around 7%. In this low-return era, in a low-risk country such as Canada, that is a really acceptable, not to say enticing, yield.

In Toronto, gross rental yields are lower, at between 4% to 6%, sometimes even lower. Taking account of the fact that we give gross figures - a guess might be that net yields would be 2% lower - then obviously the difference in returns between Montreal and Toronto is really significant.

If you are looking for rental returns, Montreal is the city that you want.

We continue to find it hard to collect yields figures for Vancouver, and this year we have not managed to get sufficient figures for reliable figures for Montreal. For reasons too complex to explain here, that's because that strange habit, common in the Anglo-Saxon world, of classifying listings per number of rooms rather than by the size of the apartment, makes it really hard for us to present accurate yields figures.
Taxes are generally high
Rental Income: Gross rental income is subject to a fixed 25% tax, withheld by the tenant.

However, nonresidents can elect to pay under the section 216 of the Income Tax Act, wherein they will be liable to pay tax on their net income at progressive federal rates. Nonresidents electing under section 216 are also liable to pay 48% surtax.

Capital Gains: Only 50% of the capital gains are liable to tax. Capital gains are computed by deducting the costs incurred in selling and purchasing the property, capital expenditures, and such costs as additions and improvements in the property.

Inheritance: There is no inheritance or estate tax in Canada.

Residents: Canadian residents are subject to Canadian income tax on their worldwide income. Income is taxed at the federal level and at the provincial level.
Transaction costs are usually low
Total costs and taxes for buying properties amount to around 4.7% to 11% of the value of the property. Transfer Tax differs in each province, ranging from 0.5% to 2%. Typically, real estate agent's commission is 7% on the first CAD100,000(US$88,495) of the sale price and 3% on the remainder, plus 6% Goods and Services Tax (GST). Total roundtrip costs are higher for new and renovated houses because of the additional 6% GST.
Tenant protection laws are strong
Canadian tenancy institutions are pro-tenant.

Rent: The initial rent can be freely negotiated in all provinces, except in some provinces like Quebec, where initially negotiated rents can be appealed if they are higher than a rent charged by the same landlord for the same apartment within the previous 12 months.

Tenant Security: The contract cannot be terminated by the landlord within the duration of the fixed-term lease (usually one year), except for cause (e.g., tenant's non-payment of rent, tenant conducting illegal activity, and so on).

Subleasing needs a written permission from the landlord but this permission may not be unreasonably withheld. However, the landlord can insist on screening the prospective new tenants and may reject them on the basis of financial risk.
Strong economy, record-low unemployment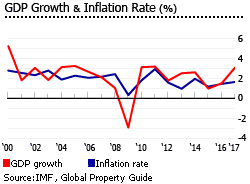 The Canadian economy grew by a healthy 3% in 2017, the highest growth since 2011, amidst strong growth in consumption and residential investment, as well as business investment, according to the Bank of Canada.
"Consumption and residential investment have been stronger than anticipated, reflecting strong employment growth," said Bank of Canada. "Business investment has been increasing at a solid pace, and investment intentions remain positive."
The economy is expected to grow by 2.2% this year and by another 1.9% in 2019, based on central bank estimates.
The government has increased spending on infrastructure, cut some taxes, and increased child benefits, among others.
The downside is that budget deficit is now swelling. During the 2016-17 fiscal year, the government ran a deficit of CA$17.8 billion (US$14.13 billion), sharply up from a deficit of just CA$1 billion (US$794 million) a year earlier.
The deficit is expected to increase further to CA$19.9 billion (US$15.8 billion) in the 2017-18 fiscal year.
The country's annual inflation rate stood at 1.9% in December 2017, from 2.1% in November, 1.4% in October and 1.6% in September 2017. The Bank of Canada expects inflation to average 2% in 2018 and 2.1% in 2019.
In January 2018, the nationwide unemployment fell stood at 6.2%, down from last year's 7.2%, according to Statistics Canada. British Columbia had the lowest jobless rate of 5.2%, followed by Ontario (5.7%), Quebec (6%), Manitoba (6%), and Saskatchewan (6%).
Newfoundland and Labrador had the highest jobless rates in January 2018, at 16.7%.
In an effort to fill the gap left by retiring baby boomers, Canada liberalized its immigration regulations in 2015. As a result, Canada took in 321,000 immigrants in the 2015-16 fiscal year, the largest number since 1910, according to Statistics Canada. Another 300,000 immigrants were admitted to Canada in the succeeding year.
In November 2017, Canada's Minister of Immigration, Refugees and Citizenship Ahmed Hussen unveiled the government's plan to let a million new immigrants over the next three years, in an effort to fulfill the country's economic needs. The plan, dubbed as "Growing Canada's Economic Future", aims to increase the number of new immigrants to 310,000 in 2018, 330,000 in 2019, and 340,000 in 2020.
"This historic multi-year immigration levels plan will benefit all Canadians because immigrants will contribute their talents to support our economic growth and innovation, helping to keep our country at the forefront of the global economy," said Hussen.
The immigrants are expected to reignite the economy - and boost the housing market further.