House prices in Canada's eleven major cities rose by a modest 2.51% during 2018 (0.51% inflation-adjusted). 

This is a sharp slowdown from last year's 8.92% rise.  And in the last quarter of 2018, house prices fell 0.95% (-0.73% inflation-adjusted), against the backdrop of rising interest rates and a slowing economy.

Demand is now falling. Construction is weakening. Sales plunged 19% in December 2018 from a year earlier, according to the Canadian Real Estate Association (CREA).

According to CREA:

Apartment prices posted year-on-year gains of 4.85% - but last year they rose 19.68%!
Townhouses/row houses rose 3.06% - but last year they rose 12.07%!
The average price of a one-storey single family home fell 0.27%, while two-storey homes rose 0.39%.
Victoria's house prices recorded the biggest year-on-year rise of 5.95% during 2018, followed by Ottawa (5.87%), Hamilton (4.4%), Montreal (4.37%), Toronto (3.72%) and Vancouver (1.41%).
There were house price falls in Calgary (-2.64%), Edmonton (-1.87%), Winnipeg (-0.49%), Quebec (-0.14%) and Halifax (-0.04%).

The central bank has taken action repeatedly – raising mortgage downpayment requirements and reducing amortization periods – but till now, prices spiralled up. However January 2018's squeeze is proving effective.  House price rises are decelerating sharply.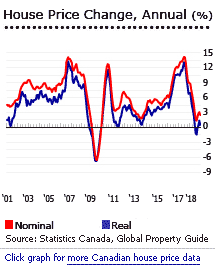 "While economic and demographic fundamentals remain supportive for housing demand in many parts of the country, policy headwinds together with rising interest rates are limiting access to mortgage financing and negatively impacting homebuyer sentiment," said CREA.

The Canadian economy expanded by 2.1% in 2018, a slowdown from the preceding year's 3% growth, mainly due to its ailing oil and gas industry. Bank of Canada expects economic growth to slow further to 1.7% this year before partially rebounding to 2.1% in 2020.

There are virtually no restrictions on foreigners buying properties in Canada.