Residential markets in Dubai and the UAE are heading down, with a huge supply glut and negative investor sentiment.

There was a 9.5% fall in Dubai's all-residential property price index (RPPI) during the year to February 2019, the biggest y-o-y decline since February 2016, according to Reidin.com. When adjusted for inflation, Dubai house prices fell by 8%.

Dubai's apartment prices fell by 9.65% (-8.1% inflation-adjusted) during the year to February 2019.
Villa prices fell 8.97% (-7.5% inflation-adjusted) y-o-y during the same period.


Abu Dhabi's housing market is also depressed. There was a 7.12% y-o-y decline in Abu Dhabi's all-residential property price index in February 2019.


Apartment sales prices in Abu Dhabi suffered a price decline of 7.42% (-5.9% inflation-adjusted).
Villa sales prices fell 6.16% (-4.6% inflation-adjusted).

In the first three quarters of 2018, the total value of property transactions in Dubai plunged more than 20% y-o-y to AED 162 billion (US$44.1 billion), according to Dubai Land Department (DLD). The number of transactions also fell by 23.7%.

The supply glut is considerable. In 2018, about 43,000 units were added to Dubai's total residential stock (which stood at around 491,000 units at end of 2017), and about 8,000 to the Abu Dhabi market (251,000 units at end of 2017), according to JLL MENA.

Also:

the Federal Mortgage Cap, introduced in 2013, slowed residential price rises in Abu Dhabi and Dubai.
the market was hit also by the implementation of the value added tax (VAT) in January 2018. The 5% VAT only applies to home sales after three years of the project's completion. Sales within three years of completion have 0% VAT rate.
the Dubai Land Department recently doubled property registration fees from 2% to 4% to dampen property demand.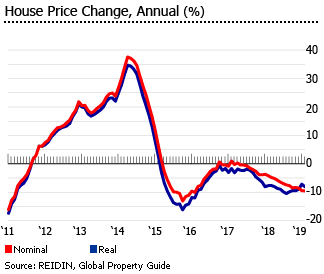 The UAE's economy grew by 1.7% in 2018, after the prior year's meagre growth of 0.8% - sharply down from an average annual growth rate of 4.8% from 2011 to 2016. Economic growth is expected to accelerate to 3.5% this year, buoyed by strong non-oil sector activity.


Analysis of United Arab Emirates Residential Property Market »