The UAE's house prices are now falling!
June 20, 2015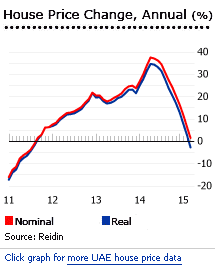 After the unsustainable growth surge of the last two years, Dubai's housing market is now slowing sharply, and the same is true in Abu Dhabi.
During the year to April 2015, Dubai's all-residential property price index (RPPI) fell by 2.8%, the first month of y-o-y decline since March 2012 and in sharp contrast with the spectacular 37.5% surge during the same period last year, based on latest figures released by Reidin.com. When adjusted for inflation, Dubai house prices actually dropped 6.8% over the same period. Dubai's RPPI is calculated monthly and covers 7 cities, 8 main districts and 4 major projects. Abu Dhabi's RPPI is also calculated monthly, and covers 7 cities and 4 main districts.

Dubai's apartment sale prices were down by 3.6% (-7.6% in real terms) y-o-y in April 2015.
Dubai's villa sales prices rose slightly by 0.4% over the same period, but actually dropped 3.7% when adjusted for inflation.
Abu Dhabi, the UAE's capital, also experienced a decline in its all-residential property price index by 1.1% (-5.1% in real terms) during the year to end-April 2015.
Abu Dhabi's apartment sale prices fell by 3.4% (7.3% in real terms) in April 2015 from a year earlier.
Abu Dhabi's villa sales prices rose by a meagre 0.1% y-o-y in April 2015, but actually fell by 4% when adjusted for inflation.
Dubai's property market has been one of the world's most volatile. Dubai saw one of the world's worst housing crashes with house prices plunging by 53% from Q3 2008 to Q3 2011. The housing market started to recover in Q2 2012 with double-digit house price increases since then.
The Federal Mortgage Cap, introduced in 2013, has slowed the pace of residential value appreciation in Abu Dhabi and Dubai. In addition, the Dubai Land Department recently doubled property registration fees from 2% to 4% to dampen property demand.
Demand is now plunging. During the year to April 2015, property transactions, both in number and value, plunged by 51.8% and 37.1%, respectively. In 2014, there were 53,871 transactions in Dubai, according to Dubai Land Department (DLD), worth AED 218 billion (US$ 59.4 billion). About 51% were sales, while 44% were mortgages.
Transactions of completed apartments in Dubai dropped 12% in Q1 2015 from a year earlier, while those for completed villas were down by 35% over the same period, according to Reidin.com. The demand for off-plan properties in prime locations such as Dubai Marina has noticeably declined, as interest shifted to cheaper properties in secondary locations.
In contrast, demand in some developments remains stable in Abu Dhabi, despite the ongoing market correction, according to Asteco. Projects in Investment Areas such as Saadiyat Island, Reem Island and Al Raha Beach continued to be the most popular development areas. The Hidd Al Saadiyat, which is currently under construction, offers luxurious villas to homebuyers.
Some local property analysts remain optimistic about the future of the UAE property market. "We think the market is currently letting go of that speculative pricing layer, which once peeled, would result in a more holistic price level. We continue to believe that the current easing of prices is a result of market correction that will soon peg the demand and supply forces at a sustainable level," said Haider Ali Khan, CEO of Bayut.com.
Others expect large house price falls. Real estate consultant Jones Lang LaSalle and the ratings agency Standard & Poor's expect that average house prices in Dubai could fall by between 10% and 20% this year.
The IMF, which earlier warned UAE about overheating real estate prices in Dubai, has now backed down from its concerns.
Dubai's total residential stock was around 377,000 units, Abu Dhabi's around 243,000 units, at end-2014. In 2015 around 25,000 new housing units are expected to enter the Dubai market and 10,000 new housing units the Abu Dhabi market.
Due to falling oil prices, the UAE's economy is projected to expand by only 3.1% this year, after GDP growth of 3.6% in 2014, 5.2% in 2013, 4.7% in 2012 and 4.9% in 2011, according to the IMF. Dubai, which has a more diversified and less oil dependent economy, is expected to grow by about 5% this year.
Foreigners now allowed to own property in Abu Dhabi on a freehold basis
Abu Dhabi, in contrast to Dubai, continues to take extra measures to make life easier for long-term foreign property investors, in an effort to buoy its local property market.
The government recently introduced a new regulation allowing foreigners to own property in Abu Dhabi on a freehold basis, in designated investment zones. Previously, foreign investors in the emirate were generally limited to leasehold arrangements with 99-year leases.
This follows Abu Dhabi´s previous market-boosting measures. In 2012, the government compelled public sector employees living outside Abu Dhabi to relocate within the emirate's borders. Then in November 2013, the government cancelled a 5% cap on annual rent increases.
The great crash - a history lesson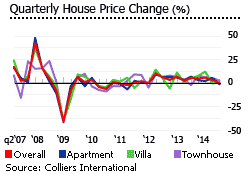 From 2002 to 2008, Dubai's property prices almost quadrupled, and large-scale developments turned Dubai into one of the fastest growing cities in the world. Some of the biggest projects include Jumeirah Garden City (estimated cost: US$95 billion), Dubailand (US$64 billion), The Lagoons (US$25 billion), Palm Jumeirah (US$14 billion), and The World (US$14 billion).
After March 2006, a deluge of more foreign money boosted Dubai's ambitions following the passage of the long-awaited foreign property ownership law. Europeans, including Russians, accounted for 20% of the buyers of all property categories. GCC, Arab nationals and UAE nationals made up 28%, Asians 40%, and Iranians 12%, according to figures from Global Realty Partners. The overall foreign ownership index of property kept by Colliers International soared 116% from Q1 2007 to Q3 2008.
Then the global credit crunch hit. Amlak and Tamweel, the UAE's two largest home finance companies, stopped offering new loans. The two mortgage lenders accounted for more than 50% of all mortgages in the country.
Foreign investors suddenly disappeared at the end of 2008, as the global financial crisis hit the emirates. This caused transaction volumes to plummet. The overall foreign ownership index was 50% down by Q4 2010, from its peak in Q3 2008.
Almost half of all construction projects in the UAE, worth around AED1.1 trillion (US$582 billion), were either put on hold or cancelled, in response to falling demand and deteriorating market conditions. As the economy returned to growth, some of these halted construction projects, were resumed by end of 2011.
Signs of a property market recovery were visible in Dubai during Q4 2011 to Q1 2012, while Abu Dhabi followed suit. From January 2012 to end-2014 Dubai has experienced skyrocketing house prices, averaging around 21.49% annually.
Benchmark interest rate remains unchanged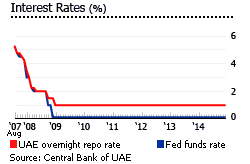 Mortgage interest rates in Dubai have, in the past, followed key US Fed rates, because of the peg to the US dollar. The dirham (AED) is pegged to the US dollar at AED3.67 = US$1. In 2008, when the Fed successively cut key rates, the UAE's central bank was forced to track US monetary policy, causing inflation to hit a record high of 12.9%.
The Central Bank of the UAE set its first benchmark interest rate (overnight repurchase rate) at 4.75% in September 2007. The new repo rate gives the country slightly more flexibility in responding to changes in the US Fed funds rate.
After the Fed slashed its key rate to just 0.13% in December 2008, UAE´s benchmark rate was also reduced to a record low of 1% in January 2009. The key rate has been unchanged since then.

New mortgage rules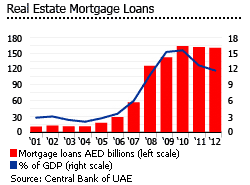 The Central Bank of UAE introduced a new set of mortgage regulations which came into effect a month after publication in the Official Gazette on November 2013. The purpose of the new regulations was to cool the property market.
New LTV rates imposed for UAE nationals and non UAE nationals are as follows:
UAE FEDERAL MORTGAGE CAPS (MAXIMUM LOAN-TO-VALUE-RATIO)

First home
(Owner-occupier)

Second home or investment property
Off-plan purchase
NATIONALS

Property valued under
AED5 million (US$1.36 million)
80%
65%
50%
Property valued over
AED5 million (US$1.36 million)
70%
65%
50%
EXPATRIATES

Property valued under
AED5 million (US$1.36 million)
75%
60%
50%
Property valued over
AED5 million (US$1.36 million)
65%
60%
50%
Source: UAE Central Bank, Cluttons
In 2013, the total aggregate amount of loans, advances, overdrafts and real estate mortgage loans rose by 1.2% to AED 708.3 billion (US$ 192.9 billion) from the previous year, according to the Central Bank of the UAE. Mortgage loans had risen from 2.7% of GDP in 2001 to 15.5% in 2010.
Perhaps surprisingly, banks and other mortgage lenders in the UAE are returning to the market and offering new mortgage products. Tamweel, one of the largest Islamic mortgage lenders, is back in the market, having stopped trading its mortgage shares in November 2008 due to the global credit crunch.
More fixed-rate mortgage products have been introduced. In addition, "fee free" products, which allow borrowers to switch to a new lender at a lower cost, have been offered starting during the last quarter of 2010.
New rent cap law in Dubai favours landlords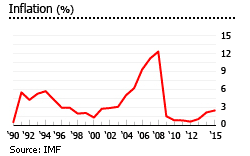 The new rent cap law, Dubai Decree No. 43/2013 (the "New Decree"), was introduced and came into effect in Dubai on December 18, 2013.
This new decree has the same cap of 20% as the previous rent cap (Decree No. 2 of 2011, known as the "the Old Rent Cap"). However, the new decree shifts the balance of power in favour of landlords, as they can now increase rent on lease renewal and as soon as rent for a property is 11% below the average market rental rate, lower than the 26% required under the Old Rent Cap.
The New Decree also makes clear that the rent cap also applies to special development areas and free zones, including the Dubai International Financial Centre (DIFC).
NEW RENTAL LAW

CURRENT RENTAL RATES

RENT INCREASE
FOR 2009

Equal to or 25% below the rental index

nil

26% to 35% below the rental index

5%

36% to 45% below the rental index

10%

46% to 55% below the rental index

15%

More than 55% below the rental index

20%
In 2006, at the peak of the property boom, the government introduced a rent cap of 15%, to control rent increases. Then in 2007, the rent cap was tightened to 7%. In 2008, the rent cap was again reduced to 5% in an effort to curb inflationary pressures.
In January 2009, Dubai's Real Estate Regulating Agency (RERA) unveiled a new rental index to replace rent caps. Based on this law, the maximum percentage of rent increase is at around 20% for properties whose rents are more than 55% below the rental index.
Then in January 2011, RERA issued Decree No. 2, allowing adjustment of the rental index tables every four months, to keep rental values up-to-date, and requiring landlords and real estate leasing companies to register rental contracts on the newly-established e-registration portal system, the Ejari System, or face penalties for non-compliance. This enables the authorities to get an accurate picture of the market. In addition, RERA introduced a rental increase calculator to assist tenants and landlords compute their rent cap figures.
In Abu Dhabi, from November 10, 2013 the Abu Dhabi Executive Council cancelled the extension of the annual 5% rent increase rate, implying that they are actually removing the 5% rent cap. This is expected to boost competition among tenants, as well as causing some confusion to landlords, who are accustomed to increasing their rents by 5% every year.
Rents are softening
Residential rental rates softened for all unit types in Dubai during the third quarter of 2014:
In Dubai, apartment rental rates fell by an average of almost 2% in Q3 2014 from the previous quarter, according to Asteco. However on an annual basis, rentals have surged by an average of 30.5% from the same period last year.
In Abu Dhabi, apartment rental rates remained steady with a meagre 0.2% increase from the previous quarter in Q3 2014. Compared to a year earlier rents are up by around 5.1%.
In Dubai annual rents in Q3 2014 ranged from AED 44,000 (US$ 11,981) to AED 160,000 (US$ 43,567) for one-bedroom apartments, to from AED 100,000 (US$ 27,229) to AED 290,000 (US$ 78,965) for large three-bedroom apartments, according to Asteco.
In Abu Dhabi during the same period annual rents ranged from AED 40,000 (US$ 10,892) to AED 145,000 (US$ 39,483) for one-bedroom apartments, to from AED 60,000 (US$ 16,338) to AED 310,000 (US$ 84,411) for three-bedroom apartments.
Rents in specific developments:
At the Discovery Gardens, annual rents for one-bedroom apartments for one-bedroom apartments range from AED 60,000 (US$ 16,338) to AED 72,000 (US$ 19,605); and two-bedroom apartments from AED 80,000 (US$ 21,784) to AED 90,000 (US$ 24,506).
In International City, annual rents for studio apartments ranges from AED 33,000 (US$ 8,986) to AED 38,000 (US$ 10,347), while rents for one-bedroom apartments range from AED 44,000 (US$ 11,981) to AED 48,000 (US$ 13,070).
At the Golf Gardens, located next to the Abu Dhabi Golf Club, annual rents were at AED 200,000 (US$ 54,459) and up for a three-bedroom villa.
Annual rents for three-bedroom villas in MBZ City start at AED 100,000 (US$ 27,229).
Moderate rental yields in Dubai
Gross rental yields in Dubai are moderate, ranging from 5.55% up to around 6.64%, based on the Global Property Guide research as of September 2013. There was a slight decline in the average rental yields to 6.13% in 2013, from the 6.65% average recorded in 2012. Smaller apartments (60 – 90 sq. m.) have higher yields, averaging 6.58%, while larger apartments (120 – 200 sq. m.) have yields averaging around 5.69%.
Economic diversification will stimulate UAE's growth in 2015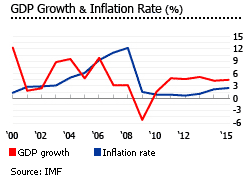 The UAE's economy grew by about 4.8% y-o-y to more than AED1.54 trillion (US$ 42 billion) in 2014, despite the sharp decline of oil prices during the second half of 2014, according to UAE's Minister of Economy Sultan Bin Saeed Al Mansoori.
After an economic slump in 2009, the economy quickly recovered, expanding by 1.6% in 2010, 4.9% in 2011, and 4.7% in 2012.
The good economic growth was attributed by Minister Al Mansoori to the government's efforts to diversify the economy. Non-oil sectors account for around 69% of the country's GDP, while the remaining share is oil. Driving the country's economic diversification is the Abu Dhabi's Economic Vision 2030, and Dubai's Strategic Plan 2015, which aims to increase investment in industrial and export-oriented sectors. At the federal level, the UAE's "2021 Vision" positions science and technology, research, and innovation at the centre of a knowledge-based and highly competitive economy by 2021.
Non-oil GDP grew by around 5.6% in 2014, and growth is expected to remain in the 5% to 6% range from till 2016, according to the Abu Dhabi Commercial Bank (ADCB).
Due to the acceleration of non-oil diversification, the UAE is expected to grow at around 4.5% in 2015.
"With this good performance, the general budget is expected to see a surplus of 9% of GDP, double the figure of 2012. Inflation rates have been estimated at between 2% and 3% in 2014, thanks to the flexibility of the UAE's economy and the measures being taken by the government to curb price hikes," according to Finance Minister Al Mansoori.
Inflation this year is likely to be at a manageable level of around 2.5%, according to both the UAE's Ministry of Economy and the IMF, due to macro-economic measures that the government took after being warned by the IMF of a possible bubble or boom-bust cycle. The UAE's inflation has already slowed, as the strengthening of the dirham in line with the dollar (to which it is pegged) has reduced the cost of imported food. In Dubai, the overall inflation rate declined to 4.3% in February 2015 from 4.5% the previous month. Likewise, Abu Dhabi's inflation rate also dropped to 4.6% from 5.0% over the same period.
United Arab Emirates - More data and information