UAE's property prices subdued
February 20, 2018

For now, residential markets in Dubai and the UAE are heading down. Dubai's all-residential property price index (RPPI) declined by 3.85% during 2017, according to Reidin.com. When adjusted for inflation, Dubai house prices actually fell 6.4%.

Dubai's apartment sales prices fell by 3.82% (-6.37% inflation-adjusted) during the year to December 2017.
Villa sales prices in Dubai also dropped by 3.83% (-6.39% inflation-adjusted) y-o-y during the same period.
In Abu Dhabi, the all-residential property price index has fallen even further, posting a 9.02% y-o-y decline in December 2017.
Apartment sales prices in Abu Dhabi suffered a sharp price decline of about 10.23% (-12.61% inflation-adjusted) in 2017.
In contrast, villa sales prices increased by 3.24% (0.5% inflation-adjusted).

Sales prices of both apartments and villas in Abu Dhabi fell slightly during the last quarter of 2017 as investor sentiment remains negative, according to JLL MENA.

But there are signs of a revival.  Political tensions in the region are making Dubai and UAE more attractive to regional investors.  Price declines in Dubai slowed during the latest quarter, notes JLL Mena.  And property transactions in Dubai were up by 14% y-o-y in terms of number, while transaction value was up by 6% y-o-y in 2017, according to the Dubai Land Department (DLD).

What has changed in the market?  Strong off-plan sales. "2017 is set to record the highest level of off-plan sales in Dubai since 2008," said JLL MENA. Cluttons attributes higher off plan sales to the "persistence of favourable payment plans, stretching well beyond handover".

Abu Dhabi has strengthened the protection of off-plan buyers.  It´s recent real estate law (No. (3) of 2015) appoints Abu Dhabi's Department of Municipal Affairs (DMA) as real estate regulator, performing the same functions as Dubai´s RERA. The reforms, as outlined by The National, include:

A central government database/register for all property projects in Abu Dhabi, including off-plan sales;
Developers are only allowed to charge DMA-approved administrative fees, and are barred from collecting registration fees from investors;
 Rules are laid down for the creation of owners´ associations;
Developers are allowed to sell off-plan units as long as they own a real estate right over the project land. A "disclosure statement" is also required, providing information on the development to home buyers.
Developers marketing off-plan units are required to open an escrow account.
In case of "substantial prejudice", off-plan buyers can terminate their purchase.
Developers will be fined by the DMA if their projects are delayed by more than six months. If there is a significant delay, the new law allows for cancellation of projects or the appointment of anew developer.
A 10-year liability period for developers regarding structural building defects.

Meanwhile prices are expected to remain subdued in Dubai due to the projected amount of supply in 2018, according to Asteco. In 2018, about 43,000 units are expected to be added to Dubai's total residential stock (around 491,000 units at end of 2017), but only 8,000 new housing units will be added to the Abu Dhabi market (251,000 units at end of 2017), according to JLL MENA.

Several other factors have affected the market.  The Federal Mortgage Cap, introduced in 2013, has slowed the pace of residential value appreciation in Abu Dhabi and Dubai. In addition, the Dubai Land Department recently doubled property registration fees from 2% to 4% to dampen property demand.

Finally the implementation of the value added tax (VAT), which became effective in January 2018, is another factor. The 5% VAT only applies to home sales after three years of the project's completion. Sales within three years of completion have 0% VAT rate.

However Knight Frank's outlook for Dubai's real estate market remains positive, noting that the anticipated acceleration of GDP growth in 2018 would provide support to the residential market. "Overall the risks may be outweighed by the expectations of stronger global economic and trade growth in 2018 than previously forecast, which Dubai would certainly benefit from given its standing as a regional trading hub and safe haven," according to Knight Frank.

Foreign ownership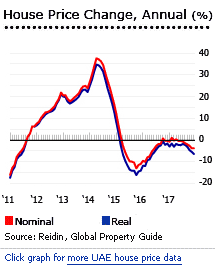 Foreign ownership rules are quite liberal:

Foreign nationals are now allowed to buy freehold properties in designated areas in Dubai.
Gulf Cooperation Council (GCC) nationals are allowed freehold ownership anywhere in the Emirates.
Abu Dhabi´s government introduced new regulations in 2014 allowing foreigners to own property in designated investment zones on a freehold basis. Previously, foreign investors were generally limited to leasehold arrangements with 99-year leases. This followed Abu Dhabi´s previous market-boosting measures.  In 2012, the government compelled public sector employees living outside Abu Dhabi to relocate within the emirate's borders. Then in November 2013, the government cancelled a 5% cap on annual rent increases.

Most residential property buyers in Dubai are UAE nationals, followed by Indians, Saudis, British, and Pakistanis.


Analysis of United Arab Emirates Residential Property Market »