Qatar's housing market is now showing signs of improvement.  The key fact is that the government is effectively mitigating the economic and financial fallout of the ongoing blockade.

The nationwide real estate price index rose by 1.56% (1.99% inflation-adjusted) during the year to Q2 2019, in sharp contrast to a y-o-y decline of 16.6% in Q2 2018, according to the Qatar Central Bank (QCB).  However quarter-on-quarter, prices were down 5.08% (-5.66% inflation-adjusted) during the latest quarter.  And sales remain weak. In Q2 2019, residential transaction volumes fell by 14% from a year earlier, according to leading consulting firm ValuStrat.

At The Pearl-Qatar, a QAR36.4 billion (US$10 billion) Riviera-style development located on the coast of Doha, two-bedroom second-hand freehold apartments in Porto Arabia are currently offered for less than QAR13,000 (US$3,570) per square metre (sq. m.), while newly built studio and one-bedroom apartments in Viva Bahriya are priced above QAR16,000 (US$4,394) per sq. m., according to DTZ Qatar.

Qatari real estate had previously boomed for three glorious years, fuelled by rapid population growth and a construction boom in preparation for the 2022 FIFA World Cup:

In 2013, the real estate price index surged 20.74% (16.45% inflation-adjusted).
In 2014, the real estate price index soared by 34.67% (31.81% inflation-adjusted).
In 2015, real estate prices rose by 14.39% (10.75% inflation-adjusted).

However in 2016, the housing market slowed sharply, with the value of real estate transactions plunging by about 50%, and prices falling by 4% (-5.15% inflation-adjusted). Real estate prices fell a further 9.9% (-10.4% inflation-adjusted) in 2017 and by another 2.6% (-2.4% inflation-adjusted) in 2018, as Saudi Arabia's hostility adversely affected Qatar's economy. In Q2 2019, transaction volumes for houses fell by 14% from a year earlier, following y-o-y growth of 20.5% in Q1 2019 and 1% in Q4 2018, according to ValuStrat. The highest transacted prices can be seen in The Pearl, New Salata, Lusail and Abu Hamour.

Qatar's housing market is expected to improve during the remainder of the year, amidst the introduction of a new foreign property ownership law that is expected to boost foreign demand. In March 2019 Law No. 16 of 2018 became effective, increasing the number of freehold zones in Qatar from 3, to 10.

"The recent reform to change freehold ownership law will contribute to a positive transformation of the real estate sector which will now embrace its cultural diversity through new initiatives designed to encourage investments and positively change business perspectives to ultimately result in overall economic growth," said Pawel Banach of ValuStrat.

Aside from The Pearl, West Bay Lagoon, and Al Khor, foreigners are now allowed to obtain freehold ownership in Rawdat Al Jahaniyah, Al Qassar (Area #60), Al Dafna (Area #61), Onaiza (Area #63), Al Wasail (Area #69), Al Khraij (Area #69), and Jabal Theyleeb (Area #69).

Foreigners who buy in any of these areas are automatically granted permanent residency, which extends to the owner's family, for the whole duration of the ownership. Those qualified include:

children of Qatari mothers who are married to foreigners;
people with special talents "needed by the state";
other individuals who extended notable services to the country.

However, citizenship will still be off-limits to foreigners.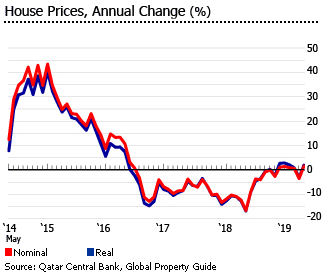 Permanent residents of Qatar will be treated like Qatari nationals and enjoy benefits such as access to healthcare and education systems, priority (after locals) for military and civilian public jobs, and will have permission to operate commercial activities without a local partner, and permission to own a property. Three-fourths of Qatar's population are foreigners, according to the Qatar Statistics Authority (QSA). About 82% of the population lives in Doha and Al Rayyan.

Qatar National Bank (QNB), the country's leading financial institution, offers home and land financing at rates as low as 3.5%. The maximum loan offered to expatriates is QAR3 million (US$824,200) with a term of not more than 15 years. One can borrow up to 70% of the value of the property.