Qatar's housing market remains depressed
June 19, 2017

Qatar's housing market is now in trouble, amidst a sharp economic slowdown and the ongoing diplomatic crisis in the region.

Qatar's nationwide real estate price index dropped 9.8% during the year to end-Q1 2017, according to the Qatar Central Bank (QCB), in contrast to the spectacular 13.37% rise during the same period last year. When adjusted for inflation, the fall is even bigger at 10.63%.

During the latest quarter, real estate prices fell by 1.1% (1.4% in real terms).

At The Pearl-Qatar, a QAR36.4 billion (US$10 billion) Riviera-style development located on the coast of Doha, second-hand freehold apartments are currently priced from QAR13,000 (US$) to QAR15,000 (US$) per square metre (sq. m.), with newly built houses priced above QAR17,000 (US$) per sq. m., according to DTZ Qatar.

Qatari real estate has boomed for three glorious years, fuelled by rapid population growth and a construction boom in preparation for the 2022 FIFA World Cup:

In 2013, the real estate price index surged 20.74% (16.45% in real terms) from a year earlier.
In 2014, the real estate price index soared by 34.67% (31.81% in real terms) from a year earlier.
In 2015, real estate prices rose by 14.39% (10.75% in real terms) from a year ago.

However in 2016, the housing market slowed sharply, with the value of real estate transactions plunging by about 50%, after reaching an all-time high in 2015. Real estate prices fell by 4.08% (-5.23% in real terms) in 2016.

Surprisingly, demand has been rising recently. In April 2017, residential property sales increased, both in number and value, by 5.8% and 36%, respectively, as compared to the same period last year. However, demand is expected to fall againin the second half of the year and the overall housing market is expected to remain depressed in the medium term, because of the recent decision of several Arab countries, including Saudi Arabia and Egypt, to cut diplomatic ties with Qatar.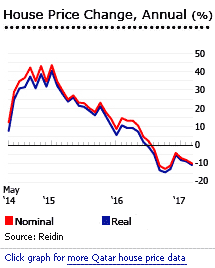 The Qatari economy grew by a modest 2.7% last year, after growing by an annual average of 4.2% during 2012-15, and 15.7% in 2008-11. The IMF expects the Qatari economy to expand by 3.4% this year and by another 2.8% in 2018, but these projections were released two months before the diplomatic tension occurred.

Foreigners are allowed to obtain freehold ownership in specific areas in Qatar: The Pearl, West Bay Lagoon, and Al Khor. Foreigners who buy in any of these areas are automatically granted residency, which extends to the owner's family, for the whole duration of the ownership.