There's been a sharp decline in both demand and supply of property in Oman, caused largely by the country's economic and financial woes. In Q1 2019, the average value of real estate traded in Oman fell by 10.7% to OMR 33,789 (US$ 87,764) from a year earlier, according to the Ministry of Housing. However quarter-on-quarter, property prices actually rose by 4.2%.

Muscat, which accounts for more than half of property transactions, registered the biggest price decline of 28.1% during the year to Q1 2019 to an average of OMR 98,181 (US$255,015). It was followed by Ash Sharqiyah South (-25.8%), Al Buraymi (-20.7%), Ash Sharqiyah North (-14.3%), Al Batinah South (-8.5%), Al Batinah North (-4.3%) and Ad Dakhliyah (-3.5%).

In contrast, Adh Dhahirah saw its real estate prices almost quadruple during the year to Q1 2019. Strong property price rises were also recorded in Dhofar (66.5%), Al Wusta (32%) and Musandam (31.8%).

In Q1 2019, the total value of property traded in Oman fell by 12.2% y-o-y to OMR 681.23 million (US$1.77 billion), in contrast to a 6.5% growth recorded in the same quarter last year, based on figures from the National Centre for Statistics and Information (NCSI). Likewise, the number of planned land plots for residential construction plummeted by more than 40% to 32,163 units in 2018 from a year earlier.

Overall, Oman's property prices and rents are expected to continue falling in the medium term, partly as a result of the extended ban on expatriate visas for 87 occupations, according to local real estate experts.

The Ministry of Manpower first introduced the expatriate visa ban in January 2018, in an effort to reduce the number of unemployed locals as part of the Omanization project. The ban has been extended several times since. As of March 2019, about 55,000 expats who previously worked in Oman have been laid off by companies, based on government estimates.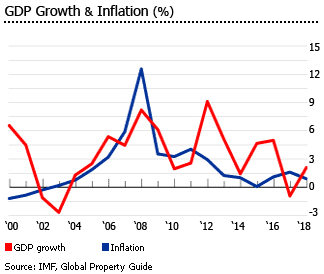 The Omani economy grew by 2.1% in 2018, an improvement from the prior year's 0.9% contraction but far lower than the annual average growth rate of 5.1% from 2012 to 2016, according to the International Monetary Fund (IMF). However, the IMF has recently cut the country's 2019 economic growth forecast to just 0.3%, from the initial projection of 1.1%, as OPEC-led production curbs slash oil-related growth among Gulf energy producers.

In May 2019, crude oil prices stood at an average of US$71.32 per barrel, down by 7.4% from US$76.98 a year earlier but up 41.7% from US$51.59 two years ago.