Residential property prices and rents in Oman declined by about 10% to 20% in 2016 from a year earlier, according to local real estate experts.

That's because crude oil prices plunged to an average of just US$40.1 per barrel in 2016, down by 29% from a year earlier and by more than 61% from US$103.2 in 2014.

"The economic situation has had a negative impact on employment and job generation....reducing demand for property in the capital area as fewer people are now willing to rent or buy properties," said Mohammed al Busaidy, the chairman of Oman Real Estate Association (OREA).

The value of real estate transactions in Oman plunged almost 70% to OMR1.42 billion (US$3.69 billion) during the first half of 2017, according to the National Centre for Statistics and Information (NCSI), compared to the same period last year.

The number of title deeds issued by the Ministry of Housing dropped 11.2%in H1 2017 as compared to a year earlier. The majority of title deeds issued were in Dhofar, Muscat, and North Al Batinah Governorates.

Mortgage contracts have fallen, both in number and value. In H1 2017, the value of mortgage contracts plummeted by 80.7% y-o-y to OMR 797.7 million (US$2.07 billion) while the number of contracts dropped 19.4% to 10,540.

"The real estate sector will undoubtedly continue to be under pressure for as long as the present economic uncertainty prevails," said Christopher Steel of Savills Oman. "However, save for a few sectors which face continued pressure due to oversupply, we predict that 2017 will offer a period of calm and relative stability."

This was supported by Philip Paul of Cluttons, who believes that the real estate market will see only moderate price declines this year. "Steep corrections that happened in 2016 are unlikely," said Paul.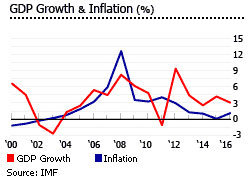 The economy is projected to expand by just 0.4% this year, down from annual growth rates of 3.1% in 2016, 4.2% in 2015, 2.5% in 2014, 4.4% in 2013, and 9.3% in 2012, according to the International Monetary Fund (IMF).

Oman had 551,058 housing units in 2010, 27.9% up on 2003. Arabic houses comprised 31.2% of the total housing stock; villas, 28.6%; apartments, 20.9%; rural houses, 3.2%; and improvised housing units, 2.4%.


Analysis of Oman Residential Property Market »
Escalating rents in Oman
Rents in Oman have skyrocketed in the recent past, especially in Muscat and other high demand areas. After rising 21.4% in 2008, rents rose 16% in 2009.  But by 2010, average rental rates were dropping.  The rent hikes in the 2 years before mid-2008 prompted a huge new supply of residential rental properties especially in the capital area, according to Cluttons, much of it of lamentably poor design and quality.

In central areas, rents for two-bedroom apartments in Q1 2011 were around OMR 400 (US$ 1,040) per month, down from OMR 425 (US$ 1,105), according to Savills Oman.  Rents for 4-5 bed villas were around OMR 1,150 (US$ 2,991) to OMR 1,500 (US$ 3,901).

Rents in The Wave range from OMR 800 (US$ 2,081) to OMR 1,750 (US$ 4,551) per month, depending on the housing type, while rents in Muscat Hills range from OMR 600 (US$ 1,560) to OMR 1,700 (US$ 4,421).

In June 2008, as a result of the rising rents, new rules were introduced.


Landlords may now only increase the rent every 3 years, with a maximum rent increase of 7% of the annual rent stipulated in the lease contract. 
The law also bars landlords from evicting tenants before the end of the lease, and imposes a minimum lease period of 4 years for residential property, and 7 years for commercial
Low income tax in Oman
Rantal Income: Rental income is taxed at a flat rate of 3%.

Capital Gains: There are no taxes levied on capital gains realized by individuals, unless it is derived from a business or professional activity. Capital gains derived from trade or business are taxed at a flat rate of 15%.

Inheritance: There are no inheritance taxes.

Residents: No personal income taxes are levied in Oman. Trade or business income exceeding OMR30,000 (US$60,000) are taxed at a flat rate of 15%.
Buying costs in Oman are minimal
The total roundtrip transaction costs are just around 3%. Because of the relative immaturity of the real estate market most of the properties are bought from the government.
Oman's law is pro-landlord
Rents
The initial rent can normally be freely determined by the parties by mutual agreement.

Security Deposits
The landlord's interests are protected by either:

a. An advance payment of three month's or 1 year's rent; or
b. Promissory note for the payment of rent throughout the lease; or
c. Post dated cheques for each of the rent payment dates.
Oil sector still dominates; economic diversification continues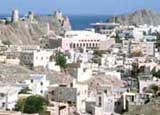 Oman's diversification plan "Vision 2020" has been quite effective. Petroleum activities' contribution to Oman's total GDP in 2016 was just around 27.4%, down from 50.6% in 2013. The services sector accounted for around 53.5% of GDP in 2016, a sharp increase from 37.7% in 2013.
Despite this, oil remains Oman's top revenue generator. In 2016, oil and gas revenues accounted for more than 68% of total government revenues and about 57.9% of total merchandise exports, according to the CBO.
The decline of the petroleum sector as a percentage of GDP was partly the effect of lower oil prices. In real terms, Oman's GDP contracted by 5.1% in 2016, following a contraction of 13.8% in 2015, mainly due to the decline in crude oil prices, according to the CBO. The hydrocarbon sector fell by 23.7% in 2016 while the non-hydrocarbon sector grew slightly by 0.6% last year.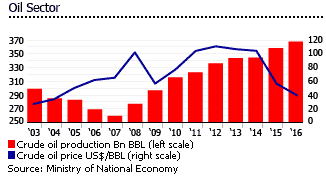 "Going forward, the hydrocarbon sector is expected to further slow down in 2017, despite some recovery in oil prices, due to lower production as part of the OPEC and other oil producers' agreement," said the central bank.
Oman's fiscal deficit widened to 21.4% of GDP in 2016, an alarmingly high deficit.Accordingly, Oman's sovereign debt long-term rating has been downgraded below investment grade, as low oil prices continue to erode the country's external reserves and finances.
In May 2017, Standard & Poor's cut Oman's credit rating to junk, with negative outlook. This implies that there is a substantial chance of a further downgrade.
Moody's Investors Service has downgraded Oman's credit ratings thrice this year. From A1, Oman's long-term issuer rating was cut to A3 in January, then to Baa1 in May 2017, and finally to Baa2 in July 2017. The outlook was also changed from stable to negative.
In June 2017, Fitch Ratings affirmed the country's ratings at 'BBB' but downgraded its outlook from stable to negative, citing the weak economic activity and fiscal position.
Oman's fiscal deficit rose by 21.5% to OMR5.3 billion (US$13.76 billion) in 2016.  However the fiscal deficit is projected to decline to OMR3 billion (US$7.8 billion) this year, based on government estimates.  The improvement is expected because in February 2017 the government made significant changes to the country's income tax laws, to address the fiscal deficit (Royal Decree 9/2017).
The key changes include:
The standard corporate tax rate was raised from 12% to 15%
A 3% tax has been introduced for micro businesses
The tax-free threshold of OMR30,000 (US$78,000) has been removed
Interest and dividend payments to non-residents are now subject to withholding tax of 10%
The withholding tax exemption for ministries and other government bodies has been removed.
Tax exemptions for hotels and tourist villages, mining, export of locally manufactured goods, agriculture, animal produce, fishing, education, and medical care have been removed.
Exemptions for manufacturing companies have been limited to five years.
Penalties and punishments for noncompliance have been strengthened.