House price growth subdued in Lebanon - Beirut property is surely overvalued
February 20, 2018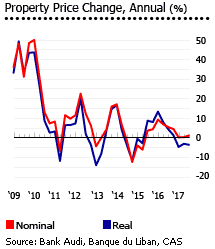 The Lebanese property market has been lively - but prices are static or falling.  There are too many new builds on the market, depressing values;  Beirut seems overpriced; yields are low; economic growth is anaemic, and construction is weak. 
The truth is, the stimulus of the influx of Gulf money in 2008-2010 still haunts the market.  House prices in several areas of Lebanon doubled from 2008 to 2012, after the oil price surge.  Now those high prices seem at risk.
Nevertheless in 2017 the number of sales was up by 14.5%, and the total value of sales was up 18.5%. 
However property prices fell by 3.52% y-o-y to Q3 2017 when adjusted for inflation, though the average nominal value of property transactions increased by 1.91%, according to the Directorate of Real Estate and Cadastre.
By region:
In Beirut, which has the most expensive housing in Lebanon, property prices fell by 5.6% (-10% inflation-adjusted) to an average of LBP 768.55 million (US$ 508,632) during the year to Q3 2017.
In Metn, property prices rose by 3.9% y-o-y (-0.9% inflation-adjusted) to LBP 334.97 million (US$ 221,684) in Q3 2017.
In Kesserwan, property prices rose by 11.3% y-o-y (6.1% inflation-adjusted) to LBP 209.53 million (US$ 138,668) in Q3 2017.
In Baabda, property prices sharply fell by 10% y-o-y (-14.2% inflation-adjusted) to LBP 204.59 million (US$ 135,398) in Q3 2017.
The rather weak performance in terms of prices can be attributed to developers offering price discounts averaging around 20%. "The currently prevailing conditions in the local realty market, notably constrained demand and a growing stock of unsold flats, have been warranting efforts on behalf of developers to seal a sales deal," according to Bank Audi's recent real estate report.
"It is true that the improving political conditions have somewhat favored sales, but there is a very large stock of apartments put up for sale across the country as well. This means that flats for sale outnumber buyers and that consequently developers are forced to grant some discounts to entice investors," Bank Audi added.  
Property sales are up in most areas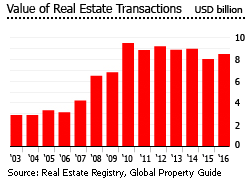 Nevertheless, the number of property sales in Lebanon rose by 14.5% y-o-y to 73,541 units in 2017, according to the Directorate of Land Registry and Cadastre, and the value of property sales transactions increased by 18.5% y-o-y.
For the first three quarters of 2017:
In Beirut, the value of property transactions rose by 19.81% y-o-y to US$ 1.91 billion
In the South, property transactions surged by 21.3% y-o-y to US$ 524 million
In Baabda, the value of property transactions slightly increased by 1.58% y-o-y to US$ 1.48 billion
In Zahle, property transactions went up by 27.23% y-o-y to US$ 271 million
In the North, the value of property transactions sharply increased by 30.12% y-o-y to US$ 553 million
In Metn, property transactions rose by 17.71% y-o-y to US$ 1.28 billion
In Nabatieh, property transactions went up by 22.62% y-o-y to US$ 206 million
In Kesserwan, property transactions declined by 8.07% y-o-y to US$ 740 million
Foreign homebuyers represented about 1.84% of total property transactions in the first eleven months of 2017, a smaller share of the market than in most recent years.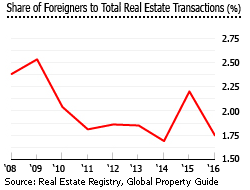 A history of price rises
The Lebanese property market saw average annual price rises of 18% (13% inflation-adjusted) from 2009 to 2013, before slowing sharply due to the regional political turmoil.
In 2009, average property sales prices rose by 48.4% (43.5% inflation-adjusted)
In 2010, average property sales prices rose by 7.37% (2.7% inflation-adjusted)
In 2011, average property prices rose by 9.8% (6.5% inflation-adjusted)
In 2012, average property prices rose by 6.25% (-3.51% inflation-adjusted)
In 2013, average property prices rose by 16% (14.7% inflation-adjusted)
In 2014, average property prices fell 1.61% (-3.87 inflation-adjusted)
In 2015, average property price fell by 0.21% (+3.68% inflation-adjusted)
In 2016, average property prices rose by 4.51% (5.37% inflation-adjusted)
Foreign ownership of real estate property is allowed in Lebanon. Foreigners can acquire up to 3,000 square metres (sq. m) of land. For properties bigger than this, a prior decree from the Council of Ministers is needed. Foreigners can only own up to 3% of the total land area of Lebanon, except in Beirut, where foreigners can acquire up to 10% of the city´s total area.
Buyers are looking outside Beirut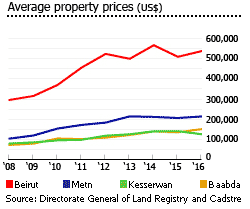 Beirut's property prices are exceptionally high, at about four times the national average. So homebuyers have been moving out from Beirut to cheaper housing. During the first seven months of 2017, Beirut accounted for only around 26.7% of the total value of property transactions, a decline from a 37.2% share in 2007, based on the figures from the Real Estate Registry.  
Less expensive nearby areas, such as Baabda, Metn, and Kesserwan accounted for more than 50% of total sales in the first seven months of 2017, an increase from 47% in 2007.
PM Hariri resigns, then withdraws resignation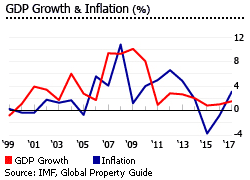 Lebanon´s religious communities maintain a watchful equilibrium. To maintain the balance of power between religious groups, the president must be a Maronite Catholic Christian, the prime minister a Sunni Muslim, the deputy prime minister an Orthodox Christian and the speaker of parliament a Shi'a Muslim. The 128 parliamentary seats are equally divided between Christian and Muslims.
The country's economy was ravaged during the Lebanese Civil War from 1975 to 1990. From the 1990s to the early-2000s, there was an uneasy calm, with external forces and militant groups occupying different parts of the country.
In 2005, former Prime Minister Rafik Hariri was assassinated. Then in July 2006, the Israel-Hezbollah War erupted, which caused large-scale damage to Beirut, undoing much of the good work done in the post-Civil War reconstruction programme. In May 2007, the violent Nahr al-Bared conflict, the most severe internal fighting in almost two decades, exploded and ravaged some parts of the country.
Finally in May 2008, the Doha Accord marked the end of an 18-month long political crisis. Local political and security conditions improved considerably, with the Lebanese government determined to pursue reforms focused on achieving economic revival, sustainable growth and political stability.
The political stability in the country helped the economy grow strongly, with an average annual GDP growth rate of 9.2% from 2007 to 2010.
However the Syrian conflict that erupted in March 2011 spilled over into Lebanon, causing deadly clashes between Sunni Muslims and Alawites in Tripoli and Beirut. Lebanon's economy slowed sharply, with GDP growth rates of just 0.8% in 2011.
Political tensions brought down the government of Prime Minister Saad al-Hariri in January 2011. He was succeeded by Najib Mikati, whose cabinet is dominated by Hezbollah and its allies.
In June 2011, the UN issued arrest warrants for four members of Hezbollah in the murder of former PM Rafik Hariri. Hezbollah was uncooperative and refused to allow any suspects to be arrested. Tensions were exacerbated by the Arab Spring which began in December 2010.
By mid-2012, the Syrian conflict had spilled over into Lebanon in deadly clashes between Sunni Muslims and Alawites in Tripoli and Beirut. The number of Syrian refugees in Lebanon rose to over one million in April 2014, from about 700,000 people in September 2013. With a population of just 4.5 million, this means that one in every five people in the country is a Syrian refugee, placing a severe strain on the country´s resources.
General elections, due in November 2014, were put on hold due to security concerns over the conflict in Syria. The election date was moved to May 2016, after the cabinet approved a new electoral law which would come into effect in June 2017. The new law is based on proportionality, dividing the country into 15 electoral districts.
In October 2016, Michel Aoun was elected by parliament, ending a political stalemate that had left Lebanon without a head of state since May 2014. Shortly after being elected, President Aoun named Saad Hariri as prime minister. He took office in December 2016. 
The country faced another crisis on November 4, 2017 when Prime Minister Hariri announced his resignation while he was in Saudi Arabia, citing fears of assassination and the excessive power of Iran and Hezbollah. President Aoun and other Lebanese officials believed that Saudi Arabia had coerced Hariri, and Iran and Hezbollah saw his resignation as a plot by Saudi Arabia, the United States, and Israel to raise regional tensions. The prime minister eventually withdrew his resignation on December 5, 2017, and emphasized Lebanon's neutrality in all regional conflicts during his speech.
Lebanon's slow-growing economy
The economy grew by 1.5% in 2017, an improvement on 1% in 2016 and 0.8% in 2015. Prior to that, the economy had been growing above the 2% mark for three years, with annual GDP growth of 2% in 2014, 2.6% in 2013, and 2.8% in 2012, according to the IMF.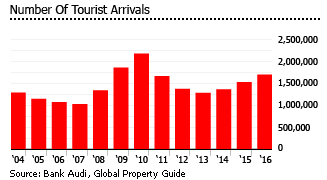 The country's economy is partly driven by tourism. The number of tourist arrivals rose by 11.2% to 1,688,000 persons in 2016, following growth rates of 12.1% in 2015 and 6.3% in 2014. The rising trend seemed to continue in 2017 as tourist arrivals reportedly increased by 12.8% y-o-y during the first five months of 2017, according to the World Bank. Prior to that, tourist arrivals in the country saw an average decline of 16% per year from 2011 to 2013.
Another risk - falling rental yields
Gross rental yields in Beirut have been falling. Gross rental yields on Beirut apartments now range from 3.45% to 4.5%, very significantly down from an average of 10% to 11% about six years ago. Larger apartments in Beirut have lower yields.
The continuous decline in rental yields can be attributed to the dramatic increase in house prices in recent years.
The average monthly rents in Beirut ranged from LBP3.14 million (US$2,082) for 150 sq. m. apartments, to LBP8.12 million (US$5,380) for 400 sq. m. apartments, according to the Global Property Guide's research.
Average rents for the market as a whole are lowered by the survival of many pre-1992 contracts, creating a class of sitting tenants paying low rents, who cannot be evicted except at great cost (see Lebanon's Landlord and Tenant Law). However this law does not affect post-1992 contracts, which are equally balanced between landlord and tenant. (The Global Property Guide's research only covers current offers for sale and offers to rent, not pre-existing contracts).
Mortgage growth pauses
The total amount of new housing loans drawn in 2016 fell by 2.7% to LBP 1.53 trillion (US$ 1.01 billion), although outstanding housing loans rose by 9.25% from a year earlier, according to the Banque du Liban.  This is a significant slowdown from annual housing loan growth of 28% from 2006 to 2015.  The repo rate remains at 10%, unchanged since December 2009.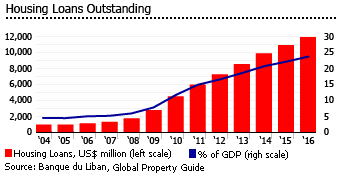 Interest rates for housing loans are usually tied to the US prime rate or LIBOR, with a fixed percentage added. The loan-to-value (LTV) ratio ranges from 50% to 85% of the appraised value or actual purchase price of the property, whichever is lower. The term period is usually from 20 to 30 years. Lebanese banks require both life and house insurance from loan applicants.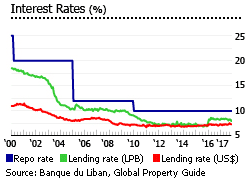 In Lebanon, buyers have traditionally paid cash, or benefited from pre-selling schemes.  But starting in the mid-2000s an increasing number of banks offered mortgage loans directly to homebuyers, and the size of the Lebanese mortgage market grew rapidly from just 5.6% of GDP from 2004 to 2009, to 23.6% of GDP in 2016.
Construction activity is still weak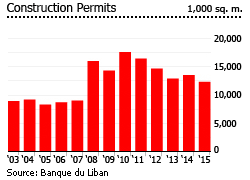 Since the big building boom of 2008-2010, construction permits have fallen every year. 
During the first eleven months of 2017, the area of construction permits issued fell by 2% to 11.10 million sq. m. from the same period last year.  In 2016, new construction permits fell by 0.9%, following a sharp decline of 8.92% in 2015, 4.83% growth in 2014, and annual declines of 12% in 2013, 10.8% in 2012, and 6.5% in 2011, based on figures from Banque Du Liban and the Order of Engineers. Of total permits, 81.2% were for the construction of residential buildings.
In Beirut, the area of construction permits sharply fell by 23.1% y-o-y to 514,000 sq. m.
In North Lebanon, the area of construction permits fell by 23.2% y-o-y to 124,000 sq. m.
In Mount Lebanon, the area of construction permits fell by 12.6% y-o-y to 5.16 million sq. m.
In Bekaa, the area of construction permits rose by 20.2% y-o-y to 1.22 million sq. m.
In South Lebanon, the area of construction permits rose by 15.3% y-o-y to 1.75 million sq. m.
In Nabatieh, the area of construction permits rose by 13.2% y-o-y to 1.16 million sq. m.
The total number of construction permits in the country rose by an average of 16.4% annually from 2005 to 2010.
Major residential developments
Some major new residential developments in Lebanon:
Abdel Wahab 618
The Abdel Wahab 618 is a luxury residential complex consisting of two towers and three low-rise buildings, located in Achrafieh, Beirut. The 65,000 sq. m. property, which was launched in 2009, offers apartments ranging from 300 sq. m. to 510 sq. m. and larger duplexes. Prices of apartments start at US$ 4,000 per sq. m.
The property includes a 3,000 sq. m. of landscape and greenery, a gym, a swimming pool, and a health club. It was also located two minutes away from Sassine square and ABC Mall.  
B11 Beirut
The B11 Beirut is a development launched in July 2016 by the Arabian Construction Company (ACC), featuring two low-rise and two medium-rise blocks of modern apartments. The residential project was located in Downtown Beirut and is designed by the German architect Axel Schultes. 
Dreamville
Launched in August 2016 by the HEC Holding, the Dreamville project is a gated community in Metn with 176 apartments dispersed in 19 buildings. Apartment sizes offered by the project ranged from 65 sq. m. to 320 sq. m.
Dreamville features units with an overlooking view of Beirut, as well as of the Mediterranean Sea. It also includes a building dedicated for visitors parking (80), pharmacy, mini-market, and a club house.
Medyar
The Medyar project is a large-sized gated community in Damour with an overall area spanning 2.1 million sq. m. It was formally launched at the DREAM exposition in July 2016, although the infrastructure already began in 2013. The project has over 200 plots for sale, which will be divided into various types of housing units such as villas, townhouses, and apartments.
The centerpiece of Medyar will be the "Old City", which will include cafes, shops, restaurants, hotels, sport courts and swimming pools, and a cinema complex. Other amenities of the project consist of educational, medical, and hospitality facilities, as well as a country club with a golf course.
The starting price for the apartment building and townhouse zones range from US$ 400 to US$ 600 per sq. m. Villa prices are expected to be higher.
Elmirador de Terbol  
The Elmirador de Terbol is another large-sized gated community developed by Ahmad Alameddine and Mohamad Malass, which is covering an overall area of 735,000 sq. m. and was divided into two phases. The US$ 100 million worth project located in Terbol has already completed its first phase, which includes 330 villas with sizes ranging from 220 to 580 sq. m. Villas are being sold at US$ 1,200 to US$ 1,500 per sq. m.
The second phase covers a dedicated area of 60,000 sq. m., which will house several amenities such as a mall, a school, restaurants, a community center, an amphitheater, and a hotel. The project is expected to consist of 720 to 730 villas.
KYE Beachfront Resort
This 200,000 sq. m. beachfront resort in Tabarja has over 700 chalets, which are being sold in phases. The chalets on sale range from 45 to 85 sq. m. and has a starting price of US$ 4,800 per sq. m. The project provides amenities and entertainment facilities such as a 3,000 sq. m. gym and spa, 10 sports courts, a waterpark, an a yachting marina.
Red Rock
The Red Rock development is a project of Demco Properties that covers about 500,000 sq. m. of land near Faqra. The project is expected to construct about 500 chalets and will be divided into two phases. The first phase, which consists of 212 chalets, is currently underway.
Chalets' sizes range from 40 to 150 sq. m., and are priced starting at US$ 2,800 per sq. m. Aside from keeping forests unspoiled, the developer also intends to build a bio-farm, which would also serve as an educational attraction for school kids.  
Lebanon - More data and information