Israel's decade-long house price boom could be over, as government cooling measures intensify
August 31, 2017

Weighed down by government cooling measures, the average price of owner-occupied dwellings in Israel fell by 1.53% during the year to Q2 2017 (-1.93% in real terms), to ILS1,423,000 (US$392,414), from annual price rises of 3% in Q1 2017, 5% in Q4 2016, 5.2% in Q3 2016, 4.4% in Q2 2016, and 5.7% in Q1 2016, according to the Central Bureau of Statistics (CBS). It was the first y-o-y decline since Q1 2012.

On a quarterly basis, nationwide house prices fell by 3.8% (4.3% in real terms) during the latest quarter.

The area covered by the Centerand Jerusalem Periphery Towns saw the highest price increase during the year to Q2 2017, with prices rising by 9.3%. It was followed by Gush Dan (7.4%), Qrayot Haifa (3.4%), and Jerusalem (2.6%). Other districts that experienced minimal year-on-year house price rises included the Northern district (1.3%) and Sharon (0.1%).

On the other hand, Haifa saw the biggest house price decline during the year to Q2 2017, with prices falling by 2.8%. It was followed by the Southern district (-1.6%) and Tel Aviv (-0.3%).

The country's most expensive residential area is Tel Aviv, where the average price of owner-occupied dwellings was ILS2,769,600 (US$763,759) in Q2 2017. It was followed by Jerusalem at ILS1,897,900 (US$523,375), Sharon at ILS1,875,300 (US$517,143) and Gush Dan at ILS1,819,500 (US$501,755). The North had the cheapest housing in Israel, with an average price of ILS960,200 (US$264,790).

"The factors that have apparently influenced the decline in activity include the increase in mortgage interest rates, against the background of the regulatory measures instituted by the Banking Supervision Department, and the taxation measures adopted to rein in investors – the increase in purchase tax and the taxation of third apartments," said the Bank of Israel (BOI) report.

Israel has experienced dramatic house prices rises in the past nine years (with the exception of 2011), despite domestic political uncertainty, security threats, and the global financial meltdown. In fact, house prices have risen by 112% (77% in real terms) from 2006 to 2016.

The average price of owner-occupied dwellings rose by 4.1% (-0.47% in real terms) in 2008
Property prices rose by 22.35% (18.15% in real terms) in 2009
Property prices rose by 17.04% (14.16% in real terms) in 2010
Property prices rose by just 0.04% in 2011, but when adjusted for inflation, prices actually dropped 2.39%
Property prices rose by 5.82% (4.12% in real terms) in 2012
The average price of owner-occupied dwellings rose by 7.38% (5.38% in real terms) in 2013
Property prices rose by 7.21% (7.41% in real terms) in 2014
Property prices rose by 5.99% (6.88% in real terms) in 2015
Property prices rose by 4.97% (5.24% in real terms) in 2016

The main reason for the surge in house prices has been the supply shortage, due to low construction volumes. Other factors contributing to the house price boom have included the central bank's expansionary monetary policies, and the lack of alternative investment options.

"Real estate accounts for 19% of gross domestic product directly and another 13% indirectly," says Elli Kraizberg, a professor at Bar-Ilan University. "Real estate accounts for not less than 40% of the public's total wealth."

However since summer of 2011 when thousands of Israelis set up protest camps over worsening housing affordability in the country, home prices have been atop the government's political and economic agenda.

The government, which controls most of Israel's land, boosted dwelling starts to more than 53,000 annually in 2015 and 2016 – the highest since 1997 – to address the supply shortage.
To deter speculative buying, the Finance Ministry increased purchase taxes and introduced an additional levy on owners of three or more apartments. As a result, the percentage of investment transactions dropped sharply from 40% of total transactions in early 2015 to just about 15% in February 2017, according to the BOI.
Since 2015, the government has intensified its sale of land at discounted prices to contractors, who must then sell apartments at below-market prices.
Israelis who do not own a home may vie for apartments through a lottery system that will award a record 15,000 new homes later this year.
In July 2017, the government approved a plan to strengthen the country's long-term rental market, including the introduction of tax breaks to encourage the construction of rental units.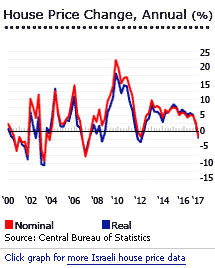 "We are waging a war on prices. What's clear is that real estate prices are over-stretched," said Finance Ministry chief economist YoelNaveh. "I think the market will stabilize and maybe prices will go down a bit," Naveh added.

The economy is expected to expand by 3.4% this year, after growing by 4% in 2016, 2.5% in 2015, 3.2% in 2014, 4.4% in 2013, 2.4% in 2012, and 5.1% in 2011, according to the BOI. The Bank of Israel kept its benchmark interest rate at a record low of 0.1 in July 2017, in an effort to boost economic growth while maintaining price and financial stability.


Analysis of Israel Residential Property Market »
Property in Tel Aviv and Jerusalem is very expensive, and rental yields are poor
Gross rental yields i.e., the rental return on a property if fully rented out, before all expenses, are poor in Tel Aviv and Jerusalem - almost at Monaco-like levels. Gross rental yields for apartments are near or under 3% (though some areas have higher yields).

This tends to support the popular view that property is somewhat overpriced in Israel.

Tel Aviv is a more expensive city to buy or rent property in generally than Jerusalem. In both cities prices have risen strikingly in the past few years. Prices in Tel Aviv range from US$10,000 to US$21,000 per square metre (sq. m.), whereas four years ago, we found the cost of a 120 sq. m. apartment to be typically around US$ 7,800 per sq. m.

These are the sort of prices that can be seen in Swiss cities of Geneva and Zurich, or in Canada's Toronto and Vancouver.

Renting an apartment in Tel Aviv would cost you anywhere from US$27 per sq. m. to US57 per sq. m. per month. Renting in Jerusalem is likely to cost you US$19 to US$35 per sq. m. per month.

Despite Tel Aviv's higher purchasing price, it generally generates higher yields. The City Center (4.58%) and Ramat Aviv (3.84%) are the best-yielding areas in Tel Aviv. In Jerusalem, it is Rehavia (3%) and the City Center (2.84%).

Round trip transaction costs are low to moderate on residential property in Israel, with most costs paid by the buyer. See our Israel residential property transaction costs analysis and Round-trip transaction costs in Israel compared to the continent
Effective income tax rates are low in Israel
Rental Income: Rental income is taxed in Israel. Taxpayers can opt for a flat 10% tax on gross rent (without any deductions), or progressive income tax rates on net income.

Capital Gains: Most properties sold in Israel are exempt from capital gains tax. If the gains are taxable, the net gain is taxed at the standard income tax rates.

Inheritance: Israel has no inheritance tax.

Residents: Resident individuals are taxed on their worldwide income and capital gains at progressive rates.
Buying costs are low in Israel
Roundtrip transaction costs, i.e., the costs of buying and selling a property, are around 6.236% to 7.236% of the total property price. The buyer shoulders most costs. Buyers must check what is included in the purchase price because property in Israel is sold with just the bare walls, unless otherwise agreed. Buyers must also check first if the land is zoned for building, not for agriculture.
Tenancy laws
Research in this field is on-going.
Modest economic growth; very low unemployment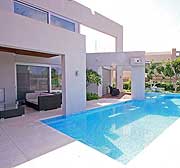 The Israeli economy expanded by 4% in 2016, after annual growth rates of 2.5% in 2015, 3.2% in 2014, 4.4% in 2013, 2.4% in 2012, and 5.1% in 2011, according to the IMF.
In the second quarter of 2017, Israel's economy grew by a seasonally-adjusted annualized rate of 2.7%, an acceleration from a meager 0.6% growth in Q1 2017, mainly due to gains in consumer spending and fixed investment, according to the CBS.
In Q2 2017:
Private consumption increased 4.7%
Gross fixed capital formation rose by 5.2%
Exports of goods and services fell by 8.8%
Imports of goods and services fell by 1.1%
The economy is forecast to expand by around 3.4% this year and by another 3.3% in 2018, according to the BOI.
Israel's unemployment rate fell to a record low of 4.1% in July 2017, according to the CBS. The country's unemployment rate has been generally declining since 2003.
"We have a strong economy with low unemployment, but we are still fighting to push the figure below 4%, even though 4% is an amazing figure that we haven't seen in decades," said Finance Minister Moshe Kahlon.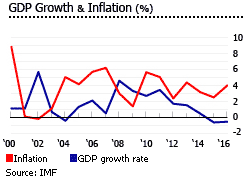 The participation rate in the labour force among people aged 25-64 rose to 80.1% in July 2017, from 79.8% in the previous month. There were about 3.836 million employed and around 164,000 unemployed during the period.
Wages are also rising. In May 2017, the average monthly wage in Israel stood at ILS9,828 (US$2,734), up by 4.1% from a year earlier, according to the CBS.
Inflation was -0.7% in July 2017, from -0.2% in June, 0.8% in May, 0.7% in April, and 0.9% in March, according to the CBS. Inflation stood at -0.5% in 2016, from -0.6% in 2015, 0.5% in 2014, 1.5% in 2013, 1.7% in 2012, and 3.5% in 2011, based on figures from the IMF.
In 2016, the country recorded a budget deficit of ILS25 billion (US$6.96 billion), representing just 2.1% of GDP – the smallest deficit since 2008, according to the Finance Ministry. The country is expected to post a budget shortfall of 2.5% of GDP this year and 2.8% of GDP in 2018.
Israel's public debt was equivalent to 62.3% of GDP in 2016, down from 64.1% in 2015, 66.1% in 2014, and 67.1% in 2013, according to the BOI. The country's public debt has been falling since 2009.