Weighed down by government cooling measures, the average price of owner-occupied dwellings in Israel rose by a meager 0.96% during the year to Q2 2019 (-0.25% in real terms), according to the Central Bureau of Statistics (CBS).

This was far from an annual average price growth of 8.2% (6.9% in real terms) from 2009 to 2017. It follows y-o-y declines of 0.35% in Q1 2019 and 0.88% in Q4 2018 and annual rises of 2.94% in Q3 2018 and 5.59% in Q2 2018. The trend is clearly down.

On a quarterly basis, nationwide house prices increased 2.16% (1.22% in real terms) during the latest quarter.

The Southern district saw the biggest house price increase during the year to Q2 2019, with prices rising by 3.62%. Other districts that experienced modest to minimal year-on-year house price rises included the Northern district (2.91%), the Center (2%), Haifa (1.91%), and Tel Aviv (0.17%).

However, Jerusalem recorded a house price decline of 5.55% during the year to Q2 2019, partly offsetting the price increases seen in other districts.

The country's most expensive residential area is Tel Aviv, where the average price of owner-occupied dwellings was ILS 2,184,600 (US$620,273) in Q2 2019. It was followed by the Center at ILS 1,788,100 (US$507,695) and Jerusalem at ILS 1,783,500 (US$506,389). The North had the cheapest housing in Israel, with an average price of ILS 953,400 (US$270,699).

Israel has experienced dramatic house prices rises in the past decade (2011 excepted), despite domestic political uncertainty, security threats, and the global financial meltdown. Israel's house prices have risen by 118% (82% in real terms) from 2006 to 2017.

The main reason for the surge in house prices until 2017 was a supply shortage, due to low construction volumes. Other factors fueling the house price boom included the central bank's expansionary monetary policies, and the lack of alternative investment options.

"Real estate accounts for 19% of gross domestic product directly and another 13% indirectly," says Elli Kraizberg, a professor at Bar-Ilan University. "Real estate accounts for not less than 40% of the public's total wealth."

However since summer of 2011 when thousands of Israelis set up protest camps over worsening housing affordability, home prices have been top of the government's agenda.

The government, which controls most of Israel's land, boosted dwelling starts to about 52,800 annually in 2015 to 2018 – the highest since 1997 – to address the supply shortage.
The Finance Ministry increased purchase taxes and introduced an additional levy on owners of three or more apartments. As a result, investment transactions dropped sharply from 40% of total transactions in early 2015, to 15% recently.
Since 2015, the government has intensified its sale of land at discounted prices to contractors, who must then sell apartments at below-market prices.
Israelis who do not own a home may vie for apartments through a lottery system. Since its inception by end-2015, about 59,700 households have won the lottery, but only 18,000 have actually exercised their right to purchase an apartment at a reduced price.
In July 2017, the government approved a plan to strengthen the country's long-term rental market, including the introduction of tax breaks to encourage the construction of rental units.

The economy is projected to expand by 3.1% this year, lower than the annual growth rates of 3.3% in 2018, 3.5% in 2017, and 4% in 2016, based on the forecast released by the BOI.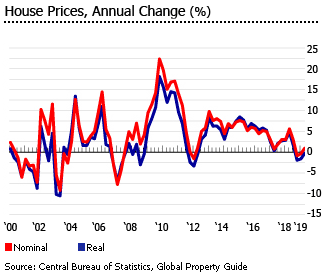 The Bank of Israel kept its benchmark interest rate at 0.25% in August 2019, after a 15-basis point rate hike in November 2018.