Egypt's house prices falling sharply; but outlook remains positive
Lalaine C. Delmendo | June 20, 2019

Despite robust economic growth Egypt's house prices are falling.  The probable reason is nervousness.

Under President El-Sisi, Egypt is a police state run by the army, with high levels of corruption, so there are people who want to move money abroad.  And for the past two years it has been possible to freely move money out of Egypt, which reduces the attractions of local real estate as an inflation hedge.   On the other hand, tourism is booming again, the currency is free-floating, the economy is recovering, and Egyptian real estate is cheap.  So the likely outlook is medium-term falls, but longer-term recovery.

The nationwide real estate price index fell by 11.7% during the year to Q1 2019, in contrast with the y-o-y growth of 18.2% seen in the same period last year, according to Egypt's leading real estate portal Aqarmap. When adjusted for inflation, the decline almost doubled to 22.6%. Egypt's high inflation rate is the reason for the huge gap between the nominal and the real price changes.

Five years after President El-Sisi assumed power, much has changed in Egypt. While formally a democracy, Egypt now has a tightly controlled press and media, and many political prisoners. On the economic front, in November 2016 Egypt floated the Egyptian pound (EGP), causing a dramatic depreciation against major currencies.

In turn this sparked extraordinarily high inflation. Egypt's headline inflation peaked to 33% in July 2017. Inflation has subsided since, slowing to 14.2% in March 2019 – though it is still far higher compared to an annual average inflation of 9.4% from 2012 to 2016.

It may come as something of a surprise therefore, that Egypt's housing market is widely expected to rise strongly in value in coming years - and high-end construction is booming to meet demand.

Consider the situation from the perspective of the wealthy Egyptian. If he lives abroad, Egyptian property has suddenly become much less expensive, because of the currency depreciation. In March 2019, the average exchange rate stood at EGP 17.37 per USD 1 – about 49% decline from its value of EGP 8.88 per USD 1 before the decision to float the currency. For those who live in Egypt, the decline in prices makes houses more affordable, making it the right time to purchase. There is a huge, real demand for housing in Egypt, as the country's population increases by 2.5 million annually and there are about one million marriages taking place every year.

But the economic transition is full of risks. The competence of the Egyptian government is low. Grand schemes such as the expansion of the Suez canal and the move of the administrative capital out of Cairo have been adopted with too little input from rational economic planners.

Yet for all that, other reforms seem likely to boost the economy, and hence the property market.

In 2015, Law 17/2015 was ratified by President al-Sisi, relaxing restrictions on foreign ownership of land and property, and allowing the government, Egypt's biggest landowner, to contribute land to the private sector as part of public-private partnership schemes against a share of the revenue.

In addition, the government implemented several reforms recently, in line with the three-year IMF reform programme:

A value-added tax (VAT) was introduced.
Egypt's Investment Law was amended to attract more foreign investors.
Fuel and electricity subsidies will be cut by 40.5% and 75%, respectively, in the FY 2019-20.
The price of sugar was raised by 40%.
The CBE has abolished a 'priority list' for imports.
The time and day limits during which banks are allowed to execute foreign currency exchanges have been extended.

The economy grew strongly by 5.3% in 2018, up from annual GDP growth rates of 4.2% in 2017, 4.3% in 2016, 4.4% in 2015, and 2.9% in 2014, according to the International Monetary Fund (IMF). In fact, it was the highest growth since 2008, thanks to strong tourism and natural gas activity. The economy is expected expand by 5.5% this year and by another 5.9% in 2020, based on IMF estimates.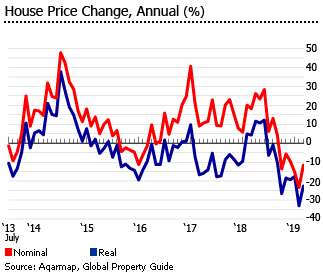 Foreigners can buy property in Egypt, under Law No 230 of 1996. However, foreigners cannot buy more than two pieces of real-estate, which cannot exceed 4,000 square metres (sq. m.), and their purpose must be for a family member to live in the property. If registered, the property cannot be sold or rented for five years.