House prices rising in Montevideo
December 18, 2017

Montevideo has been enjoying property price increases since the beginning of 2017, recovering from declines or stagnation in the previous two years. In Montevideo, house prices went up by 4.61%, to an average of US$ 2,612 per square metre (sq. m.) during the year to June 2017, based on data compiled by El Observador from a database of 20,000 condominiums.

Real estate transactions in Uruguay are typically quoted in dollars because of a history of fluctuations in the value of the Uruguayan peso.

Among the seventeen Montevideo neighborhoods included in the survey, Aguada posted the sharpest house price hike of around 11.46% during the year to June 2017. It was followed by La Blanqueada (8.97%), Prado (7.47%), and Punta Carretas (7.30%).

Areas with meagre house price increases include Malvin (1.75%), Parque Rodo (1.68%), Carrasco (0.92%), and Tres Cruces (0.61%). In contrast, house prices in Jacinto Vera (-1.11%) and Union (-1.14%) contracted.

Carrasco, Montevideo's most exclusive suburb, had an average price of US$ 3,390 per sq. m. in June 2017. Currently, a 65 sq. m. residential property in the area costs about US$ 220,325, according to El Observador.

In Punta Gorda, a beautifully restored historic district, a 65 sq. m. residential unit costs around US$ 223,173. In Punta Carretas, where the magnificent Rambla (seaside avenue) can be found, the same unit has an average price of US$ 218,643.

The selling price of a 65 sq. m. residential property are still quite high in the districts of Malvin, Pocitos, and Buceo, ranging from US$ 203,526 to US$ 186,957. In the districts of Parque Rodo, Parque Batlle, and Tres Cruces, the same property costs from US$ 173,027 to US$ 159,865.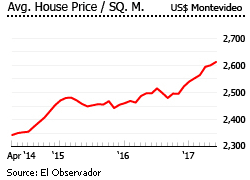 Union has the most affordable housing in the capital city, with an average price of US$ 107,190 for a 65 sq. m. residential property.

Foreign buyers can buy both built properties and land in Uruguay. In November 2013, Congress prohibited ownership of productive land by corporations in which foreign countries are direct or indirect shareholders. But the bill does not affect individual foreign buyers, who can still purchase land.