House prices in Lima have risen in Q3 2018
Maria de Guzman | February 08, 2019

After taking a hit from economic slowdown in 2017, house prices in Lima started to rise again in Q3 2018, supported by an improved economy, lower borrowing costs, and accessible social housing programs. Lima's house prices rose by 3.94% (2.62% in real terms) to PEN 6,310 (US$ 1,891) per square metre (sq. m.) during the year to Q3 2018, according to the Central Reserve Bank of Peru (BCRP).

House price growth in Peru has weakened since 2014, due to the economic slowdown caused by declining copper prices. In 2014, Peru´s economic growth slowed to 2.4%, followed by 3.3% growth in 2015. In 2016 there was 4% growth, but that was followed by another slowdown to 2.5% growth in 2017.

Prior to these recent years, the country had enjoyed strong growth from 2010 to 2013, and the housing market boomed during those years.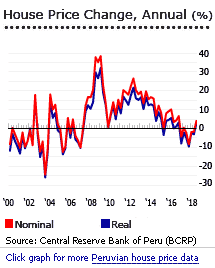 The outlook for 2019 is quite positive. Ricardo Arbulú, vice president of the Association of Real Estate Companies of Peru (ASEI) projects house price increases of between 4% and 7% in 2019, depending on the district. Arbulú points out that a factor likely to push up sales prices upward is the shortage of real estate supply.

Foreign residents and nonresidents alike may buy Peruvian property. Investment in Peruvian property does not require government approval, except if such property is close to Peru´s frontiers.