---
Slower house price rises in Lima, following economic slowdown
August 24, 2016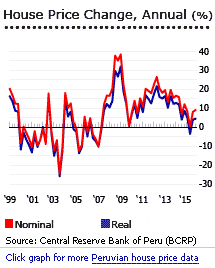 Lima´s housing prices rose 9.08% to PEN 6,124 per square metre (US$ 1,829) in 2015 (up 4.48% in real terms) according to the Central Reserve Bank of Peru (BCRP).
However this year´s house price rises were lower than in the past five years, due to the slowdown of the economy in 2014-5, larger caused by plunging copper prices:
In 2010, residential property prices rose by 15.18% y-o-y (12.83% in real terms);
In 2011, residential property prices rose by 17.89% y-o-y (12.56% in real terms);
In 2012, residential property prices rose by 18.13% y-o-y (15.09% in real terms);
In 2013, residential property prices rose by 15.49% y-o-y (12.28% in real terms);
In 2014, residential property prices rose by 12.03% y-o-y (8.53% in real terms).
In 2015, residential property prices rose by 9.08% y-o-y (4.58% in real terms).
In 2016, housing prices in Lima are predicted to rise between 2.5% and 5%, according to the Peruvian Chamber of Construction´s (Capeco) President, Ricardo Arbulú.
More housing sales
Though housing price rises moderated in 2015, sales increased. Home sales in Lima and Callao rose by 15% y-o-y in 2015 with around 12,708 houses sold, according to the Ministry of Housing, Construction and Sanitation (MVCS).
Sales increases affected all socioeconomic strata, according to MVCS head Francisco Dumler, with construction companies apparently correctly adapting supply to demand. Dumler predicts a 7% increase in home sales in 2016, with around 13,500 new home sales. Around 65% of companies surveyed by Capeco expect sales to rise in 2016, and 47% of promoters expect that investments in new projects this year will rise by more than 10%.
The  housing market is likely to be stimulated by a change in the Pension Fund Administrators´ Law (AFP Law), which now allows AFP members to withdraw 25% of their fund to finance their first property.
Foreign residents and nonresidents alike may buy Peruvian property. Investment in Peruvian property does not require government approval, except if such property is close to Peru's frontiers. Foreigners cannot own property near government installations and military bases. 
Gross rental yields are declining
Gross rental yields on prime residential property in central Lima are not as good as they used to be. The decline seems to reflect lower rentals, rather than the rise in residential prices which has occured over the past few years.
Rental yields of apartments in Lima range from 5.16% to 6.15%, according to Global Property Guide research of September 2015.
Medium apartments of 120 sq. m. have an average yield of 6.15%;
Large apartment of 200 sq. m. have an average yield of 5.16%.
Gross rental yields have significantly declined over the past few years:
In 2009, yields ranged from 9.46% to 13.56%.
In 2010, yields ranged from 7.30% to 10.66%.
In 2011, yields ranged from 6.68% to 8.86%.
In 2013, yields ranged from 6.29% to 9.15%.
In 2014, yields ranged from 5.25% to 7.62%.
Lima´s rental prices are usually set in US dollars. Over the last three years, the Peruvian Nuevo Sol (PEN) has depreciated sharply, which could have pushed (the already declining) rental prices even lower. Medium-sized apartments (120 sq. m.) located in Lima have an average monthly rent of PEN 3,756 (US$ 1,135). The average rent for large apartments (200 sq. m.) is PEN 6,388 (US$ 1,930) per month.
Mortgage lending rates steady at 16%; Central Bank´s key rate still 4.25%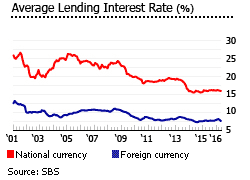 In July 2016, the Central Reserve Bank of Peru (BCRP) decided to retain the current rate at 4.25% for the fifth consecutive month, due to a gradual drop of inflation expectation.
There were four rate cuts from November 2013 to January 2015, reaching 3.25%, due to lower inflation caused by lower oil prices and the economic slowdown. In September 2015, the central bank started to tighten its monetary policy, raising its key rate by 25 basis point to 3.5% due to an expected increase in inflation. The key rate was raised for three more times until reaching 4.25% in February 2016. 
These rate rises did not significantly increase mortgage interest rates. In April 2016, average lending rates were still 15.99% for loans denominated in Peruvian New Sol (PEN), and 7.63% for foreign currency loans.
Peru has a small mortgage market
Peru's mortgage market remains small, at around 6.29% of GDP in 2015.  In 2015, total outstanding mortgage loans were about PEN 38.49 billion (US$ 11.63 billion), up by 12.08% from a year earlier.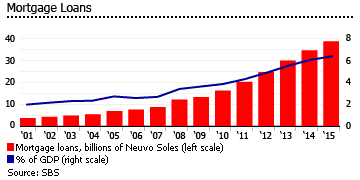 President Humala left office a very unpopular man; his wife even more so
Having begun his presidency in 2011 with a high approval rating of 62%, President Ollanta Humala exited office one of the most unpopular presidents in recent memory.
A few weeks before his term ended, President Humala got a 25% approval rating as president, up from 19% in June and 15% in March. In comparison, Humala´s predecessors Alan Garcia (2006-2011) and Alejandro Toledo (2001-2006) had approval ratings of 42% and 33%, respectively, before their terms ended. President Humala had a disapproval rating of 84.6% in a November 2015 poll by the Peruvian Company of Investigations (CPI). Only 14% supported him.
The most recent scandal was the "Brazil Carwash Scandal", wherein it was revealed that he received bribes from the Odebrecht construction firm. According to Globo, Humala´s name came up in emails from Odebrecht´s president, Marcelo Odebrecht, released by Brazil´s Federal Police. Odebracht is allegedly involved the Petrobas corruption scandal.
In 2015, Humala's popularity was hit by scandals surrounding First Lady Nadine Heredia, including allegations of receiving funds from a Venezuelan company; shopping sprees using a friend's credit card; and her connection with Martin Belaunde Lossio, a former campaign supporter charged with corruption. The First Lady received a depressing approval rating of only 10% in July 2016.
Humala´s ratings were also affected by 2014´s sharp economic slowdown, rising prices, and fears about citizen safety. Others simply say that he is a "liar" who "doesn't keep his promises".
Humala became Peru's 94th president in 2011. Feared by the middle classes as a fire-breathing and unpredictable leftist, in 2000 Humala had led an abortive leftist military coup against the corrupt president Alberto Fujimori. The coup was a disastrous failure, but gained him popular sympathy. He is the son of an indigenous lawyer and member of the Communist Party of Peru – Red Fatherland. His brother, Antauro, is serving 25 years in prison for kidnapping 17 Police officers for 3 days and killing 4 of them in another armed rising.
Humala's objective was similar to his predecessor Garcia's – growth with equity – to reduce the poverty rate to 15% by 2020 by maintaining a modernizing economy and business-friendly environment.
Humala reshuffled his cabinet in February 2015, replacing five ministers, but retaining Ana Jara as his sixth prime minister. But Jara was forced to step down in April 2015 after being censured by Congress (a first since 1963) over allegations that the national intelligence agency were spying on political opponents and business heads. Jara's removal by the opposition-dominated Congress was a sign of Humala's declining influence.
Peru´s new president is Pedro Pablo Kuczynski
On July 28, 2016, Pedro Pablo Kuczynski, also known as PKK, of the Peruvians for Change party, succeeded Humala to serve as Peru´s president for the next five years. Kuczynski is a former Prime Minister (2005-2006) and World Bank economist.  His closest opponent was the Popular Force party´s Keiko Fujimori, daughter of former president Alberto Fujimori, who got 49.88% of the votes in the second round, only just behind Kuczynski´s 50.12% vote.
Although their presidential candidate lost, the Popular Force party won a majority in Congress, with 73 out of 130 seats. while Peruvians for Change got only 18 congressional seats, and Broad Front won 20 seats.
"I want a social revolution for my country," President Kuczynski said during his inauguration speech. "I wish that in five years Peru will be a country that is more modern, fair, equal and supportive."
President Kuczynski named former finance minister and beer company executive Fernando Zavala as Peru´s new prime minister, and economist Alfredo Thorne as the new finance minister.
Stronger economic expansion and higher mining production in 2016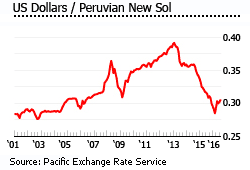 The Peruvian economy achieved 3.3% growth in 2015, beating the IMF´s earlier forecast of 2.8%, due to strong fishing and mining sector output. Copper production was up 68% monthly in December, due to the opening of Las Bambas mine and the expansion of the Cerro Verde mine, so that the mining and energy sector saw 9.3% growth in 2015. Fishing production rose by 82.5% during the year to December 2015, according to Peru Reports.
2014´s 2.4% GDP growth was Peru's weakest since 2009 (1% GDP growth) due to declining investment and weak external demand for copper. Prior to that, the country had enjoyed strong growth: 8.5% in 2010; 6.5% in 2011; 6% in 2012; and 5.9% in 2013, according to the IMF.
The central bank expects economic growth of 4% in 2016.
"Because of the increase in mining we are expecting the biggest contribution to growth next year will be coming from exports," said Central Reserve Bank of Peru governor Julio Velarde. The mining industry accounted for around 14% of Peru´s GDP in 2014. Mineral exports amounted to US$ 16 billion during the same year.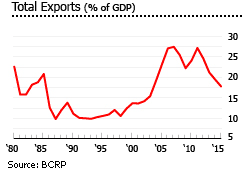 "Looking ahead, we expect economic activity to continue picking up in 2016. Mining output should continue to increase as a number of new mines become fully operational and ongoing government infrastructure projects should eventually provide some support to the beleaguered construction sector. What's more, we expect monetary policy to remain fairly accommodative as interest rates are hiked only gradually over the course of this year," says Capital Economics.
In June 2016, inflation was around 3.3%, the lowest inflation rate since April 2015. Unemployment was 6.7% in June 2016, according to the Central Reserve Bank of Peru (BCRP), down from 7.6% the previous month, but still higher than 5.4% in June 2015.
Social housing
In 2014, Peru´s housing shortage was estimated at around 1.86 million units, according to Scotiabank. To reduce the housing deficit, the government has long provided financial aids and direct subsidies, such as MiVivienda, Techo Propio, Micasa Mas, Mi Construccion, and MiTerreno.
MiVivienda, established in 1999, provides housing loans for the middle and upper class levels (A, B and C). MiVivienda provides mortgages up to US$30,000. The New Credit MiVivienda finances the purchase completed or under construction homes whose total cost is from PEN 53,900 (US$ 16,045) up to PEN 269,500 (US$ 80,227).
Techo Propio is a program launched in 2002 directed at family groups who do not have their own houses and have never received State support to build or buy one. The total income a household earns should not be more than 1,860 Peruvian Nuevo Sols (PEN) (US$ 553) (classes D and E). Techo Propio offers subsidies for purchasing houses ranging from PEN 15,400 (US$ 4,584) to PEN 19,250 (US$ 5,730), depending on the home's value.
Micasa Mas is a credit program that is intended for families who already own a home (including homes that are under mortgage) that could be put on sale, in order to buy a new or used house that matches their family's current financial and family situation. Loans that could be requested in this program range from PEN 45,000 (US$ 13,396) to PEN 270,000 (US$ 80,375), with a minimum down payment of 20% of the home's value.
Mi Construccion allows beneficiaries to build, enlarge or improve their homes. Loans can be up to PEN 100,000 (US$ 29,769) with a repayment term of up to 12 years.
MiTerreno helps low-income families purchase an urban land (private or public) that will be used for housing purposes. The maximum amount of fund is around PEN 50,000 (US% 14,884), with a maximum financing period of 8 years.
Out of all five programs, New Credit Mivivienda had the largest share in the total number of loans disbursed by Fondo Mivivienda in 2015 at 90.51%, according to Fondo Mivivienda´s June 2016 Bulletin, followed by MiConstrucción (5.31%) and Techo Propio (3.82%). New programs Micasa Mas (0.31%) and MiTerreno (0.06%) have the smallest shares. From January to June 2016, around 4,412 loans were disbursed under the five programs, amounting to PEN 477 million (US$ 142 million).
Peru - More data and information