House prices in Lima plunged in Q1 2017
November 06, 2017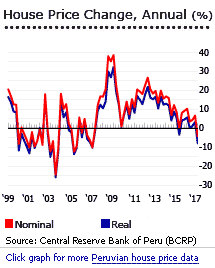 These was a significant fall in Lima´s house prices early this year, after many years of strong price rises. In Q1 2017, Lima´s house prices fell by 4.34% y-o-y (-8% in real terms) to PEN 6,157 (US$1,888) per square metre (sq. m.), according to the Central Reserve Bank of Peru (BCRP).
Over the past three years, house price rises in Peru have been noticeably weaker than in earlier years, due to the economic slowdown in 2014 and 2015, which was caused by declining copper prices.  In 2014, Peru´s economic growth slowed to 2.4%, followed by 3.3% growth in 2015. Although the economy fared better in 2016 with 3.9% GDP growth, an economic slowdown has since taken place and growth of only 2.8% is expected this year. The real estate sector has been hard hit by the slowdown.
Foreign buyers will note that since the beginning of 2013 the New Peruvian Sol has fallen from US$1=PEN 2.55 to US$1=PEN 3.25, largely due to copper price weakness.  This reduces housing costs for foreign buyers.   Foreign residents and nonresidents alike may buy Peruvian property. Investment in Peruvian property does not require government approval, except if such property is close to Peru's frontiers.
Prior to these recent years of economic slowdown, the country had enjoyed strong growth: 8.5% in 2010; 6.5% in 2011; 6% in 2012; and 5.9% in 2013, according to the IMF.  Lima´s housing market enjoyed a boom during those high-growth years, which is now tailing off:  
In 2010, residential property prices rose by 15.18% y-o-y (12.83% in real terms);
In 2011, residential property prices rose by 17.89% y-o-y (12.56% in real terms);
In 2012, residential property prices rose by 18.13% y-o-y (15.09% in real terms);
In 2013, residential property prices rose by 15.49% y-o-y (12.28% in real terms);
In 2014, residential property prices rose by 12.03% y-o-y (8.53% in real terms).
In 2015, residential property prices rose by 9.08% y-o-y (4.48% in real terms);
In 2016, residential property prices rose by 6.52% y-o-y (3.18% in real terms).
Despite the decline in Q1, house prices in Lima are expected to rise by around 5% in 2017, followed by 7% growth in 2018, according to the Peruvian Chamber of Construction´s (Capeco) President Ricardo Arbulú, as a result of reactivation of demand in middle segment districts such as Jesús María, Pueblo Libre, Lince and Magdalena.  
This is because from June, the Ministry of Housing, Construction and Sanitation (MVCS) increased the maximum value of property which can be covered by the Good Payer Bonus scheme (Bono del Buen Pagador or BBP) from PEN 153,900 to PEN 300,000, and increased the scale of payments, characterizing an April reduction in the maximum as ´a mistake´. The BBP is a non-reimbursable financial assistance to borrowers from intermediary financial institutions.
| | |
| --- | --- |
| Housing Value | Good Payer Bonus Value |
| From PEN 56,700 to PEN 81,000 | PEN 17,000 |
| Greater than PEN 81,000 up to PEN 121,500 | PEN 14,000 |
| Greater than PEN 121,500 up to PEN 202,500 | PEN 12,500 |
| Greater than PEN 202,500 up to PEN 300,000 | PEN 3,000 |
| Source: Diffusion / El Commercio | |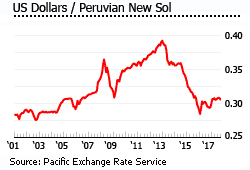 The somewhat stronger expansion of Peru´s economy in 2016 was mainly driven by stronger exports (9.5% y-o-y), and private consumption (3.4% y-o-y).
However the central bank predicts economic growth of only 2.8% in 2017, down from an earlier forecast of 3.5%. The lower growth is attributable to:
The damage to infrastructure and to the agriculture sector by floods brought by the "Coastal El Niño" phenomenon during the first quarter of 2017; and
Investment fell as infrastructure projects were halted partly due to the Odebrecht / "Lava Jato" corruption scandal.
"On the external side, while commodity prices have recovered somewhat since late 2016, they remain significantly lower than during the commodity boom," says Francisco Roch of IMF´s Western Hemisphere Department. "There is also uncertainty about the U.S outlook and how much protectionist pressures will rise globally."
The decline in home sales during the first half of 2017 could be temporary
The number of housing units sold in Lima from January to July 2017 dropped by 13% y-o-y to around 5,418 units, according to the Asociación de Desarrolladores Inmobiliarios (ADI) Peru. In July, home sales fell by 25% y-o-y to 766 units.  But now that the reduction in Bono del Buen Pagador mortgage subsidies from April onwards has been reversed, ADI Peru´s president Marco del Río Arrieta says that house sales are expected to exceed 1,100 units monthly in Q4 2017, and could increase to an average of 1,500 units per month in 2018.
Capeco Construction and Development Institute´s president Ricardo Arbulú projects that home sales will rise by 3.5% in 2017. According to Arbulú, the rebound will depend on two factors, stronger economic performance, and more public infrastructure investment from the government. This is expected under the new Multiannual Macroeconomic Framework (MMM) 2018–2021 approved by Peru´s Council of Ministers in August 2017.
Yields are falling
Gross rental yields on prime residential property in central Lima are moderate. They have been falling over the past few years. Apartments in Lima have rental yields ranging from 5.77% to 5.80%, based on the Global Property Guide research in September 2016.
Medium apartments of 120 sq. m. have an average yield of 5.77%;
Large apartment of 200 sq. m. have an average yield of 5.80%.
Gross rental yields have significantly declined over the past few years:
In 2009, yields ranged from 9.46% to 13.56%.
In 2010, yields ranged from 7.30% to 10.66%.
In 2011, yields ranged from 6.68% to 8.86%.
In 2013, yields ranged from 6.29% to 9.15%.
In 2014, yields ranged from 5.25% to 7.62%.
In 2015, yields ranged from 5.16% to 6.15%.
In Peru, rents are usually set in US dollars. Over the last four years, the Peruvian Nuevo Sol (PEN) has depreciated sharply, which could have pushed (the already declining) rents even lower. The average monthly rent for medium-sized apartments (120 sq. m.) located in Lima was at PEN 3,601 (US$ 1,104). Large apartments (200 sq. m.) had an average rent of PEN 6,223 (US$ 1,908) per month.
Sol-denominated mortgage costs still very high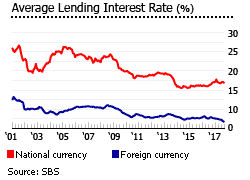 In August 2017, average mortgage lending rates were still very high, at 16.93% for loans denominated in Peruvian New Sol (PEN), and around 6.75% for foreign currency loans. This is despite the fact that the Central Reserve Bank of Peru (BCRP) lowered its benchmark rate by 25 basis points to 3.5% in September 2017, this year´s third reduction. The BCRP stated that the key interest rate cut is in line with lower expected inflation (within the target range of 1% to 3%)  and slower-than-expected economic growth.  
In September 2017, annual inflation fell to 2.9% from 3.2% in the previous month, and from 3.13% in September 2016. Unemployment was 5.5% in August 2017, a decline from 6.7% last year, according to the Central Reserve Bank of Peru (BCRP).
Peru´s mortgage market is still relatively small, at around 6.1% of GDP in 2016. In August 2017, total outstanding mortgage loan amounts rose by 3.67% from the previous year to around PEN 41.61 billion (US$ 12.76 billion), according to the Superintendency of Banking and Insurance (SBS).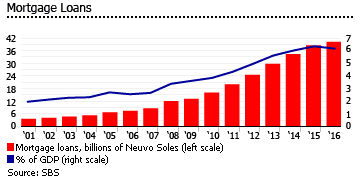 Mortgage lending volumes are expected to increase during the second half of 2017, according to the Asociación de Bancos del Perú (ASBANC), due to the higher ceiling (now PEN 300,000 or US$ 91,984) on properties financiable through the Bono del Buen Pagador subsidy, as well as the higher allocation for social housing construction through the Mivivienda Fund.
President Pedro Pablo Kuczynski´s new cabinet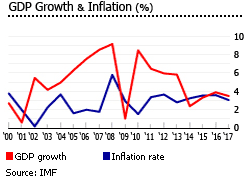 On July 28, 2016, Pedro Pablo Kuczynski, also known as PPK, of the Peruvians for Change party, succeeded President Ollanta Humala as Peru´s president. Kuczynski is a former Prime Minister (2005-2006), World Bank economist, and fund manager. His closest opponent was the Popular Force party´s Keiko Fujimori, daughter of former president Alberto Fujimori, who got 49.88% of the votes in the second round, only just behind Kuczynski´s 50.12% vote.
Humala exited office one of the most unpopular presidents in recent memory, with a disapproval rating of 84.6% in a November 2015 poll by the Peruvian Company of Investigations (CPI), having begun his presidency in 2011 with a high approval rating of 62%. Only 14% supported him following weak economic performance and many corruption allegations. In February 2017, Jorge Barata, Odebrecht's former director in Peru, told prosecutors that he donated around US$ 3 million for the former president´s campaign in 2011. A couple of months after that, Odebrecht's former CEO Marcelo Odebrecht confirmed paying bribes to Humala.  Humala and his wife will be imprisoned for up to 18 months following an order by Judge Richard Concepcion for their arrest in July 2017 in preventive detention, hindering them from fleeing Peru while they are being investigated.
A return to technocratic leadership is the prospect under President Kuczynski.  "I want a social revolution for my country," said Kuczynski during his inauguration speech. "I wish that in five years Peru will be a country that is more modern, fair, equal and supportive."  
However his party, Peruvians for Change, has only 18 congressional seats, while Fujimori´s Popular Force party won a majority in Congress, with 73 out of 130 seats. The result was that Peru had a political crisis in September 2017 as President Kuczynski´s entire cabinet were ousted as a result of a no-confidence vote (77-22) in Congress. On September 17, 2017, President Kuczynski sworn in a new cabinet, appointing Vice President Mercedes Araoz as the new prime minister and Deputy Economy Minister Claudia Cooper as the new finance minister. The president also replaced ministers for health, education, justice and housing.
The new Cabinet has garnered President Kuczynski criticisms from his centrist and leftists supporters due to a more socially conservative Cabinet, while opposition lawmakers welcomed the cabinet changes.    
Social housing
In 2014, Peru´s housing shortage was estimated at around 1.86 million units, according to Scotiabank. Based on more recent figures from the consultancy HGP Group, Metropolitan Lima had a housing deficit of around 612,464 housing units in 2016, with the district of San Juan de Lurigancho having the biggest deficit of about 15.6% of the total.
To reduce the housing deficit, the government has long provided financial aids and direct subsidies, such as MiVivienda, Techo Propio, Micasa Mas, Mi Construccion, and MiTerreno.
MiVivienda, established in 1999, provides housing loans for the middle and upper class levels (A, B and C). MiVivienda provides mortgages up to US$30,000. The New Credit MiVivienda finances the purchase completed or under construction homes whose total cost is from PEN 56,700 (US$ 17,385) up to PEN 405,000 (US$ 124,178).
Techo Propio is a program launched in 2002 directed at family groups who do not have their own houses and have never received State support to build or buy one. The total monthly income a household earns should not be more than PEN 2,617 (US$ 802) for house purchase and PEN 2,038 (US$ 625) for home construction or improvement. Techo Propio offers subsidies, which vary depending on the purpose:
For purchasing houses, the subsidy granted is up to PEN 32,400 (US$ 9,934)
For building houses, the subsidy granted can be PEN 19,035 (US$ 5,836) or PEN 14,175 (US$ 4,346), depending on the work budget.
For improving houses, the subsidy granted is up to PEN 9,315 (US$ 2,856).
Micasa Mas is a credit program that is intended for families who already own a home (including homes that are under mortgage) that could be put on sale, in order to buy a new or used house that matches their family's current financial and family situation. Loans that could be requested in this program range from PEN 45,000 (US$ 13,798) to PEN 270,000 (US$ 82,785), with a minimum down payment of 20% of the home's value.
Mi Construccion allows beneficiaries to build, enlarge or improve their homes. Loans can be up to PEN 100,000 (US$ 30,661) with a repayment term of up to 12 years.
MiTerreno helps low-income families purchase an urban land (private or public) that will be used for housing purposes. The maximum amount of fund is around PEN 50,000 (US$ 15,331), with a maximum financing period of 8 years.
Out of all five programs, New Credit Mivivienda had the largest share in the total number of loans disbursed by Fondo Mivivienda in 2016 at 97.4%, according to Fondo Mivivienda´s June 2017 Bulletin, followed by Techo Propio (1.14%) and MiConstrucción (1.04%). New programs Micasa Mas (0.37%) and MiTerreno (0.05%) have the smallest shares. From January to June 2017, around 3,298 loans were disbursed under the five programs, amounting to PEN 414 million (US$ 127 million).
Peru - More data and information