Panama's economic boom continues, and house prices are rising strongly
December 22, 2016

After falling by about 25% during the global crisis, property values are now rising strongly in Panama's most sought-after areas, according to local property experts. There is strong foreign property demand, particularly from the U.S., Canada, Venezuela and Colombia.

In Panama City, the country's capital, the average selling price of residential properties in Class-A projects rose by 8.8% y-o-y to US$3,100 per square meter (sq. m) during the first half of 2016, reflecting the continued increase in demand for high-quality residentail properties in the capital and surrounding areas, according to CBRE Panama.

In Punta Pacifica, a collection of exclusive waterfront skyscrapers, high-end apartment prices are rising by 6% to 12%, due to a decline in the inventory of available units.  The average price in Punta Pacifica now stands at around US$2,500 per square metre (sq. m.), up from about US$2,200 per sq. m. the previous year. By end-2016, sale prices of apartments are expected to reach US$2,800 per sq. m. In Trump Ocean Club, apartment prices are now almost US$3,300 per sq. m.

In Balboa Avenue, one of the capital city's high-end residential areas, property prices increased 8% during the year to June 2016, to an average of US$2,500 per sq. m, according to Panama Equity Real Estate. In fact, in GrandBay, property prices were up 35% over the same period.

The property market is expected to remain strong medium-term, because of the opening of the expanded Panama Canal and the continued influx of foreign investors into the country.

"Overall, we feel that prices should continue to appreciate at a moderate pace over the next 12 months, with some short-term correction before the end of the year if sellers start to see fewer buyers," said Kent Davis of Panama Equity Real Estate. "Inventory lists in buildings such as YOO, which still have apartments for sale by the developer, are showing absorption around 2-3 units per month meaning that supply should be depleted by early 2017."

Panama's economy grew by 5.8% in 2015, after robust GDP growth rates of 6.1% in 2014, 6.6% in 2013, 9.2% in 2012, 11.8% in 2011, and 5.8% in 2010, according to the International Monetary Fund (IMF). The economy is expected to expand by 5.2% this year, and by another 5.8% in 2017.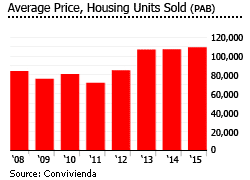 Tourist arrivals increased 7% to 5,585,000 people in the first nine months of 2016 as compared to the same period last year, according to the General Comptroller. Likewise, tourist spending also increased 5.6% over the same period.

Foreigners can own real properties in Panama. Foreign homebuyers are accorded with the same property rights as Panamanians. However, mortgages can be difficult to obtain, especially for foreigners, and the process can take two to three months. More than 80% of real estate transactions involving foreign buyers are in cash.