Panama's economic boom continues, and house prices are rising strongly
December 22, 2016
After falling by about 25% during the global crisis, property values are now rising strongly in Panama's most sought-after areas, according to local property experts. There is strong foreign property demand, particularly from the U.S., Canada, Venezuela and Colombia.
In Panama City, the country's capital, the average selling price of residential properties in Class-A projects rose by 8.8% y-o-y to US$3,100 per square meter (sq. m) during the first half of 2016, reflecting the continued increase in demand for high-quality residentail properties in the capital and surrounding areas, according to CBRE Panama.
In Punta Pacifica, a collection of exclusive waterfront skyscrapers, high-end apartment prices are rising by 6% to 12%, due to a decline in the inventory of available units.  The average price in Punta Pacifica now stands at around US$2,500 per square metre (sq. m.), up from about US$2,200 per sq. m. the previous year. By end-2016, sale prices of apartments are expected to reach US$2,800 per sq. m. In Trump Ocean Club, apartment prices are now almost US$3,300 per sq. m.
In Balboa Avenue, one of the capital city's high-end residential areas, property prices increased 8% during the year to June 2016, to an average of US$2,500 per sq. m, according to Panama Equity Real Estate. In fact, in GrandBay, property prices were up 35% over the same period.
The property market is expected to remain strong medium-term, because of the opening of the expanded Panama Canal and the continued influx of foreign investors into the country.
"Overall, we feel that prices should continue to appreciate at a moderate pace over the next 12 months, with some short-term correction before the end of the year if sellers start to see fewer buyers," said Kent Davis of Panama Equity Real Estate. "Inventory lists in buildings such as YOO, which still have apartments for sale by the developer, are showing absorption around 2-3 units per month meaning that supply should be depleted by early 2017."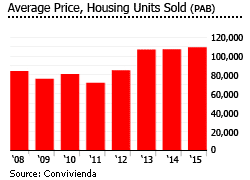 Panama's economy grew by 5.8% in 2015, after robust GDP growth rates of 6.1% in 2014, 6.6% in 2013, 9.2% in 2012, 11.8% in 2011, and 5.8% in 2010, according to the International Monetary Fund (IMF). The economy is expected to expand by 5.2% this year, and by another 5.8% in 2017.
Tourist arrivals increased 7% to 5,585,000 people in the first nine months of 2016 as compared to the same period last year, according to the General Comptroller. Likewise, tourist spending also increased 5.6% over the same period.
Foreigners can own real properties in Panama. Foreign homebuyers are accorded with the same property rights as Panamanians. However, mortgages can be difficult to obtain, especially for foreigners, and the process can take two to three months. More than 80% of real estate transactions involving foreign buyers are in cash.
Demand continues to rise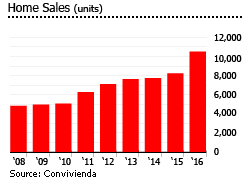 House sales in Panama increased 6.6% to 8,232 units in 2015 from a year earlier, according to the National Board of Housing Developers (Convivienda). Likewise, the value of sales transactions also rose by 8.9% y-o-y to PAB900.12 million (US$900.12 million) in 2015.
Demand remains strong this year, with house sales expected to reach about 10,503 units, up 27.6% from the previous year. The total value of sales transactions is also projected to increase 23.6% to PAB1.11 billion (US$1.11 billion).
Aside from inland apartments, there is also a growing demand for beach apartments from both local and foreign buyers. Some of the most popular areas include Punta Chame, Playa Blanca, Farallon, El Palmar (Hato River), Santa Clara, and Rio Mar (San Carlos).
The supply of beachfront apartments is expected to increase from 400 units to over 1,600 units in the next three years. Beachfront apartments are currently priced from US$200,000 to US$1 million.
The competitive business environment is luring foreign investors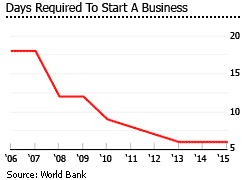 Panama is considered the second most competitive market in Latin America and the Caribbean by the World Economic Forum's Global Competitiveness Report 2015-2016. It requires only six days to start a business here, according to the World Bank's 2015 survey.
"There are so many new businesses moving to Panama," said Kent Davis of Panama Equity Real Estate. "It's one of the reasons people are coming down – because there is still money to be made, locally, and as a regional base of operations."
Panama draws multinational companies and foreign investors with significant tax breaks, the free-trade zone, improved infrastructure, and a low cost of living. The expansion of the Panama Canal, which was opened in June 2016, is expected to bring in over US$2 billion in annual revenues by 2021.
Panama had the highest foreign direct investment (FDI) share of GDP in Latin America, at more than 10% of GDP in the past few years, according to a report released by the United Nations. In 2015, Panama was also the the largest recipient of FDI in Central American subregion, accounting for 43% of the total amount of US$11.8 billion.
In the second quarter of 2016, FDI increased 8.4% to US$1.68 billion from the same period last year, according to the Ministry of Economy and Finance (MEF). 
"Foreign Direct Investment (FDI) continue to arrive at a good pace to Panama, which demonstrates the confidence that investors have in the country and in the performance of its economy," said Economic and Finance Minister Dulcidio De La Guardia.
Panama encourages FDI in real estate by offering various incentives such as property tax exemptions, according to Jeff Barton of Punta Pacifica Realty.
"People aren't just moving here to relax," Davis added. "They're coming here to work because there is so much business around."
For what it is worth, the country remained on the top spot in International Living's Global Retirement Index as the world's best place to retire in 2016, due to its convenience (ease of access from US, currency in US dollars, English is widely understood), world-class amenities, good beaches, and affordability.
Panama removed from FATF's "grey list", but money-laundering remains rampant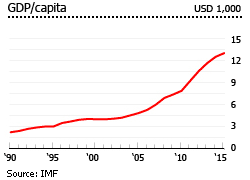 Despite strong economic growth in recent years, Panama continues to face worsening poverty and social inequality. Elite families of European descent control most of the country's wealth and power, while about one-third of its total population lives below the poverty line. There were about 4 million people in Panama in 2015, with a GDP per capita of US$13,013, according to the IMF.
In addition, Panama is a major transit point for U.S.-bound drugs and illegal immigrants, and has an international reputation as a haven for money-laundering. In June 2014, Panama was placed on the "grey list" of Financial Action Task Force (FATF) of countries not doing enough to fight money laundering.
However in February 2016 FATF officially tookPanama off its money laundering and terrorism financing watch list, after the government introduced legal and regulatory regulations to address legislation deficiencies identified by FATF.
Despite this, money laundering and terrorist financing remains rampant in Panama. No real controls prevent funds moving through Panamato terrorist organizations, nor are do money laundering prosecutions take place. Moreover, Panama's powerful criminal syndicates remain fully operational.
Local property price variations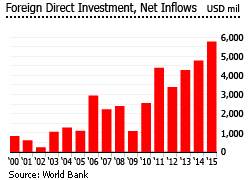 Panama City is divided into two main areas – the old colonial town of Casco Viejo, and the modern business and shopping district of high-rise buildings and malls.
House prices vary considerably depending on the location, size, and quality of the property.
In Santa Maria, the capital city's most exclusive and best-planned residential golf community, average property prices currently range from US$2,800 per sq. m. to US$3,500 per sq. m.
In the prestigious neighbourhood of Costa del Este, newly constructed luxury apartments sell for about US$2,800 per sq. m.
In Punta Pacifica and Balboa Avenue, property prices range from US$2,600 to US$3,000 per sq. m. Three-bedroom oceanfront condominium units in these neighbourhoods are priced at about US$350,000. In YOO and Villa del Mar, two of the most expensive buildings in Balboa Avenue, average property prices were US$2,962 per sq. m and US$3,064 per sq. m, respectively, in June 2016, according to Panama Equity real estate.
In San Francisco, newly built houses are generally priced from US$1,750 per sq. m.
In the city centre's Calle 50, the price of newly built houses can go as high as US$3,000 per sq. m.
In Los Altos de Cerro Azul, a private, gated community that sits on Panama´s undiscovered mountain paradise, three-bedroom houses with ample garden space can be bought for just US$100,000.
At the Trump Ocean Club, one of the most expensive residential buildings in the city, one-bedroom unit on the 50th floor costs about US$350,000.
Residential construction boom may be over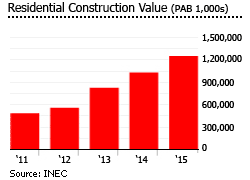 There has been a construction boom in recent years, fuelled by an investment and tourism boom, and by major government infrastructure projects (the expansion of the Panama Canal, the construction of Line 2 of the metro rail system, the port of Colon upgrade, etc.).
The value of residential construction rose by 21.6% to PAB1.25 billion (US$1.25 billion) in 2015 from a year earlier, following annual rises of 24.7% in 2014, 47.6% in 2013, and 15.7% in 2012, according to the Instituto National de Estadistica y Censo (INEC). However, during the first nine months of 2016, the total value of residential construction in Panama fell by 8.3% y-o-y to PAB880.11 million (US$880.11 million).
During the first nine months of 2016:
In Panama City, the value of residential construction dropped 7.8% y-o-y to PAB 670.61 million (US$ 670.61 million).
In San Miguelito, the value of residential construction increased 64.4% y-o-y to PAB57.7 million (US$57.7 million).
In Colon, the value of residential construction dropped substantially to PAB1.77 million (US$1.77 million), from PAB17.44 million (US$17.44 million) in the previous year.
In David, Chitré, Santiago, Aguadulce and La Chorrera, residential construction value fell by 7.6% to PAB127.62 million (US$127.62 million).
In Arraiján, residential construction value fell by 24.6% to PAB74.51 million (US$74.51 million).
In March 2016, construction credit from the three banks that account for 70% of total loans granted to the construction sector rose by 17% from a year earlier, from an annual rise of 25% in the same period last year.
Panama had more than 900,000 occupied housing units in 2010, up by 31.5% from 2000, according to the National Censuses.
Rental yields remain good
Despite falling in the past few years, gross rental yields in Panama remain good, ranging from 5.5% to 8.3%, with smaller apartments yielding more, according to a Global Property Guide research conducted in November 2015.
Most properties in Panama City are apartments. According to Global Property Guide, average apartment prices by end-2015 were:
Inland apartments (120 sq. m.) –US$239,640
Inland apartments (175 sq. m.) –US$360,000
Inland apartments (300 sq. m.) –US$539,700
Beachfront apartments (120 sq. m.) –US$284,400
Beachfront apartments (200 sq. m.) –US$416,800
Beachfront apartments (350 sq. m.) –US$795,900
Boquete, in Panama's mountain highlands, has a fast growing expatriate community. The popular option here is to buy land and build a home, but there are many completed homes on offer. Sample property prices for Boquete are as follows:
2-bedroom, 1-bathroom home, about 1,600 sq. ft. –US$90,000
3-bedroom, 2-bathroom home, about 1,500 sq. ft.–US$179,000
Another desirable location is Coronado, a popular beach town and relaxed community for expats, and only an hour from Panama City.
Sample property prices for Coronado are as follows:
1-bedroom, 1-bathroom home, about 1,000 sq. ft. –US$100,000
2-bedroom, 2-bathroom home, about 1,050 sq. ft. –US$140,000
Strong economy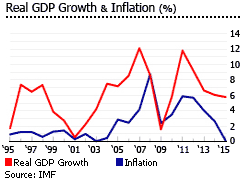 After more than 10% annual GDP growth in 2011-2012, Panama's economy slowed to 6.6% in 2013, and then to 6.1% in 2014, and to 5.8% in 2015—the slowest growth rate in 5 years. This reflects work delays at the Panama Canal (from August 2014, the completion date moved several times to June 2016), and the end of other public work projects, and the Colon Free Zone dispute with Venezuela and Colombia .
The economy is expected to expand by 5.2% this year, and by another 5.8% in 2017, according to the IMF.
The recently-opened US$5.25 billion expansion of the Panama Canal, which began in 2007, has experienced delays and cost overruns amounting to US$1.6 billion . The expansion project has doubled the capacity of the Panama Canal with the increase in the width and depth of the lanes and locks and the addition of a new lane of traffic that allows more ships and larger ships to pass. The canal is expected to more than double average annual canal earnings from US$2 billion, to around US$5 billion in 2016.
The United States and China are the principal users of the Panama Canal. In 2007 Panama and the United States signed a Trade Promotion Agreement free trade agreement. Panama approved the TPA the same year, and the U.S. in October 2011. The agreement took effect in October 2012.
During the fiscal year ending September 30, 2016, the Panama Canal had the third highest annual tonnage in its history, according to the Panama Canal Authority (ACP).
"This latest success reinforces the continued strategic importance of the route and the growing value that recent investments in the canal will bring to the maritime industry," said Panama Canal Administrator Jorge L. Quijano.
"What we accomplished with the opening of the Expanded Panama Canal this past fiscal year was just the beginning of an ambitious plan to strengthen Panama's position as the logistics hub of the Americas," added Quijano.
Another logistics infrastructure project, the Corozal Container Terminal, is being bid, and is expected to further enhance the country's position as the preferred route and regional destination for shippers.
Other major infrastructure projects include Panama's metro rail system, the first in Central America. Line 1 was completed in April 2014, while the second line is expected to be completed in 2017. There is also a planned US$8 billion upgrade of the port of Colon . All of these major infrastructure projects will improve the country's connectivity, and breathe new life to the economy and the real estate market.
Panama - More data and information