Mexico's housing market strengthens, despite struggling economy
Lalaine C. Delmendo | November 02, 2019
Enormous drug-related violence.  Struggling economy.  Corrupt political class.  Static interest rates. Yet Mexico's house prices rose by 9.19% during the year to Q2 2019, according to the SociedadHipotecaria Federal (SHF). Adjusted for inflation, house prices increased 4.78% y-o-y in Q2 2019.
On a quarterly basis, house prices rose by 2.44% (2.31% inflation-adjusted) during the latest quarter.
What´s even stranger is that this sudden take-off of the housing market comes after Mexico's housing market has suffered prosaic growth for a decade, in real (inflation-adjusted) terms, despite strong nominal growth:
MEXICO HOUSE PRICE INDEX, ANNUAL CHANGE (%)

Year
Nominal
Inflation-adjusted
2009
4.75
0.75
2010
3.70
-0.53
2011
5.90
2.32
2012
2.90
-1.17
2013
4.07
0.40
2014
5.12
0.90
2015
6.71
4.34
2016
5.82
2.49
2017
8.56
1.85
2018
9.35
4.32
Sources: SociedadHipotecaria Federal (SHF), Global Property Guide
The secret is Mexico´s enormously strong domestic market, particularly the rising middle class. In 2018, the country's middle class was estimated to account for almost half of the total households, at about 16 million. They are expected to continue growing, with about 3.8 million more households projected to move into the middle class by 2030. Moreover, most Mexicans who move generally prefer to buy rather than to rent. Around 82% of Mexicans want to buy a property, as opposed to 18% that prefer to rent, according to Lamudi's recent Real Estate Market Report 2018.
Foreign demand is also rising again. American and Canadian buyers are returning to Mexico, after a several-year slump, thanks to low oil prices and the strong US dollar, pushing home values up.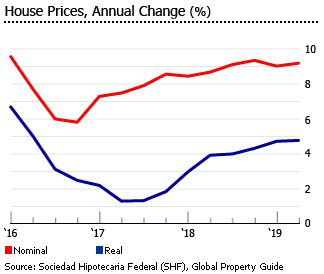 The Mexican housing market is not driven by speculators. There are many developers, and it is highly competitive. Interest rates are (relatively) low in the social sectors, due to subsidies.  Housing demand in Mexico is "real", says Citibanamex's Executive Director of Mortgage and Automotive Credit Ricardo García Conde, meaning that the house price movements in Mexico are mostly due to supply and demand with a minimum percentage of speculative purchases.
While the general outlook for Mexico's housing market remains robust, the country's ailing economy, coupled with the uncertainties surrounding the ratification of NAFTA (now rebranded as USMCA) and the ongoing US-China trade dispute, might adversely impact the market in the coming months.
Contrary to President Andrés Manuel López Obrador's promise to deliver 2% growth this year, the Mexican economy actually shrank by 0.4% in Q3 2019 from a year earlier, following a y-o-y contraction of 0.8% in Q2 2019 and a growth of 1.2% in Q1. As a result Banco de Mexico (Banxico) recently slashed its 2019 economic growth forecast to about 0.2% to 0.7%, down from its earlier projection of between 0.8% and 1.8%.
Politics and drugs in Mexico
In general elections in July 2018, Andrés Manuel López Obrador of the left-wing National Regeneration Movement (MORENA) inflicted a massive defeat on the previously-ruling Institutional Revolutionary Party (PRI).  Obrador won a landslide victory with 53% of the votes, defeating Ricardo Anaya of the National Action Party (PAN) (22%), José Antonio Meade of the PRI (16%), and independent candidate Jaime Rodríguez (5%).
Obrador is the first president to win an outright majority since Mexico transitioned to democracy in 1988, and the first elected president not to come from either the PRI or its predecessors.  He took office on December 1, 2018.
López Obrador's party, MORENA, also dominated the election, taking 55 seats in the senate while its coalition partners the Workers' Party (PT) and the Social Encounter Party (PES) won 6 and 8 seats, respectively. This makes the MORENA coalition an absolute majority in the senate, controlling 69 of 128 seats. In the Chamber of Deputies, the coalition got a total of 306 seats out of 500.
Obrador´s presidency follows that of the PRI's Enrique Peña Nieto (called by many "the new face of the old guard") who was president 2012-2016. He promised big changes, and was initially feted by investors.  However many soon came to feel that Nieto intended to re-establish the PRI's old corrupt hegemony.
Nieto was involved in two major housing scandals:
The revelation that first lady Angelica Rivera's US$7 million house in Lomas de Chapultepec was registered under the name of a construction company property that received contracts in the state of Mexico when Nieto was governor.
In November 2014 a high-speed train contract was awarded to a Chinese-led consortium. The contract was later scrapped when it was revealed that the president´s White House family mansion had been paid for by a contractor who was a member of the train consortium.
From 2000-2012 the PRI´s long and corrupt rule was interrupted by the National Action Party (PAN), with power held 2006-2012 President Felipe Calderon. He brought big changes. Although drug-related violence has been present in Mexico for the past three decades, the government had passively ignored the problem from the 1980s to early 2000s, until Calderon implemented a militarized approach to dealing with the drug cartels.
Calderon may have been partially successful, but around 60,000 people were killed during his campaign against drug cartels. Exhaustion with this seemingly unendingly escalating toll of violence which returned the PRI to power in 2012.
However, violence has in fact climbed to new highs recently. As opposed to Calderon´s policy of arresting or killing the country's drug lords, former president Nieto's rhetoric focused on lowering murder rates, kidnappings, and extortions. Despite all this in 2018, the number of homicides in Mexico reached a historic high of 29,111, according to official figures, triple the country's murder rate from 2007, the first year of Calderon's office, and representing about a 75% rise from 2015.
Then in the first half of 2019, there were 14,603 homicides in Mexico, up from 13,985 cases in H1 2018 and the highest level recorded in the country's recent history.
This underscores the vast challenges President López Obrador faces in reducing violence in the cartel-ravaged nation. He has stated that "you cannot fight fire with fire" and pursues a low-key policy.  But the bungled arrest and release last week of Ovidio Guzmán López, son of drug boss "El Chapo" Guzmán, followed by cartels erecting 19 roadblocks across Culiácan and riding around in pickup trucks firing guns, suggests the enormity of the challenge.
However a BBVA study has suggested that violence has only a limited effect on domestic housing sales, because the violence is very regionally concentrated. Almost half of the homicide cases every year occur in Baja California, Durango, Sinaloa, Chihuahua and Guerrero, according to the SSP (Secretaría de SeguridadPublica or Public Security Ministry).
Mortgage rates remain high despite falling key rates
Mortgage interest rates remain high. The average interest rate for mortgage loans offered by banks and Sofoles was 13.26% in August 2019, slightly up from 13.12% in the previous year. Mortgage rates in Mexico range from 11% to 17.07% in August 2019.  This is despite the central bank, Banco de Mexico (Banxico), cutting its key rate by 25 basis points to 7.75% in September 2019, the second consecutive cut this year, as inflation slowed sharply in recent months to 3% in September 2019, down from 5.02% a year earlier, while economy remained weak, according to the National Institute of Statistics and Geography (INEGI).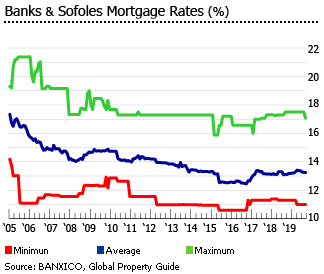 Small mortgage market
The non-subsidized private mortgage market in Mexico is small, at around 10.3% of GDP in 2018, just a bit higher than 9% of GDP in 2007.  Mortgage lending from non-banks accounts for 65% of all mortgage loans.
"Non-bank finance companies are growing quickly by tapping two niche market segments--low-income individuals and small and medium enterprises (SMEs) - that banks are reluctant to lend to because of their relatively high risk, as well as the high cost of serving them," said Moody's Investors Service Associate Analyst Vicente Gomez.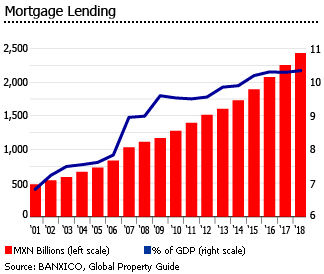 Since 2000, banks have made significant changes leading to better access to loans.
Mortgage processing fees have been reduced to an average of 3%, from 6%.
Loan to value ratios have been raised to 80% - 90% from 65% or lower.
Loan terms have been lengthened from 10 - 15 years in 2000, to the current level of up to 30 years.
Rental yields are moderately good
Gross rental yields in Mexico City - the return earned on the purchase price of a rental property, before taxation, vacancy costs, and other costs - are moderately attractive. In previous years, Global Property Guide found that rental yields in Mexico City were between 3.4% and 6.4%.
Examples of yields:
4.7% to 6.35% in Alvaro Obregon, which includes Jardines del Pedregal, which hosts some of Mexico's richest families.
A typical property here might cost around US$2,500 per square metre, and be rentable for a return of around 5%. A residential property in Santa Fe, one of Mexico City's major business districts, can cost around US$2,000 per square metre, and earn a yield of 6.35%.  In Los Alpes and San Angel yields range from 4.7% to 5%.
5% in Benito Juarez. This is the richest alcaldia in Mexico and is primarily populated by the middle and upper middle classes.
The borough is home to a number of landmarks such as the World Trade Center, the Estadio Azul, the Plaza Mexico, and the Polyform Cultural Siqueiros. In Del Valle, apartments cost around US$2,000 per square metre and may yield a rental return of around 5%.
3.3% to 4.2% in Miguel Hidalgo, just west of the historic centre. This contains mostly working class areas in and around Tacuba and Tacubaya, but its southwest contains some of the most exclusive colonias.
Most of the diplomatic missions in Mexico City are located in the area, mainly in the Lomas de Chapultepec and Polanco area. These are highly-priced districts, with an average price of about US$4,800 per square metre in Polanco, US$2,800 in Lomas de Chapultepec and US$2,500 in Bosque de las Lomas. Rental yields average between 3.3% and 4.2%.
Strong demand from foreign buyers
In recent years, American and Canadian buyers have been returning to Mexico, after a several-year slump, thanks to low oil prices and the strong US dollar, pushing home values up.
Mexico ranks first among 30 favourite US and Canadian destinations for second home searches in 2018, up by three notches from 2015, according to Point2 Homes.  
American buyers are very important as owners of beachfront properties.  Some of the most sought after Mexican destinations on Google last year include Puerto Vallarta, Cancun, Playa del Carmen, Cabo San Lucas, and San Miguel de Allende.
Foreign buyers are also eyeing properties in Cuernavaca's prime neighborhoods, such as Sumiya, Palmira, and Tabachines, according to Guadalajara Sotheby's International Realty's agent Laura de la Torre de Skipsey.
In Mexico City, foreign buyers (mostly from Brazil, Spain, and US) tend to invest in new construction or commercial properties, and are in the city for work.
Foreign land ownership
The Foreign Investment Law of 1973 allowed foreigners to purchase real estate anywhere in Mexico except the restricted zone that consists of areas within 100 km (64 miles) of international borders or within 50 km (32 miles) from the coastline at high tide. In 1993, Mexico amended the constitution to allow foreigners to purchase real estate within the restricted zone by means of a fideicomiso.
Under the current system of fideicomiso, foreigners can only own real estate in the restricted zone indirectly, by setting up bank trusts. While the trustee is the legal owner of the real estate, the beneficiary retains all ownership rights and responsibilities and may sell, lease, mortgage, and pass the property on to heirs. The fideicomiso is authorized by the Mexican Government under the Ministry of Foreign Affairs.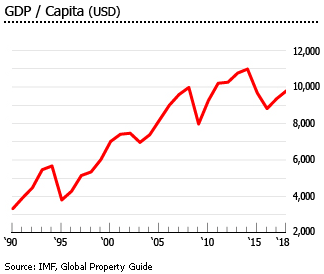 Although this system is relatively safe, it rests on the credibility of Mexico's banking system and property registry administration, which unfortunately discourages many foreigners.
The rising middle class
In 2018, the country's middle class was estimated to account for almost half of the total households.
The middle class is expected to continue growing, for several key reasons:
First, inflation has halved: it was close to 10% in 2000, but between 2005 and 2018 the rate has hovered around 4%. The autonomy of the Bank of Mexico has played a key role. However, the massive gas price hikes drove Mexico's inflation rate to a 16-year high at 6% in 2017. This pressured the central bank to bring inflation back to its +/-3% target.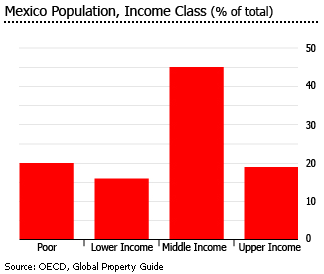 Second, there is now trade openness. As a percentage of the economy, foreign trade (exports plus imports) account for nearly 60% of GDP, making Mexico one of the most open economies in the world. By way of comparison, the figure is 27% in Brazil, 48% in China and 30% in the United States. This fosters competition and puts an upper limit on the price of goods in the local market.
Third, there is the prudent management of public finances. Between 2000 and 2012, the fiscal deficit was below 1% of GDP. The Mexican government targets a fiscal surplus of 0.7% of GDP this year. Total public debt, domestic and foreign, remains below 50% of GDP in 2018.
Fourth, financial inclusion. The population using banking services rose from 33 million in 2006 to 51 million in 2012.  Yet 66% of adults in Mexico do not own a bank account, so in 2016 the government launched the National Financial Inclusion Strategy (NFIS) to accelerate access to financial services for the population currently left out. Moreover the FinTech Law, passed in March 2018, which aims to develop Mexico's own Open Banking Standard by 2020, is expected to help foster innovative solutions for people currently excluded from the financial system.
Local house price variations
Mexico's most expensive houses are in Mexico City, State of Mexico, Nuevo León, Jalisco and Querétaro, according to Lamudi.
In Polanco and Lomas, Mexico City's most exclusive neighbourhoods, prices of luxury residential properties can range from US$6,000 to US$10,000 per square metre (sq. m.) in 2018, according to according to Carmella Peters Romero of Peters & Romero Bienes Raices.
In Santa Fe, one of Mexico City's modern districts, properties can be bought at an average price of US$ 3,500 per sq. m., according to Mexico Sotheby's International Realty agent Laura de la Torre de Skipsey.
In Cuernavaca, capital of the state of Morelos, an hour and a half drive from Benito Juarez International Airport in Mexico City, luxury homes are available at prices above US$1.5 million. Low-end three-bedroom homes can be bought starting from US$200,000, while mid-range houses with three to four bedrooms are priced at US$500,000, according to Andrea Dolch Espinosa de los Monteros of Mexico Luxury Estates.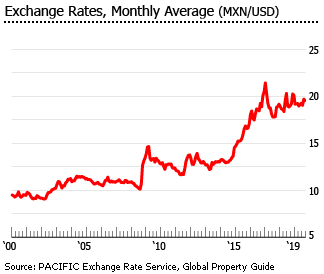 In Playa del Carmen, a coastal resort town along the Yucatán Peninsula's Riviera Maya, a three-bedroom apartment is priced at US$ 460,000. In Playacar, a gated community of resort developments in Playa del Carmen, a four-bedroom luxury home lists for US$1,500,000.
In Tulum, another resort town located in Mexico's Caribbean coast, a two-bedroom townhouse in the exclusive gated community of AldeaZamá can be bought for below US$500,000.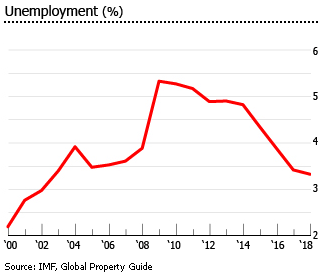 In Cancún, a city in southeastern Mexico known for its beaches, mega-resorts, and frenetic nightlife, the average price of houses was at around US$250,000 last year. Apartments in the area had an average price of US$240,000.
Bleak economic outlook
The Mexican economy expanded by 2% in 2018, the lowest level in five years, according to the International Monetary Fund (IMF), mainly due to the uncertainties brought by the July 2018 elections.
Contrary to López Obrador's promise to deliver a 2% growth this year, the Mexican economy actually shrank by 0.4% in Q3 2019 from a year earlier, following a y-o-y contraction of 0.8% in Q2 2019 and a growth of 1.2% in Q1, based on preliminary figures released by INEGI.
During the year to Q3 2019:
Industrial activity, with accounts for almost one-third of the economy and is very dependent on US demand, declined by 1.7%
The services sector and related activities, which accounts for about 60% of the economy, contracted by 0.1%
The agricultural sector expanded by 5.4%
The uncertainties related to the renegotiation of the North American Free Trade Agreement (NAFTA) (now rebranded as the United States-Mexico-Canada Agreement or USMCA) and the policies of President-elect López Obrador's administration are affecting investment. Investor confidence has been upset by some of López Obrador's recent policies, including his decision to cancel a partly-built US$13 billion airport for Mexico City and his withdrawal form the prior government's opening of the oil and gas industry to private capital.
Moreover, the ongoing US-China trade war is also adversely affecting the Mexican economy.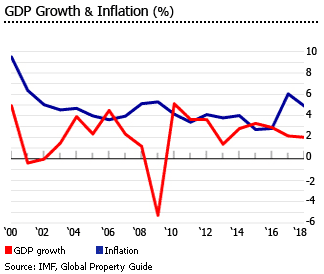 "Viewed as a whole, we can say that the Mexican economy is stagnating, as its nonexistent growth so far this year confirms, in a climate where a negative bias prevails given economic, political, national and global uncertainty," said Scotiabank.
Banxico recently slashed its 2019 economic growth forecast for Mexico to about 0.2% to 0.7%, down from its earlier projection of between 0.8% and 1.8%.
Unemployment stood at 3.5% in September 2019, up from 3.3% a year earlier, according to INEGI. Consumer prices were up by 3% during the year to September 2019, down from last year's 5.02% inflation and at par with the central bank's target.
Sources:
Mexico - More data and information