A recovery of Brazil's housing market is underway in 2019. This is evident in a strong launches and sales in 2018, as well as the positive economic outlook for this year. Mortgage lending also surged in 2018 due to low interest rates and increased consumer confidence.

For the first time since July 2017, nominal house prices were up, as Brazil´s FIPEZAP house price index slightly rose by 0.07% during the year to February 2019. But as we often remind readers, nominal house prices are not 'real', and house prices fell by 3.68% when adjusted for inflation.

During the year to February 2019:

In Sao Paulo, Brazil´s biggest real estate market, house prices went up by an average of 2.02%. However, when adjusted for inflation, prices were actually down by 1.8%.
In Rio de Janeiro, house prices fell by almost 3% (-6.62% inflation-adjusted), its fourth consecutive year of y-o-y nominal price declines.

Real estate agents, as well as analysts from related sectors, mostly expect a better performance from the real estate sector this year.

"Our expectations are very positive for the Brazilian property market as a whole," said Lopes Immobilis' agent Ricardo Bezerra.

A new real estate cycle is beginning, now that uncertainties have been reduced by the elections, says Eduardo Fischer Teixeira de Souza, MRV president of Engenharia.

"In this sector, we must always try to anticipate the next three years. Even in 2014, when unemployment was low, it was already apparent that there would be difficult years ahead, but 2019 should be better for the real estate market. The worst of the crisis seems to have passed and the demand for housing is high," said Fischer Teixeira de Souza in an interview with the newspaper O Estado de S. Paulo.

"Construction GDP is negative but recovering. The indicators are far from the peak, but many return to the levels before the market boom, which is a sign of improvement," says Brazilian Association of Real Estate Loans and Savings Companies (ABECIP) President Gilberto Duarte de Abreu Filho.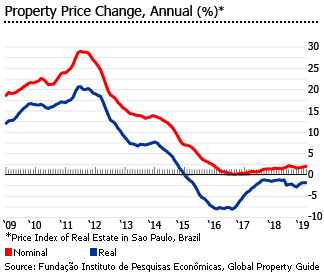 Foreign individuals and nonresidents may invest in urban and rural properties through direct ownership from abroad, or through resident companies or partnerships. To be able to buy a property, a tax registration number from the Cadastro de Pessoa Fisica (CPF) is required.

However there are several restrictions on investments in rural properties. Foreign individuals who intend to migrate to Brazil may acquire rural properties directly from abroad only if they come to live in Brazil within three years from the date of acquisition. In addition, rural properties acquired by foreign companies shall be destined for the implementation of agricultural, industrial or settlement projects and these activities must be related to the companies' purposes.