No more roller coaster ride for Brazilian housing market?
November 10, 2017

House prices in Brazil are still falling, but the omens are good. Increases in construction and home sales, as well as a positive economic outlook, suggest that Brazil's housing market is not too far from recovery.

Brazil's composite FIPEZAP house price index declined by 0.36% during the year to September 2017, or -2.83% adjusted for inflation.

Looking back to the boom, house prices in São Paulo rose by an amazing 223.8% from January 2008 to June 2015 (106.3% inflation-adjusted), and in Rio de Janeiro house prices rose by an even more spectacular 266.1% (133.3% inflation-adjusted).   National house prices rose 26.3% in 2011 (18.6% after inflation), by 13.7% in 2012 (7.4% after inflation), by 12.7% in 2013 (6.4% after inflation), and 6.8% in 2014 (0.3% after inflation).

Property became increasingly unaffordable due to the surge in house prices, leading many Brazilians to rent rather than own.  "In the major cities young professionals are struggling to afford the kind of prices now being asked for properties in good areas," according to Colordarcy.

Since the end of 2014 national house prices have been falling in real terms.  In 2015 house prices nominally rose 0.9% (but fell 8.9% in real terms).  In 2016 national house prices nominally rose 0.2% (but fell 5.8% in real terms).

During the year to September 2017:

In Sao Paulo, Brazil's biggest real estate market, house prices went up by an average of 1.38% (but fell 1.13% after inflation).
In Rio de Janeiro, house prices dropped by 3.58% (and fell 5.96% after inflation), marking its 24th month of year-on-year nominal price declines.

While house prices are clearly still declining in many parts of Brazil, the outlook for the housing market has been improving particularly in the Sao Paulo region. Investors and international buyers are back, searching for bargains.

The reason?  Since October last year, the Central Bank has been cutting its key interest rate, making lending less costly for potential home buyers. As of October 2017 the key rate stands at 7.5%, significantly lower than the 14.25% rate in the first half of 2016.

Q2 2017 saw Brazil's first y-o-y economic expansion, after having shrunk every quarter since Q2 2014 - the country´s worst and longest recession in more than a century. The GDP expansion of 0.3% y-o-y was supported by the rebound in household consumption, which rose by 0.7% y-o-y, also the first increase since 2014.  The Brazilian economy has suffered a deep recession in the last two years, contracting by 3.59% in 2016, and 3.77% in 2015. 

The economy is expected to expand by 0.7% this year, followed by 1.5% growth in 2018, according to the International Monetary Fund (IMF).

The government also expanded the Minha Casa Minha Vida (My House, My Life) program by raising the maximum income of eligible beneficiaries, as well as the price ceiling of housing units. In February 2017, the government allowed almost 30.2 million workers to withdraw amounts deposited in inactive FGTS accounts. Minha Casa Minha Vida allows workers to use their FGTS as deposit for low-income housing, qualifying them for loans from the state-owned bank Caixa Econômica Federal.

As a result, "The residential real estate market in Brazil now is starting to pick up after two years where business was very slow," says Bossa Nova Sotheby's International Realty broker Sylvia Agricola.

The recovery is helped by the fact that the previous  boom was hardly a "bubble". Brazil´s GDP per capita has increased by a whopping 60% since 2008.

"A bubble means a lot of increases in prices for nothing," says professor Fabio Gallo.  This was not the situation in Brazil.  "You had real reasons for the expansion of the prices in Brazil."  The 2007 discovery of enormous oil fields located deep beneath a layer of salt in the Atlantic seabed boosted the energy industry's demand for residential and office space. Demand continued to surge following the 2009 announcement that Rio de Janeiro would host the 2016 Olympic Games. Rapid development of the mortgage market followed legal reforms to streamline the foreclosure process. Plus, interest rates were progressively cut from 26% to 7.25% between 2003 and 2012. The rapid growth of the middle class was another important factor.  All of these elements contributed to the house price boom.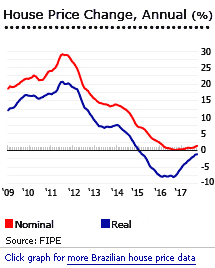 Foreign individuals and nonresidents may invest in urban and rural properties through direct ownership from abroad, or through resident companies or partnerships. To be able to buy a property, a tax registration number from the Cadastro de Pessoa Fisica (CPF) is required.

However there are several restrictions on investments in rural properties. Foreign individuals who intend to migrate to Brazil may acquire rural properties directly from abroad only if they come to live in Brazil within three years from the date of acquisition. In addition, rural properties acquired by foreign companies shall be destined for the implementation of agricultural, industrial or settlement projects and these activities must be related to the companies' purposes.