Index-linked mortgages transform Argentina's housing market
February 20, 2018
Formerly crippled by inflation, Argentina's property market has been revolutionised by index-linked mortgages.  Transaction volumes have ballooned, construction is vibrant, residential prices have surged, and the property market has sprung back to life - the result of measures taken since President Mauricio Macri was elected in December 2015 and the introduction of index-linked mortgages in April 2016.
Buenos Aires old dwellings prices surged by 16.5% in dollar terms, and prices of new dwellings went up by an average of 10% during the year to August 2017, according to a 11,000 apartment survey by the Economics Institute of the Faculty of Economic Sciences of the Argentine University of Business (UADE).
New dwellings:
In Belgrano, the average price increased by 10.1% y-o-y in August 2017
In Palermo, prices increased by 9.4% y-o-y
In Núñez, prices increased by 7.7% y-o-y
In Recoleta, prices increased by 5.9% y-o-y
Old dwellings:
In Núñez, the average price of old dwellings sharply increased by 16.5% y-o-y in August 2017
In Belgrano , prices increased by 16.4% y-o-y
In Recoleta, prices increased by 12.9% y-o-y
In Palermo, prices increased by 12.8% y-o-y
The upwards surge in house prices has been triggered by the government's implementation of the Acquisition Value Units or Unidad de Valor Adquisitivo (UVA) mortgage loans, which copies Chile's system, and which has revived housing demand.  Despite industry skepticism about the plan (pesimistas sin fundamentos abstenerse), the number of purchase-sale deeds for the first eight months of 2017 rose by 44.7% as compared to the same period last year, while peso volumes surged by 114% during the same period. In August 2017, registered transactions rose by 42.3% y-o-y to 6,019, according to the Colegio de Escribanos de la Ciudad de Buenos Aires.
Why buying property was formerly so difficult
After 2011 capital controls introduced by then President Cristina Fernandez made it extremely difficult for most Argentines to acquire property. On the one hand, sellers demanded to be paid in dollars, proven safer than the peso. On the other, buyers were prevented from acquiring these dollars by strict currency controls. Thirdly, indexation of peso loans has been forbidden since 2004, at the heights of Argentina's currency crisis.
Coupled with high inflation, these factors caused the country's real estate market to enter a three-year crisis. In 2014, just 2,000 property sales per month were registered in Buenos Aires, a city of about 3 million people. That compares with 7,000 in 2010 and a historic average of 5,000, according to the Buenos Aires Notary College.
"The main issue in Argentina is that the real estate market has historically been transacted in dollars so when you make it impossible for people to source dollars liquidity gets disrupted," says Bret Rosen, managing director of research at Jamestown Properties LLC in New York.
In addition Argentina's very high inflation rates made granting peso-denominated mortgages too risky for banks.  In 2015, the number of new mortgages in Argentina slumped to its lowest level in 15 years, accounting for just 1.3% of the country's total GDP – the lowest in Latin America, according to a recent report by the Housing Finance Information Network.
This was down from 5.3% in 2000 – a drop that would have been considerably larger without the help of the government's Procrear housing programme, according to a report by Ecolatina consultancy. The programme accounted for 0.3% of the country's GDP in 2003 and reached 0.6% in 2015.
Terrible inflation made things worse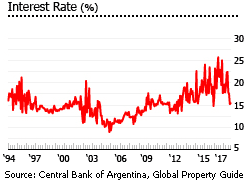 The central bank recently hiked its key interest rate for the 3rd time this year, raising it by 100 basis points from 27.75% to 28.75% in November 2017 to curb inflation, which remained at a worrying 23.8% y-o-y in September 2017. Aside from the key interest rate, the central bank also hiked its 35-day Lebac rate from 26.5% to 28.75%. 
Fixing the mortgage market has been key
President Mauricio Macri, elected in December 2015, made a campaign promise to offer one million mortgages during his tenure.   Immediately after taking office Macri began to reverse the economic legacy of populist former president Cristina Fernández.  Within three months he had devalued the currency and lifted tight exchange controls – largely blamed for Argentina's property market debacle.
There was an immediate surge in the number of requests for property quotes. "For the first time in years, homeowners want to exchange properties instead of sitting on their assets," says Alejandra Bugna, a property lawyer at Baker & McKenzie.
President Macri also ended Argentina's 15-year long default status by repaying the so-called "vulture funds" that sued it over nine billion U.S. dollars in defaulted bonds. Putting an end to the debt saga to regain access to global credit markets was a key campaign promise in 2015 elections.
Yet the step which has most impacted Argentina's property markets was the introduction in April 2016 of an inflation-linked mortgage credit system called Acquisition Value Units or Unidad de Valor Adquisitivo (UVA).  It is similar to the system used in Chile and Uruguay.  
Under the scheme, real-estate prices either for rent or for purchase will no longer be denominated in US dollars or in pesos but instead will be denominated in UVA.   The system guarantees that the transaction represents the same number of consumer price index baskets if, for example, there's a tighter or looser monetary policy. Rents will be priced at the same amount of UVA if the peso gets stronger or weaker. While the payment would be nominally higher with a devaluation, the payment's UVA value would remain constant.
In addition to the introduction of UVA, the government launched a subsidized mortgage scheme in March 2017, which mainly benefits those in the middle class. The scheme is expected to grant subsidized mortgages to around 90,000 locals with monthly incomes ranging from ARS 16,000 (US$ 915) to ARS 32,000 (US$ 1,830).
Since the debut of UVA mortgage loans in April 2016 up to end of April 2017, around ARS 8.373 billion (US$ 478.95 million) of adjustable loans were extended, around 69% of which were mortgage loans, noted the Financial Stability Report for 1H 2017 of the Banco Central de la República Argentina (BCRP). Currently, 16 financial entities offer UVA mortgage  loans, with varying conditions and terms, ranging from 15 to 30 years, according to the BCRP.
While mortgages are only 1% of Argentina's GDP, demand is growing fast. "We have started to see credit demand growing and there is going to be a big difference between the past drivers of bank profits," said Santander Rio's head of economics research Rodrigo Park.
Property prices have surged as a result of the new demand.  According to Reporte Inmobiliario:
"In 2017,  two and three room apartments in Buenos Aires had a 12% year-on-year average increase in dollar values.  Add to this the 18.63% jump in the dollar (which went from 16.1 pesos per US$ on 31 December 2016, to 19.10 pesos per dollar on 1 January 2018), the value of the square metre in pesos rose by 32.58% year-on-year (the increase in apartment prices was 8.5% higher than last year's 24% estimated inflation).
"So anyone who took a UVA credit a year ago, has benefited since the evolution of his debt was lower than inflation, and in general also lower than the average salary increase.
"Let's see it in numbers:  An average used apartment of 40 sq. m. cost US$78,920 dollars (= 1,270,612 pesos) in December 2016. Currently the price of the same unit is US$88,200 dollars (= 1,684,620 pesos). So today we need 414,008 pesos more than a year ago to buy the same apartment...."
Buenos Aires has moderate rental yields; higher rents in Q1 2017
Gross rental yields in Argentina are moderate, ranging from 4.48% to 5.66%. Smaller apartments have higher yields than larger ones, based on the Global Property Guide research in October 2016.
Renting has till recently been the only option for many who have no means of saving and buying property, owing to limited mortgage lending. In Buenos Aires, due to high inflation rents, which are expressed in pesos, have risen by 36.8% during the year to Q1 2017, to an average of ARS 5,631 (US$ 322.10) per month for one-room apartments, according to the Statistics and Census Bureau of the City of Buenos Aires. Rents for two-room and three-room apartments rose by an average of 30.3% and 28.4%, respectively.
Puerto Madero has the most expensive rents for two-room apartments, with an average rent of around ARS 14,729 (US$ 842.52). Next are Palermo (ARS 8,933 or US$ 510.98), Recoleta (ARS 8,388 or US$ 479.81), while Villa Luro (ARS 5,814 or US$ 332.57), Floresta (ARS 5,839 or US$ 334.00) and Liniers (ARS 5,894 or US$ 337.15) trail behind.
For three-room apartments, the highest rents are in Palermo (ARS 14,793 or US$ 846.18 per month) and Belgrano (ARS 12,873 or US$ 736.36 per month). Rents for the same room are low in Floresta (ARS 8,152 or US$ 466.31 per month) and Villa Miter (ARS 8,271 or US$ 473.11 per month).
They're building, building....construction surges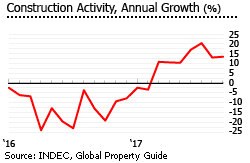 New construction in Buenos Aires dropped to an amazing low during the three-year period from 2013 to 2015. Less than 30% of the historic average new construction was built in 2015, according to Reporte Inmobiliario. The total area of new construction fell from 24 million square feet in 2011, to less than 8 million in only two years.
Now all this is changing.  Construction activity in Argentina surged by 13.4% during the year to September 2017, according to the data on Synthetic Indicator of Construction Activity (ISAC) from the National Institute of Statistics and Censuses (INDEC). For the first nine months of 2017, construction activity went up by 10% y-o-y.
Along with the continued rise in construction activity, the total covered surface of building permits issued in September 2017 also rose by 10.3%. Meanwhile, registered construction jobs grew 11% during the year to August 2017, according to the National Directorate of National Accounts.
Argentina's economy recovered in 2017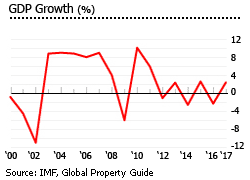 The economy expanded by 2.7% during the year to Q2 2017, according to the National Institute of Statistics and Censuses (INDEC), after struggling in 2016 with a GDP contraction of around 2.3% y-o-y. Both the Argentine government and Moody's project 3% economic growth in 2017, and a 3.5% expansion in 2018.
"Faster growth should support a reduction in the fiscal deficit, which will top 6% of GDP this year," says Moody's. However, despite the positive outlook for the next two years, the ratings agency sees the country's high inflation and massive foreign currency debt as areas of concern.
S&P Global Ratings has raised Argentina's sovereign credit rating from 'B' to 'B+' with a 'stable' outlook, based on the expectation that the government currently has a greater political capacity to pursue economic policies which will ensure stable growth.
In October 2017, Argentina's consumer prices were up by 1.5% from the previous month, which brings the 10-month inflation to 19.4%. The country's stubbornly high Inflation is estimated at 23% this year.
The economic changes made under President Mauricio Macri have coincided with an overhaul of the statistics agency, leading to the launch of new, more accurate economic series.  In 2013, Argentina became the first country to be censured by the IMF for publishing inaccurate data.  The inaccuracies were most pronounced during years when the economy had in fact contracted. For example in 2009 revised calculations show that the economy contracted by 6% compared to an estimate of 0.1% growth under the previous government. The economy shrank 2.6% in 2014 even though the previous government said it grew 0.5%.
The voters rewarded Macri's coalition in 2017 mid-term elections
President Macri's "Cambiemos" or "Let's Change" coalition achieved a resounding victory in key districts across the country In Argentina's mid-term legislative elections held in October 2017, although it remains a minority in both houses of congress. The coalition won in 13/23 provinces including the capital. Cambiemos won 61 seats in the Chamber of Deputies, and 12 seats in the senate. The result strengthens President Macri's legislative powers, giving him a solid boost in carrying out necessary economic reforms. 
"The Argentinian electorate has greenlighted President Macri's reform agenda, giving his coalition a convincing victory across the country," according to Jimena Blanco of global risk consultancy Verisk Maplecroft. "Labor and tax reforms will be at the top of the government's legislative agenda, which aims to boost the business environment improvements that begun in December 2015".
The administration has removed subsidies on utilities and public transport, as Marci seeks to close the largest fiscal deficit in two decades, causing some bills to rise by as much as 300%.
Aside from labour and tax reforms, the government is looking into reforming the pension system and the public sector, to potentially bolster foreign investment and raise productivity.
Argentina - More data and information