UK's housing market remains subdued, amidst uncertainty surrounding Brexit
Lalaine C. Delmendo | November 28, 2019

House prices in UK are still rising, at least in nominal terms (i.e. not adjusted for inflation). But uncertainty over Brexit and the upcoming general elections are now clouding the housing market's prospects.

The average house price in the UK rose by a meagre 0.3% to £216,805 (US$ 276,968) during the year to Q3 2019, according to Nationwide - a slowdown from last year's 2.1% growth. It was the lowest annual increase since Q1 2013. When adjusted for inflation, house prices actually fell by 1.4% y-o-y in Q3 2019.

London registered the biggest house price decline of 1.7% (-3.4% inflation-adjusted) during the year to Q3 2019 - the ninth consecutive quarter of price falls in the capital city, with double-digit declines for some top-end central London properties. Despite these declines, London's prices are still more than 50% above 2007 peak levels.

The Outer Metropolitan Area around London and the Outer South East also recorded house price falls of 1.5% and 0.6%, respectively (-3.2% and -2.4% in inflation-adjusted terms).

The highest price rise was in Northern Ireland, with house prices rising by 3.4% during the year to Q3 2019 (1.5% inflation-adjusted). It was followed by Wales (2.9%), North West (2.5%), West Midlands (2.1%), North (2%) and East Anglia (1.7%). Regions with weaker price rises included the Scotland (0.8%), South West (0.5%), East Midlands (0.4%) and Yorkshire and Humberside (0.1%).

Demand continues to fall. In the first three quarters of 2019, residential property transactions completed fell by 1.1% from a year earlier, following annual declines of 2.3% in 2018 and 1.2% in 2017.

"We remain unchanged from our view that activity levels and price growth will remain subdued while the UK navigates political and economic uncertainty," said Russell Galley, managing director at Halifax.

However the chronic housing shortage will prevent a significant drop in prices, according to the Royal Institution of Chartered Surveyors (RICS). Property transactions are expected to fall by about 5% in 2019 from a year earlier. 

"October has been full of political twists and turns, and with Brexit uncertainty ongoing, many buyers and sellers have adopted a 'wait and see' approach," said Jerald Solis of Experience Invest.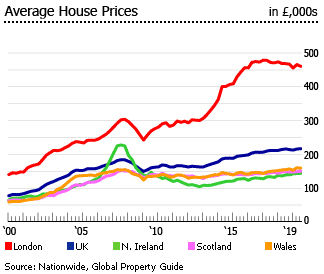 The UK economy is expected to expand by 1.3% this year, down from 1.4% in 2018 and the slowest pace since 2012, according to the Bank of England.

There are no restrictions on foreign ownership of properties in the UK.