London property market continues to soften
April 07, 2015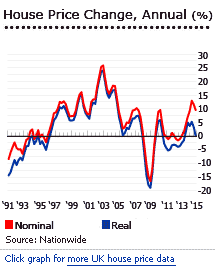 The UK´s property market has continued on a two-speed path: London is falling, the rest of UK is rising.
Though the UK´s 7.24% house price increase during 2014 was lower than the 8.4% gain recorded in 2013, after adjusting for inflation there was little difference (6.66% UK house price increase in 2014, versus 6.23% after inflation in 2013).
"The slowdown in housing market activity is surprising given further steady gains in employment, a pickup in wage growth (albeit from low levels) and the continued low level of mortgage rates," said Robert Gardner, Nationwide´s chief economist. "Moreover, surveys suggest consumers remain in high spirits – a view reinforced by robust retail spending growth in November, which was at its highest for over a decade."
"London is definitely on the way down," said Jim Mellon, an entrepreneur and investor. "You´re getting the Russians withdrawing, you´re getting a huge metal building, and I have read that there are 41,000 new units being built in London. All of which priced to £1 million but last year only 3,000 properties were sold for more than a million pounds in London. So I would say it is way overbuilt, way overleveraged, and way overpriced."
According to RICS, in February 2015 house prices declined in London for sixth month in a row while the rest of UK is experiencing house prices increases. The North and Scotland had house prices rising by more than expected. Moreover, house price growth accelerated in the South East and South West of England.
In 2014 the number of mortgages in arrears (10% or more of outstanding balance) dropped by 14% year-on-year to 24,700 in 2014, according to the Council of Mortgage Lenders (CML). Repossessions fell 26% y-o-y to 21,400 in 2014, the lowest since 2006.
Despite very high price to income ratios in London and cities in the South East and South West, UK house prices are being boosted by four factors:
Immigration and population growth have been strong, especially in London.
Interest rates have been at record lows, with a large expansion of the money supply through "quantitative easing".
The City of London (London's financial centre) continues to boom.
Construction activity remains weak. Dwelling starts rose 25.5% y-o-y to 160,250 units in 2014. Dwelling completions increased 1.1% y-o-y to 140,930 units, according to UK's Development for Communities and Local Government.
The UK economy grew 2.6% in 2014, an improvement from 2013's growth of 1.76%. It is now expected to steam ahead as consumer spending rebounds, inflation remains low at 0.5% and unemployment continues to fall.
"If the economic backdrop continues to improve as we and most forecasters expect," says Nationwide´s Gardner, "activity in the housing market is likely to regain momentum in the months ahead. Supply side developments will be crucial in determining the trajectory for prices".
Housing Boom and Bust
UK property prices saw huge rises from 1996 to 2007:
Prices in London rose 289% (229% in real terms) during this period.
Prices in Northern Ireland rose by 393.2% from Q3 1996 to Q3 2007 (316.4% in real terms), the highest rise among all the UK regions
Price increases in other regions during this period ranged from 188% (143% in real terms) for Scotland, to 245% (192% real) for the Outer Metropolitan Area.
The national index rose 241% (188% in real terms) over the same period (all figures from Nationwide).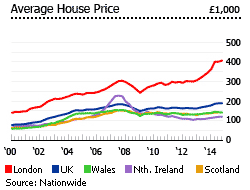 In early 2007 interest rates were raised, and lending conditions tightened.
House price falls accelerated in H2-2008, due to the global financial meltdown and the economic recession. The collapse of Iceland's banking system led to substantial losses for around 250,000 British depositors, exacerbating the situation. The regions that experienced the highest price rises during the boom generally had the biggest price falls from Q3 2007 to Q1 2009.
The biggest drop occurred in Northern Ireland where house prices fell by 39.2% (-42% real). House price falls in other regions ranged from 14.1% (-17.9% real) for Scotland, to 22% (-25% real) in East Anglia. London house prices dropped by 19.8% (-23% in real terms).
London has surged way ahead of rest of UK
The average home in London is now worth around 135% more (in Q4 2014) than the average home outside the capital, with the average difference approaching £235,000 (US$ 347,160), according to Nationwide. The capital´s surge is being driven by first-time buyers, and by foreign investors - rather than home movers.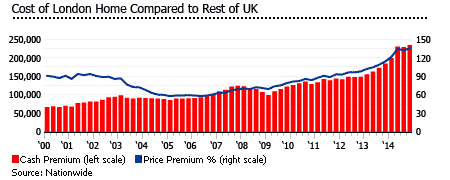 The gap between London and the rest of UK is the widest it has ever been, both in cash and percentage terms. Although London prices have always been higher than elsewhere, the gap was less than 40% before 1995.
London prices increasingly diverged in the 2000s, accelerating sharply in the years after the financial and eurozone crises in 2008-2009. London prices increased 17.8% y-o-y to an average of £406,730 (US$ 600,799) in Q4 2014, around twice the rate of price increases in the wider market, according to Nationwide. The next fastest rising area is Outer Metropolitan London, with a 12.7% increase.
London´s average house price is now 35% higher than at its peak in 2007, at £406,730 (US$ 600,799). Only four other regions are higher than their 2007 peak values: Outer Metropolitan London, which is 16.4% higher than in 2007, the Outer South East, which is 9.4% higher than in 2007, the East Anglia, which is 5.7% higher than in 2007, and the South West, which is 3.1% higher than in 2007. All four regions are evidently benefitting from London's ripple effect.
All other regions remain below their 2007 values, with Northern Ireland performing the worst, with prices almost 50% below its 2007 peak.
Help-to-Buy Scheme
Help to Buy is a series of Government schemes to help homebuyers acquire homes. Assistance is provided through either an equity loan or a mortgage guarantee.
Through the Help to Buy Equity Loan, the government will loan homebuyers up to 20% of the full purchase price of a new-build property, provided that borrowers contribute 5% of the property price as deposit, and secure a mortgage for the remaining 75% of a property. The homebuyer is not allowed to sub-let the property and it must also be his/her only property.
The Help to Buy Equity Loan was initially intended to run until March 31, 2016, but has been extended until 2020, according to the Financial Times.
The Help to Buy Mortgage Guarantee lets the borrower buy a newly-built home or an existing property with a deposit of 5% of the purchase price. It is open to both first-time buyers and home movers for homes with purchase price up to £600,000 (US$ 1,004,760). The homebuyer is, again, not allowed to sub-let the property and it must not be his/her second home.
Help to Buy Mortgage Guarantee is due to run until December 2016.
Help to Buy has encouraged a wave of fresh entries into the property market by people who previously struggled to buy homes.
Critics of the Mortgage Guarantee have argued that the scheme is putting upward pressure on house prices. But criticisms of the Help to Buy Equity Loan have been muted because it is directly linked to the supply of new homes.
Grenville Turner, chief executive of property firm Countrywide, contends "Claims that the Help to Buy scheme is causing a housing bubble are far from the truth and the facts speak for themselves.
"As a proportion of transactions both parts of Help to Buy together support only 2% of transactions in London compared with 10% in the north-west, where support is most needed. The scheme has had a positive impact on house builder confidence with many now believing that they can sell what they build, which as we know means they will build more."
The first 10 months of the Help to Buy Equity Loan scheme saw 14,823 new properties bought through the scheme, mostly first time buyers. A further 4,666 new homes have been reserved. This means that 1 in 5 (19%) of all private dwellings built in England are being sold through the scheme, according to Countrywide´s Quarterly Market Review. In some more depressed housing market areas, almost 50% was bought through the scheme. Particularly in the North East, where house prices remain well below 2007 levels, house builders have relied heavily on the Help to Buy Equity Loan scheme to sell houses.
"Up to a third of some house builders´ order books are composed of homebuyers using the Help to Buy Equity Loan scheme to buy their new home. This highlights the extent to which the scheme is supporting new house building, and the reliance of developers on it outside London and the South East to achieve sales," according to Countrywide.
Historic low key rate remains unchanged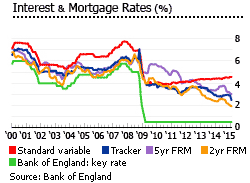 The Bank of England's (BoE) key rate has remained unchanged at 0.5% for the past four years - the lowest rate in the BoE's history.
From 2002 to 2006, the key rate fluctuated from 3.5% to 5%. In 2007, it was raised three 25 basis point steps to 5.75% in July 2007. Then came the crisis, and in November 2008 the BoE had the biggest rate cut in its modern history, with the key rate slashed 1.5 percentage points to 3%.
Mortgage interest rates have not tracked the BoE's key interest rate down fully. Mortgage interest rates started to inch downward in mid-2008, but the spread between the key rate, and the average mortgage rate, has widened to around 3 – 5 percentage points, from less than one percent in 2006 - 2008.
In February 2015, average interest rates for types of mortgages with 75% loan to value (LTV) were:
1.93% for 2-year fixed rate mortgages (FRMs)
2.65% for 3-year FRMs
3.02% for 5-year FRMs
2.49% for tracker mortgages
4.56% for Standard Variable Rate mortgages
Rates or the bond-buying measure have not changed despite recent evidence that the UK economy is recovering.
UK inflation was 0.5% in the year to December 2014, a four-year low and below the Bank´s target of 2%. This has reduced any immediate pressure on the Bank to increase rates. Nevertheless because of the strong decline in unemployment the Bank England has signaled the second quarter of next year as the most likely time for a rate hike.
First time buyers driving UK mortgage market
Gross mortgage lending for the fourth quarter of 2014 was 1% up at £51.6 billion, according to the Council of Mortgage Lenders (CML), the highest level since 2007. These loans also helped other buyers move up the housing ladder. Loans to home movers were up 8% on the year, and loans for remortgages were down 6% year-on-year.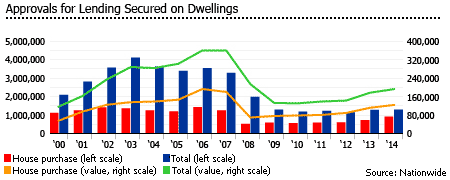 "First-time buyers were a key driver, helped by government initiatives such as Help to Buy,"v said CML Chief Economist Bob Pannell. "As a result, the number of first-time buyers topped the 300,000 mark. While a far cry from the half million that we might regard as ´normal´, this was the highest number of first-time buyers since 2007."
Nevertheless the Intermediary Lending Outlook research from IMLA (Intermediary Mortgage Lenders Association reported that, "Renewed optimism in the mortgage industry for growth in 2015 is being overshadowed by the view that the market has become 'too conservative' as a result of post-financial crisis regulation."
Modest property transactions
Residential property transaction completions with value £40,000 (US$66,940) or above were down (-9.8%) during the year to January 2015, according to HM Revenue and Customs. A total of 1,219, 710 property transactions were completed in 2014, up 13.6% y-o-y and representing the highest level since 2007.
RESIDENTIAL PROPERTY TRANSACTION COMPLETIONS (£40,000 OR ABOVE)
NUMBER OF TRANSACTIONS
ANNUAL CHANGE (%)
December 2014
January 2015
December2014
January 2015
England
92,500
67,620
1.33
(12.06)
Scotland
6,690
6,530
(8.23)
(1.36)
Wales
4,620
3,130
3.36
(7.94)
Northern Ireland
2,090
1,460
12.37
(13.61)
UK
105,400
78,740
0.95
(11.13)
Source: HM Revenue & Customs
Respondents of the RICS March Residential Market Survey sold on average of 22.7 homes in the three months to March, the highest amount since February 2008. This latest increase in transactions comes at a time when the market is showing greater signs of life right across the country.
2014 not a good time to buy to let?
As a consequence of the recession, the private rented sector has grown strongly, primarily at the cost of homeownership.
London registered the largest annual growth in average monthly rents as strong job creation figures boosted demand both locally and from abroad. Average monthly rents have closely followed wages and inflation across the rest of UK. Some tenants have seen their rents fall in real terms. Landlords across some parts of the country saw their yields decline as house price growth exceeded growth in rents.
RENTS ACROSS REGIONS
Q4 2014
Q3 2014
Q4 2013
December 2014 y-o-y (%)
Greater London
£1,237
£1,239
£1,146
7.9
Central London
£2,527
£2,532
£2,447
3.3
East of England
£870
£938
£829
4.9
South East
£1,123
£1,125
£1,087
3.3
South West
£786
£800
£755
4.1
Midlands
£644
£678
£644
0
North
£624
£624
£619
0.8
Scotland
£635
£635
£633
0.3
Wales
£614
£614
£638
-3.8
Total
£895
£920
£860
4.1
Source: Countrywide
RENTS ACROSS REGIONS
Q4 2014
Q3 2014
Q4 2013
December 2014 y-o-y (%)
Greater London
£1,237
£1,239
£1,146
7.9
Central London
£2,527
£2,532
£2,447
3.3
East of England
£870
£938
£829
4.9
South East
£1,123
£1,125
£1,087
3.3
South West
£786
£800
£755
4.1
Midlands
£644
£678
£644
0
North
£624
£624
£619
0.8
Scotland
£635
£635
£633
0.3
Wales
£614
£614
£638
-3.8
Total
£1,006
£1,020
£860
17
Source: Countrywide
The number of people letting out properties because they have been unable to sell has dropped to a record low, according to the Association of Residential Letting Agents (ARLA).
Only 13% of surveyed letting agents by the ARLA believe that they will see an increase in rental properties entering the market because they cannot be sold. This figure represents the fourth consecutive fall, and is far below the 94% high recorded when the question was first asked at the start of 2009, during the post credit crunch property crisis.
Low housebuilding activity
The UK's per capita housebuilding rate is low by international standards, and failed to respond to booming house prices during the boom, due to building regulations and planning constraints. The situation improved during the later years of the boom, but output declined again during the recession. Ironically, this has prevented the housing market suffering a large overhang of properties, a fate shared both by Ireland and Spain.
Increases in population, immigration, and changes in household sizes have all added to the pressure. Despite rapid rise in house prices between 1996 and 2002, housebuilding actually fell during this period. The amount of available land for housebuilding, and the long processing time for development permits, both discourage new building.
A reform of the planning system, relying on local initiatives, is under way to speed the system up and expand the housing supply. However, the government's budget constraints are putting all this under threat.
The government is targeting around 240,000 new dwellings annually until 2020. However, the target seems unrealistic, since output over the past 20 years has been around 150,000 dwellings annually. RICS therefore suggests that the long-term outlook inevitably involves severe housing shortages and increasing house prices.
In a discussion paper published in September 2009 by the Town and Country Planning Association (TCPA), researchers warned that at least 250,000 new homes must be built annually to match population growth, to replace the ageing housing stock and the accumulated backlog. Their analysis suggested that the housing deficit had reached one million by the end of 2010.
Homebuilding stagnated at an average of 186,000 new units annually between 1991 and 2003, and from 2004 onwards barely exceeded 200,000 annually (222,490 in 2007). In 2008, the credit crunch combined with falling house prices reduced house building, and less than 100,000 completions took place in 2009.
In 2014, a total of 160,250 houses were started in UK, an annual increase of 25.5%. The number of homes completed also rose 1.1% to 140,930 in 2014, according to the Department for Communities and Local Government (DCLG). This is still below the peak reached before the 2008 financial crisis and is well below the estimated demand requirement of 250,000 new homes a year.
UK: modest economic growth, low unemployment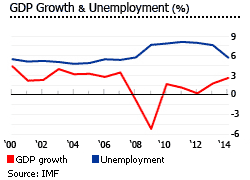 UK is currently recovering after the 2008 global financial crisis. It had a GDP per capita of US$ 43,830 in 2014, according to the International Monetary Fund (IMF). In 2014, the UK´s GDP growth was 2.6%, the fastest annual rate since 2007.
Household spending and investment were the main contributors to the economic recovery of UK. UK manufacturing output rose by 1.9%, according to the Office for National Statistics (ONS). Unemployment fell to 5.7% in the fourth quarter of 2014, according to ONS.
The IMF expects the economy will grow by 2.7% in 2015.
Despite these good figures, the growth of the UK economy has been disappointing. GDP has only just recently passed what it was in 2007. Though employment has recovered well from the recession despite large additions to the labour force due to high levels of immigration, that is because productivity has stagnated. Productivity in the UK has not grown at all over the past six years (that is output per hour, and output per worker). This is an surprising situation in a "recovering" economy.
This low productivity growth has severely impacted employees´ take-home pay. The Institute of Fiscal Studies (IFS) recently reported that real take home pay was 1% lower in the third quarter of 2014 than in the third quarter of 2001. "Though real wages have started to rise slowly in recent months, there has been a real threat to standards of living in the UK," says Professor Ken Mayhew of Oxford University. "This is closely associated with a disastrous performance on productivity since the beginning of the recession."
Current growth per capita is certainly an improvement on previous years: GDP growth per capita in 2013 was only 1.03%, in 2012 it was negative at -0.01%, in 2011 0.80%, and in 2010 1.10%.
In general, the UK´s recovery since the recession has been anaemic, at best. In previous recessions, there was above average growth. For instance in 1983 GDP grew by 4.2%, and in 1994 by 3%.
The IMF has warned that the recovery relies too heavily on easy credit and that the recovery has been unbalanced, with business investment and exports still weak. Some stimulus may be given by the decline in sterling against the dollar.
The size of UK´s current account deficit has prompted concern from some economists, who said it was worryingly large. The deficit increased to £27bn, or 6% of GDP in the third quarter of 2014, up from 5.5% in the second quarter, according to the Office for National Statistics. The size of the current account deficit is surprising for an oil-exporting economy, whose currency has fallen significantly since the middle years of the previous decade. However, if the eurozone recovers, as is now expected, the UK´s [performance may improve.
A general election will take place on May 7, after five years of coalition power-sharing between the Conservatives and the Liberal Democrats. Best predictions suggest another hung Parliament, meaning there will likely be another coalition government.
Although most economists believe that the austerity pursued by the Conservative government (2009-2015) has had a negative impact on the UK´s economic growth, according to a survey of leading UK economists by the Centre for Macroeconomics, the public has largely absorbed the rhetoric of austerity.
Labour itself has not had the courage to argue against austerity (despite the fact that the UK´s recent relatively strong performance occured because of a covert weakening of austerity by chancellor George Osborne, as Paul Krugman has explained). So it seems likely that very similar economic policies would be implemented by a Labour government as are being followed at present.
United Kingdom - More data and information