Political uncertainty dampens the UK's property market
September 04, 2017

House prices in UK are still rising (though not in inflation-adjusted terms). The average house price in the UK rose by 2.8% (0% inflation-adjusted) to £209,971 (US$ 273,046) during the year to Q2 2017, based on the figures from Nationwide. Previous quarters had seen rises of 4.1% in Q1 2017, and 4.5% in Q4 2016.

In London prices decelerated sharply, with price rises of only 1.2% (-1.5% inflation-adjusted) during the year to Q2 2017.  London is the second weakest region in the country  after the North, according to Nationwide.

"There has been a shift in regional house price trends. Price growth in the South of England has moderated, converging with the rates prevailing in the rest of the country," said Nationwide´s Chief Economist Robert Gardner. "Nevertheless...the price gap between regions remains extremely wide."

Supply of houses to the UK's market has hit a record low. Newly agreed sales have also fallen, as buyers have taken a more cautious stance in recent months.

The highest price rise was in East Anglia, with house prices increasing by 5.04% during the year to Q2 2017. It was followed by South West (4.43%), North West (4.13%), East Midlands (4.11%), and Northern Ireland (3.80%).  A net balance of 7% of respondents in RICS's Chartered Surveyors' survey believed that house prices are rising, down from last month's 17%.

The North had the weakest growth of 1% y-o-y in Q2 2017. House price growth was also weak in Wales (1.40%), and Scotland (1.72%).

Nevertheless June was a strong month, though the reasons are unclear.  "At this point it is unclear whether the increase in house price growth in June reflects strengthening demand conditions on the back of healthy gains in employment and continued low mortgage rates, or whether the lack of homes on the market is the more important factor. While survey data suggests that new buyer enquiries have softened, it also indicates that this has been matched by a decline in new instructions. Indeed, the number of properties on estate agents' books remains close to all-time lows," said Gardner.

The weakness in the government following the election is "stifling" the country's housing market, respondents to the RICS´s UK Residential Market Survey suggested in June 2017. Around 44% of RICS respondents felt that the weakened activity in the housing market was due to the country's uncertain political climate. Only 27% of them identified Brexit as the biggest factor for the market slowdown.

RICS's survey respondents saw London prices softening, especially in the most expensive areas. Aside from political uncertainty, respondents in London also equally cited Brexit and changes in Stamp Duty as factors contributing to the housing market's flat activity.

"London is slowing more dramatically than the rest of the country, as it is more exposed to changes in sentiment due to house price growth over the last 10 years and what that did for affordability," says Savills' head of residential research, Lucian Cook.

The UK's and particularly London's previous dramatic house price rises were fuelled by four factors:

Immigration and population growth have been strong, especially in London.
Interest rates have been at record lows, with a large expansion of the money supply through "quantitative easing".
The City of London (London's financial centre) continues to boom.
Construction activity remains weak (though this is less true of London). Dwelling starts rose 0.5% y-o-y to 172,740 units in 2016. Dwelling completions increased 10.4% y-o-y to 168,370 units, according to UK's Development for Communities and Local Government.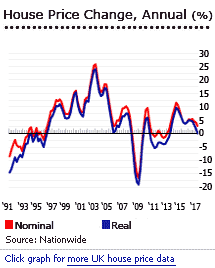 House prices in the UK are likely to rise by about 2% in 2017, according to Gardner. Slower household spending amid rising inflation, as well as housing affordability pressures in key areas are predicted to drag house price growth and housing activity in the following quarters. In contrast, the ongoing housing shortage in the market and subdued building activity are expected to provide support for house prices.

There are no restrictions on foreign ownership of properties in the UK.