Ukraine's economy slowing, President Yanukovych a big problem
March 31, 2013
House prices continue to recover in Ukraine: 
In Kiev, secondary market apartment prices were up 5.1% in March 2013 compared to last year, at an average of US$ 1,951 per sq. m. 
Primary market average prices rose by 6.7% to US$ 1,748, over the same period.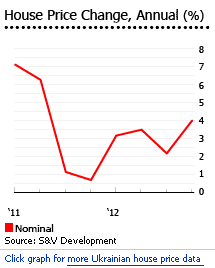 The Ukraine is still crippled by the after-effects of the great housing boom (2004 to 2008) which saw average Kiev apartment prices surge 300%. In the wake of the boom's collapse - house prices are still 46.2% below their from September 2008 US$3,627 per sq. m peak, according to S&V Development -  the currency lost massively in value, the banking system collapsed, and GDP shrunk 15% in one year.
Ukraine's economic recovery is being held back partly by concerns about President Viktor Yanukovych, elected in 2010.  His political dominance increased in 2012 with the victory of his Party of Regions in parliamentary elections.  Few believe the result was free and fair.  Most problematic is the imprisonment of former Prime Minister Yulia Tymoshenko.  Unless she is freed, the EU is unlikely to ratify the Association Agreement.
Ukraine's economy slowed sharply in 2012, growing only 0.2% because or the euro crisis, and tighter monetary policy.  Ukraine's GDP is predicted to grow 2.5% in 2013.
In January 2013, a real estate tax was introduced, applying to residential property owners of apartments more than 120 sq. m. and residential buildings higher than 250 sq. m.
The tax rates for 2013 are:
UAH 11.47 (US$ 1.41) per sq. m. for apartments with "living space" on, or less than, 240 sq. m. and residential buildings with living space on or less than 500 sq. m.
UAH 30.97 (US$ 3.80) per sq. m for apartments with living space above 240 sq. m. and residential buildings with living space above 500 sq. m.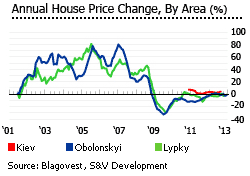 "Living space" excludes kitchens, dining rooms, corridors, bathrooms, and storage rooms
There are no major restrictions on foreigners buying property in Ukraine.  All secondary residential transactions (i.e., resales) are in US dollars, while primary sales are quoted in hryvnia, but still paid in dollars.
The hryvnia carry trade and the big boom
Why was the 2004-2008 housing boom so spectacular?  During the economic boom (2000-2007) rapid GDP growth of 8% p.a. disguised a lack of reform – wholly corrupt government, small elite, weak judiciary, lack of freedom of expression, etc. The country lived off a massive steel industry (42% of exports).
An interesting aspect of the housing boom was the hryvnia carry-trade. Transactions in the primary housing market have long been denominated in Ukrainian hryvnia (UAH) but paid in US dollars, while transactions in the secondary market are quoted and paid in US dollars.
Hence, access to real estate in Ukraine requires access to US dollars.
Much of the property speculation involved a bet that the hvyrnia peg would continue, and that buyers would be able to arbitrage relatively low US$ interest rates, against out-of-control Ukrainian property price inflation.
For a long time it worked. The hryvnia mildly appreciated as economic growth accelerated, and as foreigners invested in Ukraine. The expectation was that the hryvnia would rise, because of the economic growth and foreign investment. The logical conclusion was – borrow dollars, buy Ukrainian property. Easy money.
Foreign buyers - Britons, Americans, Emiratis, Cypriots, Kiwis and Canadians - as well as wealthy elite Ukrainians, pushed house prices up by an average of 40% to 55% p.a. from 2004 to 2007.
Currency inflows increased the money supply excessively, resulting in inflation. Ukraine experienced double-digit inflation from 2004 onwards, and in May 2008 inflation peaked at 31% y-o-y. As a result, Ukraine priced itself out of export markets, imports grew to be much bigger than exports, and the current account deficit expanded to 7% of GDP in 2008.
The 2008-2009 Ukrainian banking crisis
As the contagion from the global crisis spread  in 2008, the hryvnia lost over 50% of its value against the US dollar, leading to a loss of consumer confidence in banks and mass withdrawals.
With foreign currency loans 84% of all loans in 2009, mounting inflation and weakening currency, lines sprouted at banks, with depositors rushing to withdraw their savings. Because of this, a number of Ukrainian banks collapsed after 2008.
To prevent a further collapse, the government unveiled a bank bailout by allocating about UAH9.6 billion (US$1.2 billion) or 1% of GDP to recapitalize struggling banks like Rodovid Bank, Ukrgazbank, and Bank Kyiv. Prominvestbank, Ukraine's 6th largest bank, was nationalized in late 2008.
In late 2008, the global financial crisis affected homebuyers from US and UK, causing foreign demand to plunge. Meanwhile, demand for Ukraine's main product, steel, plummeted. Ukraine's GDP contracted 15% in 2009.
The National Bank of Ukraine (NBU) imposed limits on lending, early withdrawals of certain deposits, and foreign currency trade starting in the last quarter of 2008 to stabilize the local banking system.
Since then, the economy has expanded by 4.1% in 2010, and by 5.2% in 2011.  But house price increases have been sluggish.
In 2009, the average price of secondary market flats in Kiev plunged by 53.1%, while primary market's apartment prices dropped by 42.1%.
In 2010, the apartment prices in Kiev rose 8.8% (secondary market) and 8% (primary market).
In 2011, the average price of apartments in the capital fell 3% (secondary market) and 0.8% (primary market).
In 2012, the average price of apartments in the capital rose 3.1% (secondary market), and 5.3% (primary market).   Aside from that, construction activity fell 12.1% y-o-y in January-November, indicating that the housing market hasn't fully recovered yet.
Corruption and the housing shortage
One important aspect of the boom (as in other post-Soviet countries) was a genuine shortage of acceptable housing.
Securing a construction permit in Ukraine is mired in corruption. Those having direct ties to high ranking officials, who are prepared to pay large bribes, come out as winners in land allocations.
According to the 2013 Ease of Doing Business report by the World Bank, Ukraine was ranked 183rd out of 185 countries for the ease of obtaining construction permits. Real estate developers need to obtain project documentation which includes town planning documentation, official project requirements, and the construction project itself, receipt of construction work permits and the start of the building construction.
It is not surprising that there are only a few builders in the market. New developments in major cities are typically dominated by two to three companies, whose management is directly linked to the local authorities. In Kiev, nearly 70% of the new residential buildings are built by companies that belong to the KyivMiskBud holding company, in which the Kyiv City State Administration has a large stake.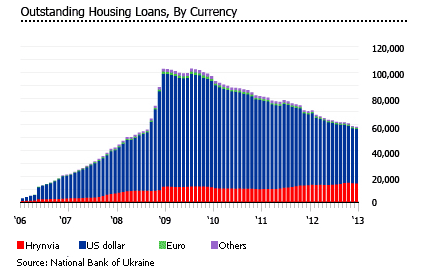 The total volume of construction in Ukraine fell 12.1% y-o-y to UAH 54.7 billion (US$ 6.72 billion) in January-November 2012, according to the State Statistics Committee.
"In 2012, with most of the projects related to Euro 2012 being completed and with increasing economic uncertainty, the government lowered funding for infrastructure projects. The decline in public sector investments and the still struggling private sector have cooled down the market," said Bartek Sosna, PMR's Head Construction Analyst.
NBU defends the peg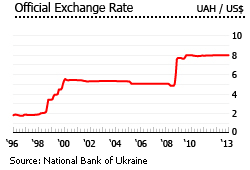 Although the forex market is expected to remain calm in the first few months of 2013, the hryvnia is still at risk of depreciating due to Ukraine's high external debt and widening trade gap.
The peg has remained unchanged at around UAH 8 per US$1 (February 2013),  despite declining foreign direct investments, increasing foreign debt, and a widening trade deficit.  The National Bank of Ukraine managed to defend the peg through indirect foreign exchange interventions, and restrictions on currency exchange introduced in November 2012.
Mortgage market is shrinking
Loans for house purchases plunged by 17% during the year to January 2013, to UAH 57.89 billion (US$7.11 billion).  Out of Ukraine's total outstanding housing loans, only 24% were denominated in UAH by end-2012, while 72% were in US dollars making the country highly exposed to foreign currency risk.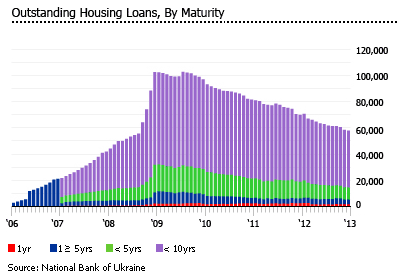 From its 10.8% peak in 2009, the mortgage market shrunk to  4.1% of GDP in 2012, according to the National Bank of Ukraine. The shrinking mortgage market is due to increasing borrowing costs making mortgages expensive. "Mortgages are risky because of the very high interest rates imposed on loans and the expected decline in property prices," says Erste Bank's analyst Ivan Ulitko.
High interest rates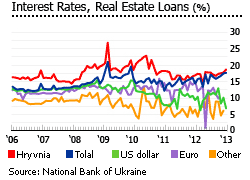 Banks in Ukraine are only willing to lend at a very high premium mainly because of the substantial political and economic risks in the country. However interest rates on US$-denominated housing loans fell to 6.9% in January 2013, from 10.1% in December 2012, according to the National Bank of Ukraine.   But the interest rate on real estate loans denominated in local currency (hryvnia), however, have increased to 18.6% in January 2013, from 17.7% in December 2012.
Interest rates on housing loans in Ukraine are usually fixed for the entire loan term. In 2012, 91% of loans had loan terms of 5 years or more, 75% of which are loans with terms of 10 years or more.
However, housing loans are frequently prepaid before maturity, and it is not uncommon that a 10-20 year loan is paid within 3 – 5 years.
Rents down
Rental rates have fallen by as much as 50% since the onset of the global crisis. Most rent quotations have switched to the national currency, hryvnia, to protect landlords from currency fluctuations. There are already signs of recovery, but demand is still relatively low.
In Kiev, rents are more than twice Ukraine's average. In March 2013, the average rent for a one-bedroom Kiev apartment amounted to UAH 4,103 (US$ 506) per month, according to S&V Development. Two-bedroom apartment rents amounted to UAH 5,539 (US$ 683) per month, three-bedroom rents UAH 6,634 (US$ 818) per month.
In Odessa, average studio apartments rents are around UAH 2,700 (US$ 333) per month. Rents for studio apartments in Donetsk are also expensive at around UAH 2,500 (US$ 308) per month.
GDP deceleration in 2012
In 2012, Ukraine's economy expanded by only 0.2% y-o-y, a sharp deceleration from 5.2% growth in 2011, according to the State Statistics Committee, due to the euro crisis. Meanwhile, the local economy was dampened by tight monetary policy, aimed at defending the currency peg.
GDP growth of around 2.5% is expected in 2013 due to looser monetary conditions and improving global economy. Unemployment was 7.8% in 2012, a slight decline from 7.9% in 2011.
For the first time in ten years, Ukraine experienced only 0.2% y-o-y inflation in December 2012, down from 9.1% in 2010. The country's budget deficit widened to around 3.8% of GDP in 2012. Including the Naftogaz and Pension Fund deficits, the public sector deficit is estimated at 6% of GDP. In 2013, inflation is expected to be around 8% due to increased energy tariffs.
Ukraine is currently in talks with the IMF to avail a US$15.4 billion loan in order to repay its foreign debts that will peak at US$9 billion this year. The new agreement, if reached, could reduce estimated fiscal deficit to around 4% of GDP in 2013. However, Ukraine must first fulfill the IMF's conditions, which include raising gas prices, and allowing currency depreciation.
Political tension continues, EU-Ukraine relations in jeopardy
In February 2010 the pro-Russian Viktor Yanukovych became President, having seen off Yulia Tymoshenko and  Viktor Yushchenko. Yanukovych is in the direct line of successors to the Communist state which began with the 1994 election of Leonid Kuchma who oversaw years of Brezhnev-like stagnation, corruption and press restrictions.
In the recent Ukrainian parliamentary election last October 2012, Yanukovych's Party of Regions won obtaining 185 seats, followed by the opposition Fatherland with 101 seats. The dominance of Yanukovych's party was criticized by international observers. The abuse of power, media control and incarceration of two prominent opposition leaders played a role in the results.
The imprisonment of Tymoshenko has delayed EU's Association Agreement (AA) with Ukraine. Unless Ukraine addresses concerns over a "stark deterioration of democracy and the rule of law", which includes the opposition leaders' imprisonment, the EU leaders have stated that the AA and the Deep and Comprehensive Free Trade Agreement will not be ratified. Aside from the association agreement, Western support is also needed by President Yanukovych for the IMF bailout.
Ukraine is a deeply divided country. The Russian-speaking Eastern half leans towards Russia, while the Ukrainian speaking Western half leans toward the West
The country's tragedy is that the Orange Revolution of 2004, which forced a second Presidential election after protests and resulted in a clear victory for Viktor Yushchenko (with 52% votes) over Yanukovych (with 44% votes), has never bore fruit.  Yushchenko instituted no reforms, and proved an ineffective leader. He quarreled deeply with his former ally Tymoshenko, who he sees as corrupt and accuses of being a covert friend of Russia.
The result of the split in the pro-Western party was the election of a pro-Russian president.  There has already been a dramatic rapprochement with Russia, strong moves to curtail the freedom of the press, and moves against political opponents. Discussion of the terrible famine under Stalin's collectivization (the Holodomor), in which 7 million Ukrainians died, and the killing by the Soviets of 4/5th of Ukraine's intellectual elite and ¾ of the Red Army's high-ranking officers, are no longer welcome. The press is being shackled, reform is on the back burner. Welcome to the dark ages.
Ukraine - More data and information