---
Turkey: collapsing currency, booming house prices
September 22, 2015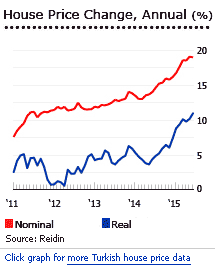 Turkey's residential property market is now one of Europe's best performers, despite modest economic growth. During the year to end-Q2 2015, Turkey´s nationwide house price index surged 18.96% (10.95% inflation-adjusted), according to the Central Bank of the Republic of Turkey (CBRT). During the latest quarter (Q2 2015), house prices rose 5.08% (3.35% inflation-adjusted).
In Istanbul, Turkey's largest city, house prices skyrocketed 27.6% (19% inflation-adjusted) during the year to end-Q2 2015
In Ankara, the capital, house prices rose by 12.2% (4.6% inflation-adjusted)
In Izmir, the country's third largest city, house prices rose by 15.9% (8.1% inflation-adjusted)
Prices of new homes are also rising at double-digit rates, though opinions differ about how much.
According to CBRT, prices for newly-built houses soared 17.4% (9.5% inflation-adjusted) during the year to Q2 2015. Istanbul recorded the biggest annual increase of 25.6% (17.1% inflation-adjusted), followed by Izmir, 16.6% (8.7% inflation-adjusted); and Ankara, 14.2% (6.5% inflation-adjusted).
On the other hand, the Gyoder New Home Price Index from REIDIN showed new house prices rising by only 6.87% during the year to July 2015.
Property prices in Turkey are expected to continue rising during the remainder of 2015, according to some local property experts.
From 2007 to 2011, house prices in Turkey fell by 2% (-29% inflation-adjusted), due to economic growth slowing sharply to 0.7% in 2008, after GDP growth during 2002-2007 of 6.8% annually. Existing house prices plunged 22.45% in 2008 (-14.65% inflation-adjusted). When adjusted for inflation, house prices dropped 2.82% in 2009, by 3.54% in 2010 and by 2.39% in 2011.
Since then, home prices have risen continuously.
However, this is taking place against the background of a collapsing currency, dissatisfaction with the government, chaos on Turkey´s doorstep in Syria and Kurdish Iraq, and rising internal tensions. On the other hand, Turkey's economy grew by 3.8% during the year to Q2 2015, up from 2.5% the previous quarter - its strongest growth for six quarters, according to the Turkish Statistical Institute (TurkStat).
Primary market: mid-sized house prices rising faster
During the past 5 years since January 2010, new home prices have risen 60.2%, according to REIDIN´s Gyoder New Home Price Index. By size, 101-125 sq. m. houses have seen the biggest price rises, at 66.4%.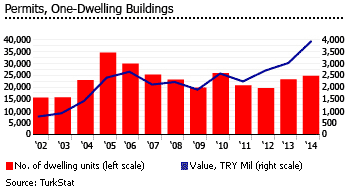 The REIDIN-GYODER New Home Price Index is calculated monthly, and covers 70 projects and about 22,500 properties, presented by 28 developers.
REIDIN-GYODER New Home Price Index, July 2015
Type of Houses
Y-O-Y change (%)
Change from base period (%)
(Jan 2010 = 100)
New Home Index
6.87
60.2
51-75 sq. m.
5.78
53.7
76-100 sq. m.
6.50
55.6
101-125 sq. m.
7.01
66.4
126-150 sq. m.
7.90
61.1
>150 sq. m.
4.80
44.2
Source: REIDIN
Home sales booming
House sales in Turkey rose by almost 20% to 731,669 units during the first seven months of 2015, compared to the same period last year, according to TurkStat. Istanbul accounted for more than 19% of total sales while Ankara accounted for about 12%.
Construction has responded to increased demand. One-dwelling residential permits rose 6.5% to 24,705 units in 2014, according to TurkStat, with their total value up 30.2%. This is below the peak of about 34,500 permits in 2005, but in line with construction volumes in recent years.
The continuous increase in property transactions in Turkey is partly attributable to the rising demand from foreign homebuyers, which started since the government eased its foreign property regulations in 2012.
In 2014, the total amount of real estate purchases by foreigners in Turkey was up 41% from a year earlier, to reach US$4.3 billion. During the first half of 2015, total house sales to international investors soared 22% from the same period last year, according to the Turkish Statistical Institute (TurkStat).
"In the second home holiday market, there has been a significant increase in private investors in the residential sector from the Middle East with activity firmly focused in the country's northwest, particularly the Marmara Sea and Black Sea regions, as well as Istanbul, Bursa and Yalova," said Diana Doğan of CBRE Turkey. About 20% of the more than 7 million visitors to Istanbul in 2014 are Arab tourists, up from just 10% in 2010, according to Istanbul's Culture and Tourism Directorate.
The new property law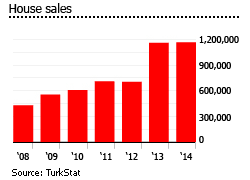 In 2002, the Turkish property market was first opened to foreign buyers, but they were only allowed to purchase properties in a few zones, and under the "reciprocity clause" only nationals of countries allowing Turkish citizens reciprocal rights - like Britain, Germany and the Netherlands - were allowed to buy properties.
In 2005, the zones were abolished but reciprocity remained.
Then in May 2012, the government passed a bill ending the reciprocity requirement, to attract more foreign homebuyers. Since August 2012, the government has allowed nationals from 183 countries to buy properties in Turkey. In addition, the size of land foreigners can buy without needing special permission was increased from 2.5 hectares, to 33 hectares.
Nationals of China, Russia, India and of Gulf Arab states, previously banned because of the reciprocity rules, are now allowed. <
Since then, tens of thousands of foreigners have successfully acquired properties in Turkey, most notably in the Marmara and Mediterranean regions, Turkey's major finance and tourist hubs. In 2014, Turkey has attracted about US$6 billion of foreign direct investment (FDI).
Dramatic decline in interest rates has sent mortgage volumes soaring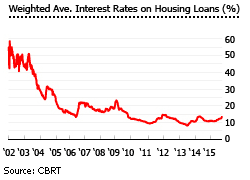 Housing loan interest rates have fallen enormously, from about 48.26% in 2002, to just 9.69% in 2013. This has been one of the great successes of Turkey's AKP government.
The result has been a dramatic increase in outstanding housing loans, despite periods when the economy was weak. Housing loans have risen over ten times in a decade - from TRY12.4 billion (US$4.1 billion) in 2005 (about 1.9% of GDP), to TRY125.6 billion (US$ 41.15 billion) in 2014 (7.12% of GDP). From 2006 to 2014, the amount of housing loans surged by an average of 30.7% every year.
Average interest rates on housing loans rose slightly to 11.86% in 2014. By early-September 2015, rates stood at 13.29%.
Nevertheless, housing loans from deposit money banks soared by 19.4% y-o-y to July 2015, to TRY126.68 billion (US$41.5 billion), and housing loans from participation banks surged by 23.8% to TRY12.11 billion (US$3.97 billion).
In August 2015, the CBRT left its benchmark one-week repo rate unchanged at 7.5 percent.
Falling rental yields in Istanbul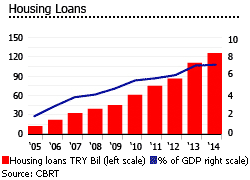 Due to the rise in dwelling prices, gross rental yields for apartments in Istanbul have fallen significantly over the past three years.
Based on Global Property Guide research conducted in March 2015:
Turkish lira plunges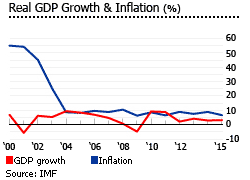 The Turkish lira hit record low in August 2015, having depreciated against the US dollar by almost 22% from the start of the year. The lira is the emerging world´s third-worst performing currency this year. As of September 12, 2015, the exchange rate stood at about TRY3.05 = US$1.
One reason is the end of the period of rapid economic growth, which was 9.2% and 8.8% in 2010 and 2011. Then the Eurozone crisis hit. Growth slowed sharply to 2.1% in 2012, and 4.1% in 2013. In 2014, the economy grew only 2.9%, partly caused by falling exports to the country´s main markets - Europe and the Middle East. Turkey's economy is only projected to grow between 2% and 2.5% this year, short of the government target of 4%.
Another reason for the lira´s collapse is the general weakening of many developing country currencies.
Another reason is the chaos on Turkey´s doorstep, in Syria and Iraqi Kurdistan, and a deterioration in relations with Turkey´s own Kurdish population.
A final reason is increasing dissatisfaction with the government of President Recep Tayyip Erdoğan.
Political uncertainty follows inconclusive election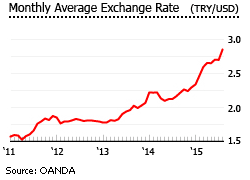 In the parliamentary elections on June 7, 2015 the Justice and Development Party (AKP) lost its majority, after 13 years in power.
In its early years, Turkey's AKP government was seen internationally as the Islamic equivalent of Europe's Christian Democratic parties, i.e., a force for moderation and modernity. The AKP was credited with bringing economic growth and political stability to Turkey. EU membership was one of the government's top priorities. In September 2010 it won public approval for its plans to amend the constitution, partly to meet the requirements for EU membership, but above all to reduce further the power of the military.
However in recent years President Recep Tayyip Erdoğan has become increasingly authoritarian. Many journalists are in prison, violence against demonstrators is common, a bizarre purge of the military and of those associated with the Gülen movement has undermined judicial independence, and Erdoğan himself has been implicated in a wide-ranging corruption scandal.
A snap election will be held on November 1, 2015 after recent coalition negotiations between the governing AKP and the opposition broke down. Foreign investors have fled Turkish assets since the inconclusive general election in June, and some investors believe that an early election could trigger a further selloff in Turkish assets.
Economy weak
In June 2015, inflation rate eased to 7.2%, the lowest level since 2013 - but above the central bank's target of 5%. In the first four months of 2015, the budget deficit stood at TRY4.1 billion (US$1.6 billion), slightly lower than the TRY4.2 billion deficit the same period last year.
Unemployment was 9.3% in May 2015, up from 8.8% a year earlier, according to TurkStat, or about 2.79 million unemployed. The labour force participation was virtually unchanged at 51.7%, up from 51.2% the previous year.
Turkey - More data and information