Slower house price rises in Turkey
November 06, 2017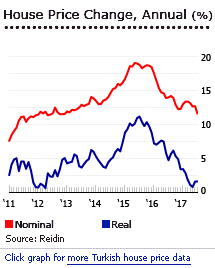 House prices in Turkey continue to rise, albeit at a slower pace than last year.  During the year to July 2017, Turkey´s nationwide house price index rose by 11.6%, according to the Central Bank of the Republic of Turkey (CBRT). When adjusted for inflation, house prices only rose 1.65%, less than the 4.76% inflation-adjusted y-o-y price rise during the same period last year. 
In Istanbul, Turkey's largest city, house prices went up by 8.38% during the year to July 2017. However, when adjusted for inflation, house prices actually fell by 1.28% y-o-y.
In Ankara, the country´s capital, house prices rose by 8.04% y-o-y in July 2017. In contrast, prices actually fell by 1.59% y-o-y when adjusted for inflation.
In Izmir, the country´s third largest city, house prices surged by 19.54% y-o-y (8.88% inflation-adjusted) in July 2017.
New homes in Izmir also had strong price rises. According to CBRT, prices for newly-built houses in Izmir saw an annual increase of around 20.22% (9.5% inflation-adjusted), while Istanbul´s new home prices rose 10.22% (0.39% inflation-adjusted), and Ankara´s 6.11% (-3.35% inflation-adjusted).
During the global crisis of 2008, existing house prices in Turkey plunged 14.65% after inflation, by 2.82% in 2009, by 3.54% in 2010, and by 2.39% in 2011.
Since then, home prices in Turkey have risen continuously, largely due to the rising middle class gaining access to mortgage finance for the first time, says Kate Everett-Allen, Knight Frank´s head of International residential research.
In 2016, however, house price rises started to slow due to economic and political turmoil: terrorist attacks, political uncertainty and violent currency fluctuations, among others. Istanbul´s prime market suffered that year; Knight Frank´s prime home index dropped by 8.4%, mostly due to the sharp depreciation of the Turkish Lira.
"Even before the coup, the stalling economy meant investors, both foreign and domestic, were rethinking Turkish property," says Istanbul agent Firuz Soyuer, of Pamir & Soyuer.
"Security concerns, Russian sanctions and mounting pressures on the lira are curtailing investment despite high demand and low supply characterising the wider property market," notes Everett-Allen.
Despite the recent price slowdown, "In the long-term, Turkey is likely to remain on the radar of investors, given the underlying market fundamentals of strong demand set against low supply, " according to Everett-Allen.
Foreign ownership in Turkey is ruled by the reciprocity principle. Citizens of countries that allow Turkish citizens or legal entities to own property in their country are allowed to acquire property in Turkey. Citizens of most EU countries (except for Belgium, Cyprus, Czech Republic and Slovakia), the United States, Canada and other countries in Asia, Latin America and Africa can freely purchase properties in Turkey.
Since January 2017, Turkey has granted citizenship to foreigners purchasing property worth at least US$ 1 million.
Foreigners can also be granted citizenship through other means:
Making a fixed capital investment worth at least US$ 2 million;
Creating a minimum of 100 jobs in the country;
Keeping at least US$ 3 million in a Turkish bank account for a minimum of three years. 
Aside from a citizenship grant, the government also introduced other measures to entice foreign home buyers:
Reduction of Land Registry fees from 2% to 1.5%, until end of September 2017.
VAT exemptions to property owners who own a Turkish property but are not living there, on a condition that they pay for the property with foreign currency. Home buyers must also hold the property for 12 months after purchase.
Stamp duty for "promise to sell agreements" was reduced to 0% from 0.95%.
Primary market: small-sized houses saw highest price rises
New home prices in Turkey have risen by 76.4% from January 2010 to August 2017, according to REIDIN-GYODER´s New Home Price Index.
New home prices were up by 4.19% y-o-y in August 2017.  51-75 sq. m. new houses had the highest y-o-y price increase, rising by around 4.61% during the year to August 2017m followed by 76-100 sq. m. houses (4.51%) and 126-150 sq. m. houses (3.86%). The REIDIN-GYODER New Home Price Index is calculated monthly, and covers 70 projects and about 22,500 properties, presented by 29 developers.
REIDIN-GYODER New Home Price Index, August 2017

Type of Houses
M-O-M change (%)
Y-O-Y change (%)
New Home Index
0.40%
4.19%
51-75 sq. m.
0.82%
4.61%
76-100 sq. m.
0.12%
4.51%
101-125 sq. m.
0.22%
3.49%
126-150 sq. m.
0.34%
3.86%
>150 sq. m.
0.86%
2.07%
Source: REIDIN
Stronger home sales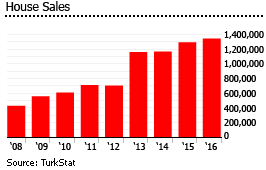 Home sales in Turkey were up by 7.68% to 890,430 units during the first eight months of 2017, compared to the same period last year, according to the Turkish Statistical Institute (TurkStat).
Foreign real estate purchases rose by 8.97% y-o-y. A big improvement from last year: in 2016 sales to foreigners fell by 20.3%.
Most foreign home buyers bought dwellings in Istanbul, accounting for 32% of the total sales (5,811 sales), followed by Antalya (4,352 sales), and Bursa (1,318 sales).
The increased sales to foreigners reflect a post-referendum property "gold rush" says Property Turkey Director Cameron Deggin: "Before the referendum there was a great deal of uncertainty about the economy and political situation in Turkey," says Deggin. "Once the yes vote came in, that uncertainty vanished and the picture looked a lot clearer for foreign buyers." Deggin added that the government can now focus on its "long-promised economic reforms" now that the referendum has ended.  
More construction activity
Construction permits for dwellings went up during the first half of 2017 by 21.6% to around 620,182 units, according to the Turkish Statistical Institute (TurkStat). This followed strong growth of dwelling permits by around 11.2% in 2016, with permits for two or more dwelling residential buildings increasing by 11.5% from the previous year.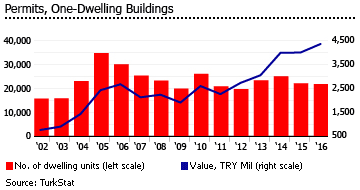 The new property law
In 2002, the Turkish property market was first opened to foreign buyers, but they were only allowed to purchase properties in a few zones, and under the "reciprocity clause" only nationals of countries allowing Turkish citizens reciprocal rights - like Britain, Germany and the Netherlands - were allowed to buy properties.
In 2005, the zones were abolished but reciprocity remained.
Then in May 2012, the government passed a bill ending the reciprocity requirement, to attract more foreign homebuyers. Since August 2012, the government has allowed nationals from 183 countries to buy properties in Turkey. In addition, the size of land foreigners can buy without needing special permission was increased from 2.5 hectares, to 33 hectares.
Nationals of China, Russia, India and of Gulf Arab states, previously banned because of the reciprocity rules, are now allowed.
Since then, tens of thousands of foreigners have successfully acquired properties in Turkey, most notably in the Marmara and Mediterranean regions, Turkey's major finance and tourist hubs. In 2016, Turkey was able to attract about US$ 12.3 billion worth of Foreign Direct Investment (FDI). About 31.7% of the total FDI (or US$ 3.89 billion) in 2016 account for real estate and construction, based on the figures from the Investment Support and Promotion Agency of Turkey (ISPAT).  
Mortgage loans still rising; tighter monetary policy since November 2016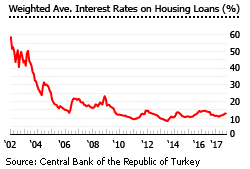 Housing loan interest rates have fallen enormously, from about 48.43% in 2002, to just 9.7% in 2013. This has been one of the great successes of Turkey's AKP government.
As a result, outstanding housing loans significantly rose, despite periods when the economy was weak. Over the last eleven years housing loans have risen from around TRY 12.4 billion (US$ 3.40 billion) in 2005 (around 1.8% of GDP), to TRY 152.22 billion (US$ 41.83 billion) in 2016 (5.8% of GDP). From 2006 to 2016, housing loans surged by an average of 26.8% every year.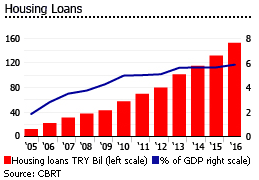 In September 29, 2017, the average interest rate was 12.88%.
After implementing a 7.5% one-week repo rate since February 2015, the Central Bank of the Republic of Turkey (CBRT) decided to tighten its monetary policy in November last year, raising the rate to 8% as a countermeasure to the adverse effect of the plunging Lira to inflation. In September 2017, the CBRT left its benchmark one-week repo rate unchanged at 8%.  
Poor rental yields in Istanbul
Rental yields in Istanbul have been declined significantly over recent years due to economic pressures, as well as the rising trend of dwellings prices. Gross rental yields in Istanbul are currently poor, ranging from 2.03% to 4.73%, based on the Global Property Guide research in May 2017. Using figures from REIDIN, it was evident that poorer districts, where per square metre prices tend to be lower, have higher rental yields as compared to richer districts. These were also the districts where rental yields can go up beyond 4.5%.
Turkish Lira among worst performing emerging market currencies in 2016; "junk" credit rating from Fitch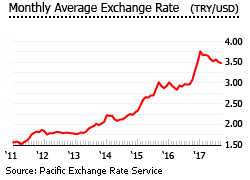 The Turkish lira hit a record low of TRY 3.8950  per USD  on January 11, 2017, which brings total loses for 2017 to roughly 9%. The day before that, the lira hit below TRY 4 per euro for the first time. As of October 24, 2017, the exchange rate closed at TRY 3.7417 = US$ 1.   
The currency declined by around 17% in 2016. Turkish Lira joined the Mexican Peso and the Argentine Peso as some of the worst performing emerging market currencies last year.
A major reason for the currency´s depreciation is the political turmoil in Turkey - the political risk brought by the failed coup attempt in July 2016, which prompted the government to declare a state of emergency, which led to a credit rating cut from two rating agencies. Standard & Poor´s (S&P) cut Turkey´s credit rating to ´BB´ with negative outlook in July 2016. Two months later, Moody´s Investor Service downgraded the country´s credit rating to ´junk´ status, cutting the government´s long-term issuer and senior unsecured bond ratings from Baa3 to Ba1.
In January 2017, the country´s remaining investment grade was turned into "junk" as Fitch downgraded Turkey´s sovereign debt to BB+ from BBB-. "Political and security developments have undermined economic performance and institutional independence," according to Fitch´s statement. During the same month, S&P reduced its outlook for Turkey from "stable" to "negative".  
Another reason for the Lira´s weakness is the end of the period of rapid economic growth. Growth slowed sharply after the Eurozone crisis hit to 5.5% annually from 2012 to 2016, down from 8.5% and 11.1% in 2010 and 2011.
A final reason is the chaos on Turkey´s doorstep in Syria and Iraqi Kurdistan, and the deterioration in relations with Turkey´s own Kurdish population.
In an attempt to impede lira´s further decline, the central bank implemented some measures such as reducing the foreign exchange reserve requirement ratios by 50 basis points for all maturities, cutting the bank borrowing limits to TRY 11 billion (US$ 2.97 billion) for the Interbank Money Market on January 13, and opening the foreign exchange deposit market against Turkish Lira deposits on January 18, 2017.
Switching to presidential system after constitutional referendum
In its early years, Turkey's AKP government was seen internationally as the Islamic equivalent of Europe's Christian Democratic parties. However in recent years President Erdoğan has become increasingly authoritarian. Many journalists are in prison, violence against demonstrators is common, a bizarre purge of the military and of those associated with the Gülen movement has undermined judicial independence, and Erdoğan himself has been implicated in a wide-ranging corruption scandal.
The Justice and Development Party (AKP) lost its majority in the parliamentary elections of June 7, 2015,  after 13 years in power. However, after coalition negotiations broke down, a snap election was called by President Recep Tayyip Erdoğan on November 1, 2015 resulting in a ´shock´ victory for the AKP, which regained its parliamentary majority, winning 49.5% of the votes and 317 parliamentary seats. The Republican People´s Party (CHP) gained 134 seats, the People´s Democratic Party (HDP) 59 seats, and the Nationalist Movement Party (MHP) 41 seats.
The resignation of Prime Minister Ahmet Davutoğlu from his post in May 2016 heightened the concern regarding President Erdoğan´s authoritarianism. Such move brought President Erdoğan´s aim to move Turkey to a presidential system an inch closer, as Davutoğlu was replaced by a known Erdoğan loyalist, former transport minister Binali Yıldırım.
In July 2016, President Erdoğan´s government was tested by a coup attempt by the faction within the Turkish Armed Forces, the "Peace at Home Council". The coup was suppressed by the military, but left 300 people dead, more than 2,000 others injured, and more than 6,000 people arrested.
The government linked the failed coup to Fethullah Gulen, a Muslim cleric who leads a popular religious movement. A series of purges has followed, with many arrests, and many firings, targeting people allegedly affiliated to Gulen´s movement, but in fact spreading much wider.
The year 2017 started with a terrorist attack, a mass shooting by Uzbek gunman Abdulkadir Masharipov happened during a New Year celebration at the Reina nightclub in Istanbul on January 1, 2017. Around 39 people were killed and 70 others were injured. The  Islamic State of Iraq and the Levant (ISIL) claimed credit. A month earlier, there was another shooting incident in which involved a policeman killed the Russian ambassador as an act of revenge against Russia´s military involvement in Syria.
In April 2017, a constitutional referendum was held in Turkey regarding the approval of 18 proposed amendments to the country´s constitution. The "Yes" votes narrowly won garnering 51.41% of the total votes against "No" votes with 48.59%. The constitutional amendment includes the government switch from a parliamentary system to a presidential system, which would significantly raise President Erdoğan´s powers, according to his critics.
Strong economic growth in 2017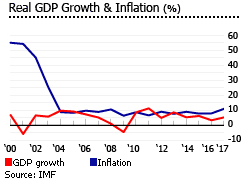 The Turkish economy performed strongly in the first half of the year, with a 5.1% GDP rise during the year to Q2 2017. Construction investment soared by 25% y-o-y, which led to a strong 9.5% expansion of fixed investment. Exports had a double digit growth by around 10.5% y-o-y in Q2 2017, mainly due to improved demand and lira´s depreciation.
Turkey´s economy is expected to grow by 5.1% in 2017, up from 3.2% in the previous year, according to the IMF. In September 2017, annual inflation was 11.2%, double the central bank´s target of 5%. This was partly attributed to stronger domestic demand and weaker lira. This The government´s budget deficit stood at TRY 25.2 billion (US$ 6.93 billion) for the first six months of the year, according to Finance Minister Naci Agbal.  
Unemployment was 10.2% in June 2017, same as last year´s rate, according to TurkStat.
Turkey - More data and information