Unhappy Ljubljana, Slovenia
April 10, 2014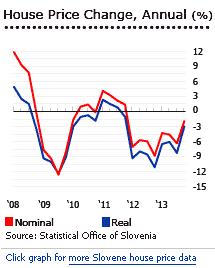 Slovenia's property market is still in the doldrums, though house price-declines are slowing. The crisis is now concentrated in the capital, Ljubljana, where existing flat prices plunged by 12% (-12.9% in real terms) during 2013.
This is a dramatic contrast with the rest of Slovenia, where the price of existing flats rose by 3.3% (2.2% in real terms). Slovakia's nationwide house price index fell by only 2% (-3% in real terms) in 2013, and during the fourth quarter of 2013 house prices rose nationally by 1%, or 1.1% when adjusted for inflation, based on figures from the Statistical Office of the Republic of Slovenia. Existing dwelling prices fell by 2.9% in 2013 (-3.9% in real terms), but new-builds were nominally stable (- 1.1% in real terms).
Nationwide, dwelling transactions in Slovenia fell by around 29.1% from 6,226 in 2012 to 4,490 units in 2013. According to the Bank of Slovenia, outstanding loans for house purchase rose by only 0.9% to €5.31 billion during the year to December 2013.
Although dwelling transactions dropped, the number of dwelling permits issued for residential building improved, increasing by 7.5% to 2,553 permits by end of 2013. The floor space of dwellings authorized also increased by 4.3% to 450,620 square metres (sq. m.).
The economy is expected to contract in 2014 by 1.4%, due to weak demand, which is not favourable for the housing market. The economy is expected to slightly recover by about 0.9% in 2015.
Rents are going down. The recent credit rating cuts pushed up the price of mortgage loans, while the difficulties of the banking sector reduced the banks' willingness to make loans for house-purchases.
New properties good, old properties bad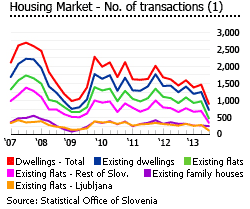 Although uncertainty is still present, the decline in Slovenia's house prices slowed by the end of 2013. The house price index fell by 1.95% in 2013, according to the Statistical Office of Slovenia (SORS).
There is an interesting segmentation in the property market. Newly-built houses were less affected by the price declines, except for family houses:
The newly built dwellings price index was stable in 2013 (-1.08% in real terms). During the last quarter of 2013, the index rose by 6.64%.
The newly built flats price index rose by 2.42% during 2013 (1.32% in real terms). During the last quarter, the index shot up by 8.3%.
The newly built family houses index, in contrast to the other two, fell by 7.27% during 2013 (-8.27% in real terms). But during the last quarter, the price index slightly rose by 1.49%.
Existing houses continued to suffer significant price declines:
The existing dwellings price index fell by 2.85% in 2013 (-3.9% in real terms). During the last quarter of 2013 the index fell 1.46%, a higher drop than 1.35% q-o-q decline recorded in Q3.
The existing flat price index fell by 2.92% in 2013 (-3.97% in real terms). During the latest quarter, prices fell by 2.47%, higher than 1.52% and 0.25% q-o-q drops in Q3 and Q2, respectively.
The price index of existing family houses fell by 2.72% in 2013 (-3.77% in real terms). In contrast, during the latest quarter prices rose 0.67%.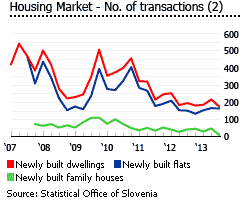 After booming in early-2000s, Slovenia's property market weakened in 2008 due to the global economic crisis. The following years were difficult. House prices fell by 0.17% in 2008 (-3.4% inflation-adjusted), by 8.12% in 2009 (-9.15% inflation-adjusted), and by another 0.15% in 2010 (-1.85% inflation-adjusted).
In 2011, house prices bounced back, increasing by 1.37% (-1.07% inflation-adjusted), but returned to slump in 2012 with prices falling 8.83% (-11.12% inflation-adjusted).
Sales of real estate to foreigners have been limited. From January 2004 to December 2013, foreigners bought only 4,519 properties according to the Slovenia Tax Administration (DURS). Most buyers were from United Kingdom (28.9%), Italy (28.6%), Austria (11.2%) and Germany (9.5%).
Banks still vulnerable
Slovenia's banking sector is vulnerable. Stress test results released in December 2013 show that the Slovenian banking system needs to raise €4.8 billion (US$ 6.6 billion) to recapitalize its banks, of which €3.7 billion (US$ 5.1 billion) is accounted for by the country's three biggest banks. Despite that, according to Bank of Slovenia's governor Bostjan Jazbec, the capital shortfall can be covered without a bailout from Brussels.
In February 2013, Standard & Poor's cut Slovenia's credit rating to A- from A, reflecting the country's "higher-than-anticipated debt burden, due to its announced support of its state-owned banks". Moody's Investors Service followed in April 2013, lowering Slovenia's credit rating from Ba1 to Baa2, with negative outlook. Fitch followed suit, downgrading Slovenia's Long-term foreign and local currency Issuer Default Ratings (IDR) in May 2013 from A- to BBB+, again with negative outlook.
Slovenia´s banking sector is dominated by state-owned banks which control more than 40% of the market, while France´s Societe Generale, Italy´s Unicredit, and a number of Austrian banks are also present in the market.
The mortgage market is shrinking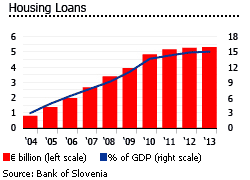 Slovenia's mortgage market remains small, at about 15% of GDP in 2013, though it has grown from 2.9% of GDP in 2004. It plays a weak role in housing finance because of structural problems - the underdevelopment of the land registration system, weak foreclosure procedures, and other problems of the legal environment, according to the Finance Ministry's Matej More.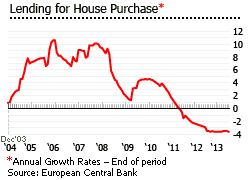 New housing loans fell by about 23% in 2012 compared to the previous year. It is clear that this decline is continuing, given that total lending for house purchases declined by 3.6% y-o-y to February 2014, almost the same as the previous year's 3.5% y-o-y decline to February 2013 (ECB data).
The decline was caused by increased unemployment, the banks' stricter credit standards, and the uncertainty in the economy and in the housing sector, according to the Bank of Slovenia's May 2013 Financial Stability Review.
Housing loan interest rates rising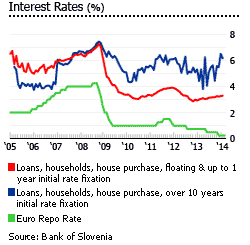 About three-quarters of Slovenia's housing loans are variable interest rate, primarily tied to the EURIBOR, so households are sensitive to interest rate changes.
The floating interest rate (up to one year initial rate fixation) was slightly raised to 3.3% in January 2014, the highest rate since June 2012. This was in contrast to the European Central Bank (ECB)'s repo rate that is still at its historically lowest rate of 0.25% as of February 2014.
Since the ECB started trimming the 1% repo rate in July 2012, the floating rate has been below the current rate of 3.3%. The floating rate eventually rose again after hitting its lowest rate of 2.86% in October 2012, and has been gradually rising since then, partly caused by stricter lending enforced by banks.
Average housing loan interest rates in Slovenia (January 2014):
IRF of up to 1 year: 3.3%
IRF over 1 and up to 5 years: 6.23%
IRF over 5 years and up to 10 years: 5.38%
IRF over 10 years: 6.16%
The ECB key rate is currently at its all-time low of 0.25%, due to a surprise 25-basis-points rate cut in November 2013, in response to a sharp decline of the annual inflation rate to 0.7% in October of the same year. Earlier in 2013, the ECB also made a rate cut from 0.75% to 0.50% also due to lower inflation, as well as rising unemployment.
2014: another year of economic contraction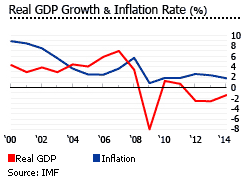 Slovenia economy, which is export-dependent, has been sluggish since the beginning of the Euro zone crisis. The IMF projects that Slovenia's economy will contract about 1.4% in 2014, as weak domestic demand keeps slowing economic activity. The "adjustments in the banking sector will likely continue to weigh on private sector", notes the European Bank for Reconstruction and Development (EBRD). Slovenia's central bank expects a rather a lower contraction of about 0.7% in 2014.
The economy slightly recovered in 2010 and 2011 by 1.3% and 0.7%, respectively, after shrinking 7.9% during the financial crisis in 2009. However, in 2012 the economy shrunk 2.5%, followed by another 2.6% economic contraction in 2013.
Slovenia's economic situation has been aggravated by political uncertainty. Prime Minister Janez Jansa was ousted by a no-confidence vote on February 28, 2013, amidst economic gloom, a banking crisis, and allegations of corruption.
He was replaced by centre-left opposition leader Alenka Bratusek, the first female premier of Slovenia. Her priorities are to "kick-start growth, balance public finances without hampering growth, protecting and developing the public sector and restoring people's trust in the institutions of the state". However, survival of her coalition government is seen as unlikely
Slovenia's government deficit in 2013 amounted to €5.178 billion (US$ 7.09 billion) or 14.7% of GDP, according to Statistical Office of the Republic of Slovenia. The high deficit was due to capital injections into banks of about €3.633 billion (US$ 4.98 billion).
In 2014, the budget deficit should be 4.2% of GDP, still higher than the EU's limit of 3%, according to Slovenia's statistical office. Public debt is expected to rise from 71.7% of GDP in 2013 to about 80.9% of GDP in 2014.
Unemployment rose to 10.1% in 2013, up from 8.9% in 2012. Inflation at 0.6% in March 2014, was much lower than the 2% recorded during the same period last year.
Slovenia, with a population of about 2 million people, joined the EU in 2004 and the euro in 2007.
Slovenia - More data and information