St Petersburg's housing market booms, as Russian real estate gains momentum
Lalaine C. Delmendo | October 25, 2019

Most of the action in the Russian real estate market is in the big cities, as interest rates fall.  The nationwide price index for resale apartments rose by 6.91% during the year to Q2 2019, an improvement from the previous year's 1.55% growth, according to the Federal State Statistics Service (Rosstat). When adjusted for inflation, however, the price index for resale apartments increased by just 1.83% during the year. Quarter-on-quarter, resale prices rose by 0.48% in Q2 2019 (-0.41% inflation-adjusted).


However in St. Petersburg, resale apartment prices surged by 14.6% y-o-y to Q2 2019, a sharp improvement from the prior year's 2.22% growth. Inflation-adjusted prices rose by 9.16%.
In Moscow, the price index for resale apartments rose by 3.16% during the year to Q2 2019, in contrast to an annual decline of 2.82% in Q2 2018. Inflation-adjusted apartment prices fell by 1.75% y-o-y.

In the first half of 2019, real estate investment in Russia rose by 24% to RUB 102 billion (US$1.6 billion) from the same period last year, in contrast to a 39% decline in 2018, according to JLL.

"Growth in the first half of this year can be explained by the closure of several large transactions," said Natalia Tischendorf of JLL Russia & CIS."Increased stability in the financial markets and the CBR easing monetary policy are helping the recovery of real estate investment market activity."

About 27% of the total real estate investment was for residential properties. Total housing debt outstanding rose by 18.9% to RUB 7.16 trillion (EUR 100.49 billion) in September 2019 from the same period last year, according to the Central Bank of the Russian Federation. One of the biggest deals was  the residential complex Prime Park, purchased by A1, the investment arm of Alfa Group.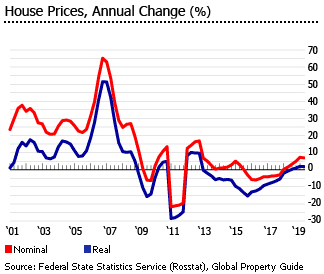 Moscow remains the most important market in Russia, accounting for about two-thirds of real estate investment in 2018. It was followed by St. Petersburg, which represents more than 21% of total investment.

Both locals and foreigners can own landed properties, according to the Land Code of 2001. The legislation was extended to Moscow in January 2006.