Romanian housing market robust, but there are storm clouds ahead
January 22, 2018
Romania´s house prices have been rising strongly for two years, due to rapid economic growth, higher wages, relatively low interest rates, and the "Prima Casa" programme.  But a surging budget deficit, a rising trade deficit and rising inflation will likely cause problems ahead. 
The average selling price of apartments in Romania surged by 11.97% (9.17% inflation-adjusted) to €1,169 (US$ 1,385) per square metre (sq. m.) during the year to November 2017, based on the figures from imobiliare.ro. During the latest quarter, house prices rose by 3.84% (3.52% inflation-adjusted) in Q3 2017.
All major cities in the country saw sharp house price rises during the year to November 2017:
In Bucharest the average selling price of apartments soared by 12.58% (9.75% inflation-adjusted) to €1,271 (US$ 1,506) per sq. m.
In Cluj-Napoca, Romania's second most populous city, apartment prices sharply rose by 16.41% (13.49% inflation-adjusted) to €1,447 (US$ 1,715) per sq. m.
In Timisoara, the average selling price of apartments went up by 9.36% (6.62% inflation-adjusted) to €1,133 (US$ 1,343) per sq. m.
In Brasov, the average selling price of apartments increased by 10.99% (8.2% inflation-adjusted) to €1,000 (US$ 1,185) per sq. m.
In Constanta, the country's oldest city, apartment prices rose by 13.4% (10.56% inflation-adjusted) to €1,083 (US$ 1,284) per sq. m.
After banks reduced down payment requirements to 15% to 25% towards the end of 2016, mortgage financing became attractive again to potential home buyers.
"Residential development benefited last year (2016) from a good market environment, including growing salaries (+12%), low interest rates (ROBOR 3-month < 1%) and increasing demand," says Activ Property Services. "Developers showed an active approach in expanding and starting new projects across the markets that are provided with optimal levels of purchasing power."  
Coldwell Banker Romania notes that about 37% of the supply in Bucharest and its surrounding areas (about 4,500 units to be completed in 2017) are classified as middle market units, demand for which has increased due to the continuous rise in potential buyers´ incomes, and demand for housing located in Bucharest´s key districts.
The Romanian economy grew by 4.8% in 2016, following economic growth of 3.9% in 2015, 3.1% in 2014, and 3.5% in 2013. The country´s robust growth streak is expected to continue this year, with growth of around 5.5%, according to the IMF. 
There are no restrictions on foreign nationals acquiring dwellings in Romania. Ownership of land is tricky, but companies incorporated in Romania as well as resident foreign nationals and non-resident EU citizens can acquire land.
Residential demand is rising rapidly
In Q1 2017, demand for buying homes in Romania´s six largest cities rose by an average of 16% y-o-y, with only Cluj-Napoca posting a 7% y-o-y decline, according to Analize Imobiliare´s Spring 2017 report . Brasov saw the highest price hike of 38% y-o-y in Q1 2017, followed by Iasi (31%), Constanta (29%), Timisoara (27%), and Bucharest (13%).
Romania´s largest bank, Banca Comercială Română (BCR), has generated RON 4.1 billion (US$ 1.08 billion) of new loans during the first nine months of 2017. The BCR reported that the government´s "Prima Casa" (First Home) programme, which has aided first-time buyers since 2009, continues to drive up secured loans.  
2016 has been more active than 2015, which was more active than 2014, notes Colliers International.
Knight Frank notes that there has been a "clear switch of preferences" towards new apartments, and that house purchases are gaining popularity over renting. This has been made possible by the Prima Casa programme, whose loan instalments can be equivalent or even lower than monthly rents, according to Knight Frank.
The Prima Casa Programme (First Home) is a program of the government of Romania, launched on May 20, 2009, to support people who first purchase a home and have not previously benefited from mortgage. Through this program the government guarantees 80% of the value of the loan for the purchase of the dwelling. The maximum credit amount is 60,000 euros, and there is no age limit for the beneficiaries. The credit period is minimum 120 months and maximum 360 months. Accepted earnings are the standard accepted by banks: earnings from salaries, pensions, copyrights, life annuities, dividends, and earnings from independent activities, but not rental income.
History: Romania´s great housing market collapse
Romania´s economy grew robustly from 2001 to 2008, with an average annual real GDP growth rate of 6.5%, according to the IMF. From 2002 to early-2007, property prices and demand rose in anticipation of EU accession, which took place in January 2007. But investors were disappointed by non-implementation of economic and political reforms which had been promised as part of EU accession conditions. Corruption remained rife, largely tolerated by the government.
Then came the Euro-crisis. GDP plunged by 7.1% in 2009 and fell by another 0.8% in 2010:
In 2009, house prices plunged by 20.62% (-24.18% inflation-adjusted) from a year earlier.
In 2010, house prices fell by 15.88% (-22.07% inflation-adjusted) from a year earlier.
In 2011, house prices fell by 4.07% (-7.02% inflation-adjusted) from the previous year.
In 2012, house prices fell by 1.31% (-5.62% inflation-adjusted) from a year earlier.
In 2013, house prices fell by 8.18% (-9.37% inflation-adjusted) from a year earlier.
In 2014, house prices fell by 0.78% (-1.80% inflation-adjusted) from a year earlier.
In 2015, house prices rose by 6.73% (7.46% inflation-adjusted) from a year earlier.
In 2016, house prices rose by 10.41% (10.51% inflation-adjusted) from a year earlier.
Property prices fell by more than 56% from 2008 to 2013 due to the adverse impact of the global economic downturn and the ensuing Euro-crisis.
Key interest rate still at record low
The National Bank of Romania (BNR) policy rate has been unchanged since May 2015, at a record low of 1.75%.
In October 2017:
1 year housing loan interest rates averaged 6.32%, an increase from 5.86% in the previous year, but still down from 12.06% in 2009-10.
1-5 year interest rate fixation (IRF) loans averaged 4.82%, down from 5.01% a year earlier and from an average of 13.13% in 2009-10.
5 year IRF housing loans and over averaged 3.81%, up from 3.31% a year earlier, but a decline from 10.93% in 2009-10.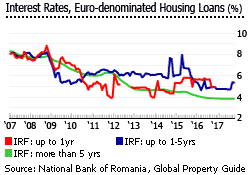 Euro-denominated housing loan interest rates account for 39% of total outstanding housing loans. Around 57.7% of outstanding housing loans were RON-denominated in October 2017, a huge increase from just 5.5% from 2010 to 2013. The Central Bank has shifted homebuyers´s preferences to local currency by limiting the "Prima Casa" or "First Home" programme to RON-denominated loans ("First Home" loans are almost 50% of total outstanding housing loans).
In October 2017:
1 to 5 year IRF euro housing loans averaged 5.37%, slightly down from 5.39% in the previous month, but an increase from 4.96% a year earlier.
5 year and over IRF euro housing loans averaged 3.86%, same as the previous month, but a decline from 3.9% a year earlier.
The mortgage market is booming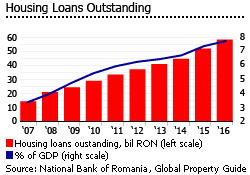 Housing loans increased by 12.7% y-o-y in October 2017 to RON 64.56 billion (US$ 16.60 billion), according to the National Bank of Romania. From 2008 to 2016 housing loans outstanding surged by 17.5% annually.
In early 2016, the Commissioning payment law called "Legea darii in plata" was enacted, which allows a borrower to close his mortgage debt by handing back the property to the bank, with no other obligations. After the law´s implementation, banks raised their required down payment from 15% to a range of 30% to 35% of the sale price, which led to a decline of mortgages, some banks returned their down payment requirement back to 15% to 25%. 
Rental yields in Bucharest are good
Gross rental yields for apartments in Bucharest are good, ranging from 6% to 6.24%, with smaller apartments having the highest rental returns, according to the Global Property Guide research dated May 2016.
A 70 sq. m. apartment in Bucharest can be rented for around €550 (US$ 608) per month, while a 120 sq. m. apartment can be rented for just under a thousand euro per month.
Romania is a nation of homeowners, with a homeownership rate of over 80%. Government policies encourage families to buy their own houses:
For first-time homebuyers, the government extends a state guarantee of 50% to banks, up to €60,000;
VAT on properties with an area of ​​up to 120 square metres is reduced to 5%.
In 2016, Romania´s total dwelling stock was 12.9% larger than in 2000, according to the National Institute of Statistics (NIS).
There´s a building boom
Residential development activity accelerated in 2016, with supply rising by 11% from the previous year to a total of 52,206 new dwellings completed, albeit still below the 2008 peak of 64,414 units, according to the National Institute of Statistics (NIS).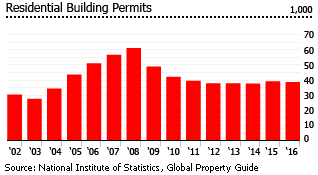 Residential building permits rose by 6.08% during the first ten months of 2017 to a total of 35,496 units.
Official toleration of corruption is raising the political temperature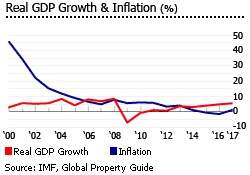 Romania is poised between future and past. Does Romania want to be a modern state, in which politicians are elected on the basis of policies and are prosecuted and imprisoned for corruption? Or does it want to be a clientilist state, in which politics is about who you accept money from?
The two most prominent voices of the progressive future are president Klaus Iohannis, elected in November 2014, and Laura Codruta Kovesi, head of the country´s National Anticorruption Directorate (DNA).
Iohannis was elected President in November 2014 on an anti-corruption platform. Since Iohannis´ election there have been a series of arrests for corruption, and increased support for the DNA, which has charged or convicted no less 18 ministers from governments that have been in power in Romania since 2004, as well as thousands of lower-level politicians, media moguls, judges and businesspeople.
However progress was set back by the Social Democratic Party´s (PSD) triumph in the December 11, 2016 Parliamentary elections. The PSD´s support is strong among the poor, whose perception is that almost all Romanian politicians are tainted, so why seemingly target the PSD?
The PSD appointed the relatively clean Sorin Grindeanu as Prime Minister. But the real power is the PSD´s Liviu Dragnea, convicted of bribery and ballot-forging during the 2012 parliamentary election and thus barred by law from becoming prime minister. One of the Grindeanu government´s first steps was to pass Emergency Ordinance 13, effectively decriminalising official misconduct in which the financial damage is less than 200,000 lei (£38,000) - clearly a step towards Dragnea becoming prime minister.
This unleashed a storm of popular protest and mass demonstrations. The demonstrations had their effect. Ordinance 13 was repealed and justice minister Florin Iordache resigned, a scapegoat for Ordinance 13.
Just six months after becoming a premier, Grindeanu was ousted in a no-confidence vote with the PSD and its coalition partner ALDE in June 2017.  Grindeanu was reluctant to resign, accusing Dragnea of seeking to "concentrate all the power in his hands". In June 2017, former Economy Minister Mihai Tudose took over as Romania´s Prime Minister, as designated by President Iohannis.
On December 18, 2017, a group of PSD senators and deputies submitted a draft bill setting lower penalties for corruption offenses and decriminalizing some of them. Similar to Ordinance 13, the draft bill suggests to decriminalize abuse of office with financial damage worth EUR 200,000 and below, arguing that criminal sanctions should apply only when the damages are "substantial". The bill also propose perpetrators to serve only three years of jail time, and those with severe illness or are over 60 years old to be allowed to serve their sentences at home. 
Romania´s strong growth continues; but budget deficit likely to exceed 3% ceiling 
Romania´s economy has been on a rising trend for the first three quarters of 2017. In Q3 2017, the country´s GDP recorded 8.8% y-o-y growth, its highest expansion since Q3 2008, according to the National Institute of Statistics (NIS). This followed robust annual growth of 6.1% and 5.7% in Q2 and Q1 2017, respectively.
The International Monetary Fund (IMF) recently raised Romania´s economic growth forecast for 2017 from 4.2% to 5.5%, making it, along with Iceland, the fastest economic growth in Europe this year.
In 2018, Romania´s growth is expected to be 4.4%.
Romania´s consolidated national budget deficit was RON 10.2 billion (US$ 2.62 billion) or about 1.21% of GDP during the first 11 months of 2017, according to the finance ministry, which expects the deficit to each 2.96% of GDP, just below the EU´s 3% limit. However, the European Commission (EC) expects Romania´s deficit to hit the 3% limit in 2017.
The increased deficit was mainly due to the country´s expansionary fiscal stance. Some of the government´s recent measures include:
Reduction of VAT from 20% to 19% beginning January 1, 2017
Elimination of the 1% special construction tax
Ratification of the unified wage law (UWL), raising all public wages by 25% in January 2018
Lowering personal income tax from 16% to 10%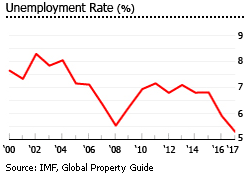 As a result of fiscal easing, the EC expects that Romania will exceed the EU´s limit and reach 3.9% of GDP in 2018 and 4.1% of GDP in 2019.
In October 2017, Romania´s unemployment rate was 4.9%, significantly lower than 5.6% recorded in the same month last year, according to the INS.
Annual inflation in Romania was 3.2% in November 2017, based on the figures from the NIS. In past two years, the country suffered deflation at -1.6% in 2016 and -0.6% in 2015, following a 1.1% inflation rate in 2014.
On November 13, 2017, the Romanian Leu (RON) recorded a new historic low against the euro since 2012, with the exchange rate at around RON 4.6495 per euro. The currency depreciation is attributed to the country´s ongoing political tensions, as well as to the fear of an overheating economy due to a rising trade deficit, rising inflation, and rising public spending. As of December 28, 2017, the exchange rate was at RON 4.6507= €1, according to the BNR.  
Romania - More data and information