Poland's housing market remains strong, due to the country's excellent economic performance, wage rises and declining unemployment, combined with historic low interest rates.

The average price of existing flats in Poland's 7 big cities (Warsaw, Gdańsk, Gdynia, Kraków, Łódź, Poznań, and Wrocław) increased by 7.11% (5.51% inflation-adjusted) during 2018 to an average of PLN 6,905 (€ 1,605) per square metre (sq. m.), from y-o-y rises of 7.87% in 2017, 2.64% in 2016, 1.1% in 2015, and 1.69% in 2014, according to the Polish central bank, Narodowy Bank Polski (NBP). On a quarterly basis, house prices were up by 2% (1.5% inflation-adjusted) in Q4 2018.

In Warsaw the average price of existing houses rose by 11.52% (9.86% inflation-adjusted) during 2018.
Gdańsk saw the highest house price rise among Poland's seven major cities, with a 20.56% (18.77% inflation-adjusted) y-o-y price surge in 2018. It was followed by Gdynia with a 15.43% y-o-y increase.
Other Polish major cities also enjoyed high price hikes, including Łódź (11.52%), Kraków (11.49%), and Poznań (9.11%).
Among the 7 big cities, Wrocław saw the lowest price hike of 3.23% (1.69% inflation-adjusted) during 2018.

Warsaw has Poland's most expensive housing, with an average selling price of PLN 10,300 (€ 2,394) per sq. m. in 2018, according to NBP. Housing is also expensive in Gdańsk, with an average price of PLN 8,855 (€ 2,058) per sq. m., Gdynia with PLN 8,523 (€ 1,981) per sq. m. and Kraków with PLN 8,466 (€ 1,968) per sq. m.

Łódź had the cheapest houses among the 7 big cities, with an average price of PLN 4,811 (€ 1,118) per sq. m.

The strong price rises are mainly due to robust demand, supply shortages and higher construction costs, as well as a declining share of low-cost "Housing the Young" (MdM) scheme units, after the programme closed in January 2018.

In 2018, the total number of new flats sold in the country's six major cities fell by 12.3% to 64,800 units from a year earlier, according to REAS JLL Residential Advisory. Despite this, last year's sales level remains the second highest in the market's history.

"Although 2018 was far from achieving the record-breaking results of 2017, it was a very good year in terms of the number of sold flats – slightly better than in 2016, making it the second-best year in the history of the residential development market in Poland," said REAS.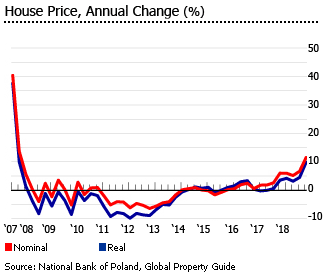 Foreigners can freely buy condominium units in Poland. Land for commercial purposes can be freely bought by citizens of the European Economic Area (EU + Iceland, Liechtenstein, and Norway).

The Polish economy grew by a robust 5.1% in 2018, up from the previous year's 4.8% expansion and the highest growth since 2007. The International Monetary Fund (IMF) expects the economy to expand by 3.8% this year while the World Bank is more optimistic with a 4% growth projection – amidst a slowdown in the euro zone, Poland's biggest trade partner.