Poland's housing market - outlook strongly positive
September 24, 2015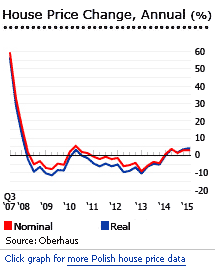 With record-low interest rates, constrained supply, and new housing programs stimulating demand, Poland´s housing market is gaining momentum. 
The average price of existing flats in Poland's 7 big cities (Warsaw, Gdańsk, Gdynia, Kraków, Łódź, Poznań, and Wrocław) rose by 3% (4.3% inflation-adjusted) during the year to Q1 2015, according to the Polish central bank, Narodowy Bank Polski (NBP). During the latest quarter, house prices were up by 0.7% (1.2% inflation-adjusted).
Gdańsk saw the highest average transaction price increase at 13.1% y-o-y to PLN 5,417 (€1,289) per sq. m. in Q1 2015. It was followed by Krakow with an 8.1% y-o-y increase to PLN 6,197 (€1,474) per square metre (sq. m.).
In Warsaw, the country's capital, the average transaction price of existing houses fell by 1.6% y-o-y in Q1 2015 to PLN 7,054 (€ 1,678) per sq. m.
Łódź and Poznań had price declines of 3.5% and 2.1%, respectively. The average transaction price in Łódź was at PLN 3,342 (€ 795) per sq. m., while PLN 4,905 (€1,167) per sq. m. in Poznań.
Until recently house prices in Poland had been in a slump, dating back to mid-2008.
Compared to pre-crisis peaks:
In Gdańsk, house prices are still down 13.6%
In Krakow, house prices are down 15.2%
In Łódź, house prices are down 19.7%
In Warsaw, house prices are down 22.8%
In Poznań, house prices are down 22.8%
Some quick history
The post-2008 decline in Polish house prices came after a long boom period from 2004 to 2007, fuelled by an inflow of investment due to the country's accession to the EU, by record low interest rates, and mortgage financing development. 
Property prices surged in Warsaw - up 23% in 2005, up 28% in 2006, an amazing 45% in 2007, and 13% in 2008, according to REAS.  Other cities such as Wroclaw saw even larger house price rises. Behind this boom lay strong economic growth.
However during the 2008-09 crisis the Polish Zloty fell dramatically, and mortgages - mainly denominated in foreign currencies - became unrepayable.  Home prices fell for 6 straight years. 
Housing sales strongly up
Poland, which does not use the euro, is the only European country which avoided recession during the global financial and economic meltdown. The Polish economy expanded by 3.9% in 2008, 2.6% in 2009 and 3.7% in 2010. GDP grew by 4.8% in 2011.
However growth slowed during the past two years - to 1.8% in 2012 and 1.7% in 2013, as Poland has not escaped the slump in the Eurozone, which accounts for over 50% of Polish exports.
Though its economy expanded by 3.3% on an annualized basis in the second quarter of 2015, there are real threats.  To the west, any weakness in Germany will impact Poland, as it is Poland´s largest export market. To the east, Russian aggression in Ukraine and trade sanctions against Russia are a major concern.
Yet in 2014, the Polish economy bounced back with 3.3% growth, fueled mainly by strong domestic demand: "Private consumption accelerated," noted the European Commission, "as the initial confidence impact of the Russia-Ukraine crisis on households turned out to be less important than expected."
Housing sales reached a record in Q2 2015 with 12,700+ flats sold, up almost 11% from the previous quarter, according to REAS.  In Poland's 6 primary markets 27% more flats were sold during the period from Q3 2014 to Q2 2015 than in the peak years of 2007 and 2013, at around 45,800 flats sold, compared to around 36,000 flats sold in each of those years.
A survey by auditing firm Ernst and Young (EY) concluded that Poland ranks as the most attractive property market in Europe in 2014. 33% of the surveyed participants rated Poland as "very attractive" while the remaining 67% gave a rating of "attractive." Coming in at second in the rankings is Germany and at the bottom of the list, France. 41% of the respondents "strongly agreed" that transactions volumes will likely increase in Poland in 2014.
Interest rates continue to fall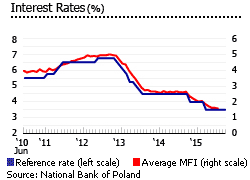 interest rates for house purchases declined to an average 3.59% in July, from 4.61% the same time the previous year.  The Narodowy Bank Polski (NBP) kept its own key interest rate at 1.5%, reflecting ten rate cuts since the 4.75% rate which prevailed before November 2012.
Strangely, there was a substantial decline in housing loan demand during the second quarter, according to NBP's Senior Loan Officer Opinion Survey of Q3 2015.  This appears to have been influenced by housing market forecasts, and by increased usage of alternative funding sources.  But senior bank loan officers expect housing loan demand to rise in the third quarter.
Gross rental yields attractive; renters plentiful
Gross rental yields are quite high in Warsaw, varying from 5.98% to 7.78%. In Krakow, yields range from 4.47% to 5.27%, based on the latest Global Property Guide research in April 2015.
Renting is an unavoidable choice for more and more Poles, as stricter requirements for mortgage financing, uncertainty in the labour market, and low growth prospects, discourage households from incurring long-term debts. The movement of people from other cities to the capital, especially students or young people looking for work, also drives people to rent.
Official data from the 2002 National Census show that 21% of households in Warsaw rent apartments, with half of these in social and communal housing.  Most residential properties in Poland are owned by private individuals.
About 10.7% of the dwelling stock is rented at lower rates, with 5.7% in communal or social housing, 2.1% in cooperative tenancy, 1.2% in state-owned companies, 1.2% the State Treasury, and 0.5% in public building societies, according to the 2011 National Census. The remaining dwelling stock is primarily owner-occupied.
What happened to the post-crisis housing "overhang "?  Most units already sold
Dwelling completions were down in the first half of 2015, with around 63,746 completions.  This is 4% lower than in the same period last year, according to the Central Statistical Office of Poland (GUS), and also 6.2% below the first half of 2013.
Yet about 71% of the units completed in 2014 have already been sold, while among the completions planned for the following year, 42% are already sold, according to Jones Lang LaSalle.  Shortages of new flats and houses seem likely, allowing real estate prices to rise in 2016.
On the demand side, two government programs are boosting demand. The Apartments for Youth (Mieszkanie dla Młodych or MdM) programme started in January 2014 after being approved in early 2013, replacing the "Families on their Own" programme. It aids families by subsidizing home purchases particularly in the lower end market.
The BGK fund, which began buying in late 2014, aims to purchase up to 20,000 apartments around Poland to be held by the government, for rent to the public at or lower than market rates. The fund focuses on the cheaper end of the market.
These have been effective in raising demand. The MdM programme, in particular, was a major contributor to the "exceptionally good sales" in Gdańsk in Q2 2015, according to REAS.  Most cities had an increase in the number of applications for co-financing under the MdM programme during Q2 2015, especially Krakow (applications up by 24% from the previous quarter), Gdańsk (up by 20%), Wrocław (up by 18%) and Łódź (up by 7%). Poznań had the same number of applications as in the first quarter, while Warsaw saw a 7% drop. 
Construction starts up, building permits up
There is substantial pent-up demand. The fall in completions mentioned earlier is a legacy of the housing bust, but things are changing. The number of building permits granted increased by 13% y-o-y to 86,424 in the period January-June 2015. During the same period, the number of dwelling starts also rose by 11.2% to 80,310.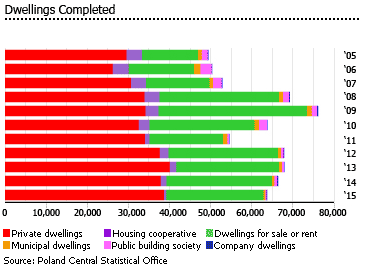 A substantial proportion of Poland´s dwelling are being built by private investors, rather than developers.
Of the dwellings completed in January-June 2015, a huge chunk came from private investors with 38,661 dwellings completed or around 60.6% of the total completions.
Developers completed 23,657 dwellings (37.1% of total completions).
Housing cooperatives have around 497 completed dwellings (only around 0.8% of the total completions).
Other investors (consisting of municipal, public building society, and company construction) recorded around 931 completions during the first six months of 2015, 1.5% of the total completions.
The Polish residential market lags behind Western European countries in terms of quality, age of stock, and level of market saturation, according to Ernst and Young. Of the 13.7 million residential units in Poland, 72% were built before 1989, mostly during the communist era using prefabricated technology, which tends to be of very poor quality. Modern units built from 2000 onwards comprise only about 12% of the total and are concentrated primarily in six areas: Warsaw, Krakow, Poznan, Wroclaw, Tricity, and Lodz.
Poland's housing supply constraint was "mainly administration driven and consists of the limited number of zoning plans, covering below 30% of country's area", according to Ernst and Young's 2015 report. The lack of zoning plan leads to administrative procedures taking from a few months to a year to resolve.
The danger of foreign-currency denominated mortgage loans
Foreign currency-denominated loans have been increasing again in the recent months. During the year to July 2015, foreign currency loans rose by 4.5%, while Polish zloty loans increased by 12.4%.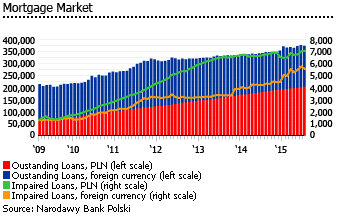 The proportion of foreign currency-denominated housing loans (including Swiss franc loans) reached its peak at 68% in 2008. However the proportion has declined since and was around 45% in 2014, according to Polish central bank, Narodowy Bank Polski (NBP).
In July 2015, the number of total outstanding loans was up by 8.7% y-o-y to 373,346. Of these around 203,356 (or 54%) were Polish zloty-denominated; and 169,990 (or 46%) were foreign currency-denominated.
Impaired loans rose by 15.5% to 12,566 during the year to July 2015. Of these 7,031 (or 56%) were Polish zloty-denominated; and 5,536 (or 44%) were foreign currency-denominated. Polish zloty-denominated impaired loans rose by 5.3% y-o-y to July 2015, while the foreign currency-denominated ones were up by 31.9%.
Positive growth outlook in 2015, low deficit, and a new president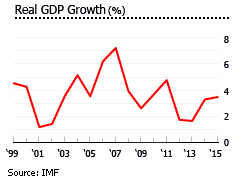 Bronisław Komorowski's reign as Poland's president has ended. Law and Justice Party (PiS) candidate Andrzej Duda won the recent elections held in May 2015. Duda, a conservative, won 51.55% of the vote, as opposed to Komorowski´s 48.45%. The new president, who assumed his office in August 2015, vowed to reverse the increase in the retirement age and draft laws that could increase the tax breaks of the impoverished.
Poland's economy slowed in the second quarter of 2015, growing by 3.3% y-o-y, according to Central Statistical Office of Poland (GUS). The deceleration was due to slow growth in private consumption (up by 3% y-o-y), government spending (2.4% y-o-y increase), and fixed investment (6.4% growth). 
In 2015, the IMF expects 3.5% economic growth, mainly due to the decline of oil prices, and the European Commission expects 3.2% GDP growth - good numbers.
Standard & Poor's raised its outlook on Poland's A- credit rating from stable to positive earlier this year, implying a possible upgrade.
"The outlook revision reflects our expectation that income levels ... will rise consistently on the back of broad-based and balanced economic growth, thereby improving the economy´s resilience and capacity to bear debt," said S&P.
The government's budget deficit is now at its lowest since 2007 at 3.2% of GDP in 2014, according to Central Statistical Office of Poland (GUS).
In June 2015, unemployment fell to 10.3%, from 12% the previous year. Core inflation fell to 0.6% during the year to August 2015, according to the central bank.
Poland - More data and information