Norway's housing market is slowing sharply
February 10, 2018

After almost eight years of uninterrupted growth, Norway's housing market is cooling sharply, especially in the capital, Oslo.  The slowdown can be partly attributed to the implementation of stricter mortgage rules on January 1, 2017, which were focused on restraining house prices in Oslo.

The nationwide house price index rose by a meagre 0.73% during 2017, after y-o-y rises of 10.09% in 2016, 4.54% in 2015, and 5.8% in 2014, according to Statistics Norway. When adjusted for inflation, Norwegian house prices actually fell 0.6% in 2017.  During the last quarter, nationwide house prices continued down, falling by 1.7% (-1.98% inflation-adjusted).

The downturn is being felt most sharply in Oslo, where house prices fell by 3.01% y-o-y (-4.29% inflation-adjusted) during 2017, a striking contrast with the rise of 21.68% (17.56% inflation-adjusted) during the previous year, 2016.

In Q4 2017, Oslo's house prices continued to fall, and were down by 2.45% (-2.73% inflation-adjusted) from the previous quarter.

In 2017:

In Bergen, the house price index fell by 2.07% y-o-y (-3.36% inflation-adjusted), in contrast with a 3.15% growth in 2016. During the latest quarter, house prices fell by 3.02% in Q4 2017.
In Trondheim, house prices fell 1.39% y-o-y (-2.69% inflation-adjusted), in contrast with a 9.06% rise in 2016. During the latest quarter, house prices fell 3.35% q-o-q in Q4 2017.
In Stavanger, house prices rose by 3.75% y-o-y (2.38% inflation-adjusted), up from just 0.42% growth in 2016. During the latest quarter, local house prices rose by 3.21% q-o-q.

The average price of detached houses in Norway at end-2017 was NOK 24,550 (US$ 3,119) per square metre (sq. m.), according to Statistics Norway. Row homes' average prices were NOK 32,796 (US$ 4,167) per sq. m., and apartments' average prices were NOK 52,755 (US$ 6,703) per sq. m..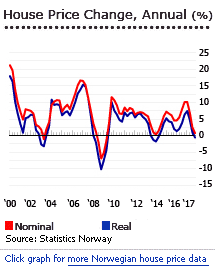 Of Norway's regions, Hedmark and Oppland had the highest annual price increase at 6.36% (4.95% inflation-adjusted) in 2017, followed by Trøndelag exluding Trondheim (5.84%), Akershus excluding Bærum (3.05%), and Sør-Østlandet (2.84%). Minimal annual price hikes were seen in Nord-Norge (1%), Agder and Rogaland excluding Stavanger (0.92%), and Vestlandet excluding Bergen (0.2%).

Sales of all housing types fell by 0.7% to 54,945 in 2017, while sales of new homes plunged 22%.

Anyone can own, occupy, and invest in real estate in Norway.


Analysis of Norway Residential Property Market »
Yields are low, max of 5%
Yields for properties in Oslo range from 3.6% to 5%. Properties in Bergen and Fjords areas have similar yields, at 3.9% - 4.2%.

Properties in Oslo can cost you around €5,000 to €6,700 per sq. m., depending on the size of the property; monthly rents are around €750 to €2,400. Bergen and Fjords' rental markets offer a cheaper alternative, with properties costing €2,200 to €3,500 per sq. m. and monthly rents ranging from €450 to €1,200.
Taxes are generally high
Rental Income: Rental income of nonresidents is taxed at a flat rate of 24%.

Capital Gains: Capital gains from the sale of real estate property are taxed as ordinary income at 24%.

Inheritance: Norwegian inheritance and gift taxes were abolished as of 01 January 2014.

Inheritance of spouses is not taxed. Inheritance of children and parents exceeding NOR470,000 (€62,710) are taxed from 6% to 10%.

Residents: Residents are taxed on their worldwide income.
Total transaction costs are very low in Norway
Total transactions costs range from 3.75% to 5.63%, according to Global Property Guide estimates. The buyer pays all costs involved, including the 2.5% stamp duty. Real estate agent's fee is around 1% to 2.5% (plus 25% VAT).
Tenant protection laws are neutral
Norwegian law is neutral between landlord and tenant.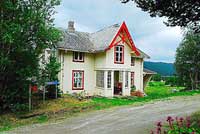 Rents: The rental market is free; the Law of Tenancy (2000) removed the last rent controls, with the exception of Oslo pre-war housing. Rents are comparable with that normally obtained in agreements in new lettings of similar properties in similar terms. In practice, this is not onerous to landlords.

Tenant Security: Notice is not required at the end of the contract if the contract was fixed term. However, if the tenant continues to occupy the premises for more than 3 months at the end of the contract and the landlord does nothing about it, then the agreement becomes an unspecified term agreement.
Sluggish economic growth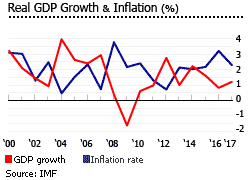 Low petroleum prices have hurt Norway's economy. Norway is the world's eighth largest oil exporter and third largest gas exporter. Its petroleum industry is the country's largest industry, accounting for more than 20% of GDP, and around 47% of exports by value. As a result of a plunge in petroleum prices in recent years, the country's economic growth has been sluggish, with GDP expanding by only 1.1% in 2016 and 1.4% in 2017, after growing by 1.6% in 2015 and 1.9% in 2014, according to the IMF.
Economic growth is expected to improve slightly to 1.6% this year and to 1.9% in 2019, amidst gradual recovery in the oil and gas sector.
Europe's Brent crude oil spot price rose by 20.7% y-o-y to US$64.37 per barrel in December 2017, but still far below the average price of US$107.64 per barrel from 2011 to 2014, according to the U.S. Energy Information Administration.
Unemployment was around 4% in October 2017, the lowest level since January 2015, based on the figures from Statistics Norway. The number of unemployed stood at 111,000 persons in October 2017, down by 21,000 from the same period last year.
Norway's unemployment rate is expected to gradually decline to 3.8% this year and to 3.7% in 2019, according to the IMF.
Consumer prices rose by 1.6% in December 2017 from a year earlier, an acceleration from a 1.1% rise in the previous month but still well short of the Norges Bank's target of 2.5%, according to Statistics Norway. For the whole year of 2017, inflation was 1.8% while core inflation was 1.4%.
Nationwide inflation is expected to rise slightly to 2% this year, and to 2.2% in 2019, according to the IMF.
In the past three years, the Norwegian Krone (NOK) depreciated by about 8.8% against the euro, from NOK 8.9727 = EUR 1 in December 2014 to NOK 9.8424 = EUR 1 in December 2017. Over the same period, the krone also lost about 12.5% of its value against the US dollar, from an average monthly exchange rate of NOK 7.2787 = USD 1 to NOK 8.3179 = USD 1 last month.
During the parliamentary elections of September 2017, non-socialist parties retained a reduced majority of 88 seats, allowing Prime Minister Erna Solberg's Conservative-Progress coalition to remain in power. PM Solberg plans more tax cuts, in an effort to stimulate growth for Europe's top oil and gas producer.