Montenegro's house prices falling as Russians sell, but outlook very positive
Lalaine C. Delmendo | December 10, 2018

Montenegro's house prices are now falling, mainly because Russian buyers have stayed away. After a surge last year, there's also been a fall in residential construction.

The average price of new residential dwellings in Montenegro fell by 1.91% to €1,081 per square metre (sq. m) during the year to Q2 2018, according to the Statistical Office of Montenegro - in contrast with a y-o-y rise of 4.95% during this period last year. When adjusted for inflation, new residential prices actually fell 5.18% y-o-y in Q2 2018. And during the latest quarter (Q2 2018) the average price of dwellings fell by 6.97% (-7.5% inflation-adjusted).

An increasing number of Russian homeowners are now selling their holiday homes, according to a news article from N1.

"Our agency has noticed an 80% drop in demand by Russian clients looking to buy or invest in the Montenegrin seaside. On the other hand there has been an 80% increase in properties for sale," said Dušan Ranković of real estate agency Kamin.

Russian nationals bought about 100,000 real estate properties in Montenegro between 2005 to 2010, according to estimates. Leading Russian daily Novaya Gazeta previously claimed that more than 40% of Montenegro properties are owned by Russians! However in recent years, the number and the value of properties being bought by Russians has dropped significantly.

During the first half of 2018, the number of dwelling permits plummeted 34.7% to 1,076 units from the same period last year, after an annual increase of 47.7% in 2017, 0.4%, according to the Statistical Office of Montenegro.

Tourism is booming
Despite this, some real estate analysts believe that the housing market will bounce quickly back, due to booming tourism and a strong economy, coupled with the country's recent NATO membership. Montenegro became the 29th member of North Atlantic Treaty Organization (NATO) on 5 June 2017. It is also currently seeking EU membership.

In 2017, tourist arrivals rose by 18.1% y-o-y to 955,499 people, according to the Statistical Office of Montenegro. Then during the first three quarters of 2018, tourist arrivals increased 12.4% to 926,741 people from the same period last year.

"We expect the growth of Montenegro's tourism and resort industry to have a very positive impact on property prices," said Milo Radmilovic of IM Property Group.

"Montenegro property offers an excellent investment opportunity," says Glenda Lazare of overseas investment specialist company, Key Universal. "The country has a burgeoning tourist industry, bolstered by the government's Tourism Masterplan 2007-2020, which aims to develop high-end hotels, golf courses and other luxury facilities in order to attract affluent tourists."

The economy grew by a healthy 4.4% last year, up from average growth of 2.9% in 2013 to 2016, according to the European Commission (EC), buoyed by large infrastructure projects such as the construction of the Bar-Coljare highway. The economy is expected to expand by 3.9% this year and by another 2.8% in 2019, according to the EC.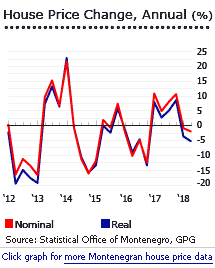 There are no restrictions on foreigners buying property, except for land, which can only be purchased by foreigners through a company. After a building is constructed, ownership can be transferred to individuals through a simple procedure.

In 2015, the federal government passed a law allowing foreign homebuyers to obtain a residency permit in Montenegro upon purchase of a property, regardless of its value, according to Ivana Vukicevic of property firm Montenegro Prospects.