Montenegro's housing market recovering, amidst booming tourism
November 20, 2017

Montenegro's house prices are poised to rise, amidst strong property demand and a booming tourism sector.

During the year to Q2 2017, the average price of new residential dwellings in Montenegro rose by 4.95% to €1,102 per square metre (sq. m), according to the Statistical Office of Montenegro. This is in sharp contrast with a y-o-y decline of 10.18% during the same period last year. However when adjusted for inflation, new residential dwelling prices were unchanged in Q2 2017 from a year earlier.

However on a quarterly basis, the average price of dwellings in the country dropped 5.97% (unchanged when adjusted for inflation) during the latest quarter.

Despite that, the signs are good.  Demand is robust. Residential property transactions were estimated to have increased by an average of 10% every year in the past two years, according to local real estate experts.

"For the last few years, we've seen a steady interest in properties, without the excitement of a bubble, and good value apartments and houses are selling well," said Ivana Vukicevic of property firm Montenegro Prospects.

Foreign property demand is expected to continue rising, due to the launch of several new flights from across Europe (such as from Brussels, Milan, Barcelona, London, Oslo and Stockholm). In 2016, tourist arrivals rose by 10.2% y-o-y to 808,788 people, according to the Statistical Office of Montenegro. Then during the first three quarters of 2017, tourist arrivals surged 18% to 737,753 people from the same period last year.

"Montenegro property offers an excellent investment opportunity," says Glenda Lazare of overseas investment specialist company, Key Universal. "The country has a burgeoning tourist industry, bolstered by the government's Tourism Masterplan 2007-2020, which aims to develop high-end hotels, golf courses and other luxury facilities in order to attract affluent tourists."

Says Ashwinder Raj Singh of Anarock Property Consultants: "Since there isn't a lot of awareness about this country, property prices are still modest and attractive for early-mover investors."

The economy is expected to expand by a healthy 3.9% this year and by another 3.3% in 2018, from an annual average growth of 2.8% in 2013 to 2016, according to the European Commission (EC), buoyed by surging tourism and large infrastructure projects such as the construction of the Bar-Coljare highway.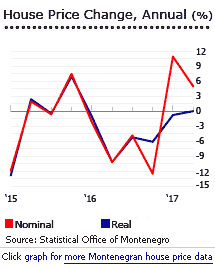 There are no restrictions on foreigners buying property, except for land, which can only purchased by foreigners through a company. After a building is constructed, ownership can be transferred to individuals through a simple procedure.

In 2015, the federal government passed a law allowing foreign homebuyers to obtain a residency permit in Montenegro upon purchase of a property, regardless of its value, according to Vukicevic.