Robust house price hikes continue in Malta
July 07, 2019

House prices in Malta are still rising, with a sharp increase of 10.83% (9.51% inflation-adjusted) during the year to Q1 2019, according to the Central Bank of Malta (CBM). Property prices rose by 4.72% (6.56% inflation-adjusted) during the latest quarter.

House price increases were felt across all property types:

Apartment prices rose by 11.02% on average during the year to Q1 2019. When adjusted for inflation, prices were up by 9.7%.
Terrace house prices rose by 15.34% (13.96% inflation-adjusted).
Maisonettes prices rose by 7.82% y-o-y (6.54% inflation-adjusted).
"Other houses", consisting of townhouses, houses of character and villas, experienced the highest price surge of around 15.96% y-o-y (14.58% inflation-adjusted) during the year to Q1 2019.

Malta's buoyant house price rises over the last five years have been supported by a number of factors (according to the CBM's 2018 annual report - Malta's fast growing economy, which enjoyed an average growth of 9.6% in 2014 and 2015, followed by 6.3% from 2016 to 2018.  Plus:

low-interest rate environment;
buoyant disposable income; and
the rising number of foreign workers in the country.

Prices were also boosted by government measures including the exemption of first-time property buyers from a 3.5% stamp duty on the first €150,000 of a new property´s value. In 2018, another scheme was introduced, making second-time buyers eligible for a stamp duty refund of up to €3,000 if they plan to replace their current residential homes. Second-time buyers are not eligible if they own any other property, or are upgrading to a luxury villa. Homeowners with disabilities can avail a higher stamp duty refund of up to €5,000.

The upswing of house prices in recent years is no doubt also due to the Individual Investor Programme (IIP) targeting high net worth individuals, introduced in the government´s November 2013 budget.

From 2000 to 2007, the Maltese property market enjoyed strong growth, with the overall house price index rising by 78.9% (53.4% inflation-adjusted):

Terraced houses saw the largest price increase of 105.3% (76% inflation-adjusted)
Apartment prices rose by 83.3% (57.1% inflation-adjusted)
Maisonettes prices increased by 81.4% (55.5% inflation-adjusted)
Townhouses and villas rose by 71.9% (47.4% inflation-adjusted)

Malta´s housing boom peaked in the second quarter of Q2 2004 with an amazing 36.73% y-o-y house price rise. The boom was set off by low interest rates, which had an extraordinarily strong effect, boosting residential mortgage debt from only 19.6% of GDP in 2002, to 34.6% of GDP in 2006, and to 40.9% of GDP in 2017.

A supporting factor was the Investment Registration Scheme, a tax amnesty for Maltese residents with overseas assets, effective from 2001 to 2005. The house price rises continued at a gentle pace from 2005 to 2007.

Then, like other European countries, Malta was hit by the global financial crisis of 2008. Malta is dependent on foreign trade and tourism, and Malta´s economy experienced a 2.4% contraction in 2009.  The house price index dropped by 4.4% (-9.1% inflation-adjusted) in 2008, 1.4% (-1.1% inflation-adjusted) in 2009 and another 2% (-5% inflation-adjusted) in 2010.

After a short-lived recovery in 2011, house prices fell again by 2.2% (-5.2% inflation-adjusted) in 2012.

House prices then recovered strongly in 2013, due to government´s launch of new property-related measures. Strong price rises continued from 2014 to 2018.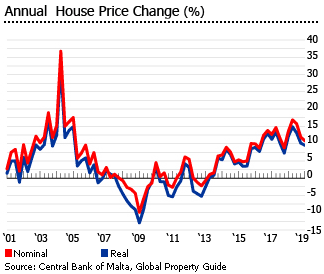 There are many restrictions on property ownership in Malta. Foreign nationals and EU citizens can usually only buy one property in Malta, and usually only for owner-occupancy, though they can buy more properties in ´specially designated areas´ such as Tigne Point, Portomaso, Cottoenra, Manoel Island, and Chambray.

Properties owned by foreigners can be rented out only if the property is valued over €233,000, has a swimming pool, and is registered with the Hotel and Catering Establishments Board. Foreign-owned properties can only be rented out for short-term lease agreements.