Malta: a booming economy, strong house price rises
April 27, 2017
Maltese property prices surged by 13.8% (12.95% inflation-adjusted) during the year to Q4 2016, based on the figures from the Central Bank of Malta (CBM).  During the last quarter of 2016 property prices rose by 7.24% (10.44% inflation-adjusted).
The Maltese economy remains one of Europe's fastest growing. After amazing economic growth in 2014 and 2015 of around 7.9% annually, growth slowed to 5% in 2016.
House price rises were experienced by all property types:
Apartments had a double digit price increase of 15.86% during the year to Q4 2016. When adjusted for inflation, prices were up by 14.99%.
Terrace houses saw a 13.33% y-o-y (12.48 inflation-adjusted) price hike in Q4 2016.
Maisonettes experienced the highest price surge, rising by 20.42% (19.51% inflation-adjusted) over the year to Q4 2016.
"Other houses", consisting of townhouses, houses of character and villas, however, had a relatively low growth of around 1.96% y-o-y (1.20% inflation-adjusted) in Q4 2016.
Maltese property has been on the upswing for the past three years.  These latest price rises were attributed by the central bank above all to the Individual Investor Programme (IIP) and to the stamp duty exemption for first-time buyers.
The first cause of house price rises, the Individual Investor Programme, was introduced in the government's November 2013 budget, and targets high net worth individuals.
The second cause is the exemption of first-time property buyers from a 3.5% stamp duty on the first €150,000 of a new property's value, saving first-time buyers up to €5,000 (US$ 5,315). It also applies to a promise of sale signed from July 1, 2015. Buyers who have paid after July 1, 2015 (when the scheme was originally supposed to end) are still entitled to a full stamp duty refund.
Other factors supporting housing demand were:
The low interest rate environment, which led to higher lending for house purchases;
Growth in disposable income; and
The increased number of foreign workers in Malta.
Malta's 2017 budget also has provisions favourable to potential property buyers in 2017, including an extension of another year (up to December 31, 2017) of the first-time buyer stamp duty exemption, and the reduction of stamp duty on residential properties in Gozo from 5% to around 2% (applicable till the end of 2018, as long as the promise of sale agreement is registered with the Inland Revenue Department by the end of 2017).
The new budget also provides a subsidy of up to €100,000 (US$ 106,300) on expenses incurred on property restoration, to first time buyers of immovable property located within an Urban Conservation Area, or of certain scheduled properties. To simplify the tax collection process, the budget also imposed a final tax rate of 7% on the value of all inherited property transfers by means of a judicial sale by auction.
"Locally, people are worried that the property bubble might burst, but I don't believe it will. Bubbles burst when an economy relies on one source of income, but our location, lifestyle, the economy and language have provided us with diverse options," said RE/MAX Malta's managing director Kevin Buttigieg. Malta's real estate market is "very buoyant", he adds. "We're witnessing all sorts of purchases: first-time buyers, commercial investments, people securing property for their children, direct foreign investment and those buying as a result of the IIP Citizenship Scheme. Plus, the fact that people can get between a five-and-ten per cent return on rental properties means we're also seeing heavy investment in buy-to-lets."
From 2000 to 2007, the Maltese property market enjoyed strong growth, with the overall house price index rising by 78.9% (53.4% inflation-adjusted). Over the same period:
Terraced houses saw the largest price increase of 105.3% (76% inflation-adjusted)
Apartment prices rose by 83.3% (57.1% inflation-adjusted)
Maisonettes prices increased by 81.4% (55.5% inflation-adjusted)
Townhouses and villas rose by 71.9% (47.4% inflation-adjusted)
Malta's housing boom peaked in the second quarter of Q2 2004 with an amazing 36.73% y-o-y house price rise. The boom was set off by low interest rates, which had an extraordinarily strong effect, boosting residential mortgage debt from only 19.6% of GDP in 2002, to 34.6% of GDP in 2006.
A supporting factor was the Investment Registration Scheme, a tax amnesty for Maltese residents with overseas assets, effective from 2001 to 2005. The house price rises continued at a gentle pace from 2005 to 2007.
Then like other European countries Malta was hit by the global financial crisis of 2008. Malta is dependent on foreign trade and tourism, and Malta's economy experienced a 2.13% contraction in 2009.
The house price index dropped by 4.4% (-9.1% inflation-adjusted) in 2008, 1.4% (-1.1% inflation-adjusted) in 2009 and another 2% (-5% inflation-adjusted) in 2010.
After a short-lived recovery in 2011, house prices fell again by 2.2% (-5.2% inflation-adjusted) in 2012. House prices then recovered strongly in 2013, due to government's launch of new property-related measures. Strong price rises continued from 2014 to 2016.
There are many restrictions on property ownership in Malta. Foreign nationals and EU citizens can usually only buy one property in Malta, and usually only for owner-occupancy, though they can buy more properties in 'specially designated areas' such as Tigne Point, Portomaso, Cottoenra, Manoel Island, and Chambray.
Properties owned by foreigners can be rented out only if the property is valued over €233,000, has a swimming pool, and is registered with the Hotel and Catering Establishments Board. Foreign-owned properties can only be rented out for short-term lease agreements.
Mortgage lending rates down, pushing housing loans up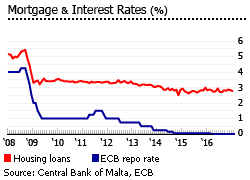 The lending rate on new mortgages was at 2.77% in January 2017, a decline from last year's rate of 2.82%. Housing lending rates have hovered near the 3% mark since December 2008. Before Malta joined the Euro in January 2008, Malta's mortgage borrowing rates ranged from 4% to 5% (and above).
Residential mortgage debt has consequently grown to 44.3% of GDP in 2015, from 25.8% of GDP in 2004, according to the European Mortgage Federation (EMF). In February 2017, Malta's outstanding loans for house purchases rose by 8.19% y-o-y to €4.26 billion (US$ 4.55 billion).
Rental yields are moderate; rent price hikes
Malta's gross rental yields are moderate. Apartments have rental yields ranging from 4.35% to 4.49%, based on the Global Property Guide research of March 2016.
A 160 sq. m. apartment, which has an average price of around €3,320 (US$ 3,549) per sq. m., can yield by around 4.49%. Slightly smaller apartments of 140 sq. m. are relatively expensive at around  €3,577 (US$ 3,824) per sq. m. and have yields averaging at 4.35%.
Most Maltese opt to own property rather than rent. Malta's owner occupancy rate was around 80% in 2014, up from 68% in 1995, according to the EMF.  Around 71.18% of the total rental housing stock is private sector, 26.24% government-owned or council housing, and 2.58% belongs to the Maltese church.
Rents rose sharply from 2012 to 2015, according to Malta's National Statistics Office (NSO). The average rent for a single-bedroom apartment shot up by 38% from €437 (US$ 467.20) in 2012, to €605 (US$ 646.81) in 2015. Rents for two bedroom flats rose by 29% to €796 (US$ 851) during this period, and for three-bedroom flats by 23% to €1,023 (US$ 1,093.69).
The rent rises are attributed to the increasing number of foreign workers in the country, who are mostly living in rented accommodation.
However, rising rents are putting pressure on low-income families living in private rented property. According to Charles Miceli of Alleanza kontra l-Faqar (Alliance against Poverty), more than 3,000 people are waiting for social housing units, and are renting in the private sector until these social housing units become available.
The government recognizes this problem, and has entrusted Deputy Prime Minister Louis Grech to lead a group that will tackle the situation as well as to propose solutions. "Rent control is not necessarily the only way, or even the best way, of addressing the issue," said Deputy Prime Minister Grech's spokesman.
In March 2017, the government launched a project that will build social housing apartments in 11 localities (including Attard, Birkirkara, Cospicua, Kirkop, Luqa, Msida, Naxxar, Qrendi, Siġġiewi, Zebbuġ, and Żurrieq). In the government's 2017 budget, the existing rent subsidy covering around 1,400 families was revised, increasing the number of beneficiaries to 2,800. It also widened the criteria for eligibility to the rent subsidy.
New dwelling permits are rising, vacancy rates are falling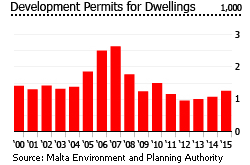 Confidence among construction firms further fell to -13 in February 2017 from -8 in January, but is still above the indicator's long-term average of -23. In contrast, expected selling prices over the next three months significantly increased.
Development permits for new dwelling units rose by 34.4% in 2015 to 3,947, still below 2007's peak of 11,343. The rise in dwelling permits was seen across all dwelling types. In 2015, terraced houses had the highest permit increase, with permissions rising 67.7% y-o-y to 342 units. Apartment permits, which account for more than three-fourths of the total permits issued, rose by 35.9% to 3,019 units. Maisonettes rose by 13.8% to 471 units, while 'other property types' were up by 17.4% to 115 units, according to the Malta Environment and Planning Authority (MEPA).
As of 2013, the residential vacancy rate was 18.4% of the total dwelling stock (41,282 units). Around 13.3% of all dwellings are considered secondary homes, according to the European Mortgage Federation's (EMF) Hypostat 2014 report.  This was much lower than the alarming peak in 2005, when 27.6% of all dwellings were vacant (53,136 units) with 22.4% permanently vacant.  Only 5.2% of all dwellings were then classified as second homes. The vacant dwellings total had risen 89% between 1995 and 2005.
The significant number of vacant properties in Malta is partly attributed to litigation between heirs. In an attempt to address this issue, the government's 2016 budget reduced from 10 years to 3 years the period after which an inherited property in dispute can be sold, provided that most (but not all) heirs agree on its selling price.  
To further encourage the use of vacant properties, the government is cutting stamp duty on transfers of properties within an urban conservation area from 5% to 2.5%, for contracts dated between January 1 and December 31, 2016. Also, transfers of restored properties within an urban conservation area will now have a lower final withholding tax, reduced from 8% to 5%.
Vacant properties don't pose a serious problem, says Malta Developers' Association president Sandro Chetcuti. In a conference organized by audit firm EY in May 2016, Chetcuti stated that half of the 55,000 properties listed as vacant are actually second homes or summer residences. "Just drop this about vacant properties. There is no problem with this. There are around 55,000 properties and more than half of these are second homes or summer residences while half of the remainder are either dilapidated or being fought over by heirs. The rest are on the market but they are simply overpriced and cannot sell."
Malta is still one of EU's fastest growing economies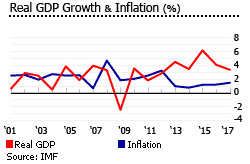 "The highest growth since EU accession" said Malta's National Statistics Office (NSO) of 2014 ad 2015, and growth in 2016 was not bad either at 5%. Malta's recent economic growth surpassed the European Commission's (EC) projection of 4% growth, as well as the EC's 1.9% projected growth for the European Union in 2016.  In the fourth quarter of 2016, the economy expanded by 5.1% y-o-y.
The Maltese economy had expanded by 3.2% annually from 2005 to 2008, and contracting by 2.4% in 2009 due to the global crisis, the economy bounced back with real GDP growth rate of 3.5% in 2010, 1.8% in 2011, 2.8% in 2012, and 4.5% in 2013, before taking off dramatically in 2014 and 2015.
In 2017, the EC expects Malta's economy to expand by 3.7%, the third highest in the EU, after Romania and Luxembourg. According to the EC, private consumption in the country will continue its robust growth and will be supported by "favourable labour market developments".
From 2% of GDP in 2014, Malta's fiscal deficit narrowed to around 1.4% of GDP in 2015, and is expected to fall to 0.7% of GDP in 2016.
Malta's labour market reflects the country's strong pace of economic expansion and the government's efforts to raise labour market participation. In Q4 2016, Malta's employment rate rose to 66.1% from 63.9% in the same quarter last year. Malta has the third lowest unemployment rate in Europe at around 4.1%, next only to the Czech Republic and Germany, half the Euro Area's (EA19) average unemployment rate of 9.5%.
Annual inflation was at 1.2% in February 2017, down from 1.4% in January, but an increase from 1% in the same month last year, according to the NSO figures.
Malta - More data and information