Luxembourg's happy progress continues
May 09, 2013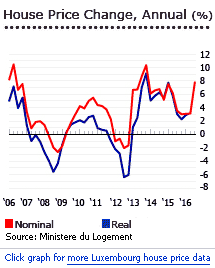 The average price of houses soared by 7.75% (7.57% inflation-adjusted) during the year to Q3 2016, according to the Ministere du Logement, after slower y-o-y growth in the first two quarters: 3.11% in Q2, and 3.07% in Q1. Apartment selling prices increased by 7.53% y-o-y (7.35% inflation-adjusted) in Q3 2016, following robust price rises of 5.37% and 6.31% in Q2 and Q1 2016, respectively.

During the latest quarter, house prices were up by 3.29% (3.35% inflation-adjusted), apartments were up by 2.86% (2.92% inflation-adjusted).  Property transactions rose by 1% y-o-y to 6,333 units in 2016, according to the National Statistical Institute (STATEC)..

By property type:

Existing apartments' average price rose by 7.3% y-o-y to €4,795 (US$ 5,331) per sq. m. in 2016.
New apartments' average prices rose by 8.3% y-o-y to €6,051 (US$ 6,727) per sq. m. in 2016.

Construction is up. The number of one-dwelling residential permits rose 11.2% y-o-y in 2016, according to STATEC, and permits for two or more dwelling residential buildings rose 15.6% y-o-y.

A tax reform which came into effect on January 1, 2017 is encouraging house purchases:

The taxable rental value has been abolished.
The amounts of mortgage interest deduction related to a taxpayer's primary residence are increased to:

€2,000 (previously at €1,500) for the first six years of occupation;
€1,500 (previously at €1,125) for the next five years; and
€1,000 (previously at €750) in the subsequent years.

The home saving contributions ceiling tax deductible has been doubled, from €672 to €1,344 for individuals aged 40 years old and below. The €672 ceiling will still be applicable to taxpayers above 40 years old.
For house sellers, the government has reduced the capital gains tax rate from 50% to 25%, for real property sales between July 1, 2016 to December 31, 2017. The property should have been owned by the taxpayer for at least two years. Capital gains from the sale of a main residence are not taxable.

Analysis of Luxembourg Residential Property Market »
Moderate rental yields on residential property in Luxembourg
In Luxembourg, the gross rental yields on apartments - the return earned on the purchase price of a rental property, before taxation, vacancy costs, and other costs - range from 4.25% to 5.15%.

We have given you rental yields for Luxembourg as a whole, because unfortunately we weren't able to gather data for the city centre (the number of rental offers that we found was too small).

Our research shows that rental yields are somewhat higher on smaller apartments. Yields on the very smallest apartments are 5.15%, which is reasonable for such a prosperous country. But then smaller apartments tend to need more maintenance, so a higher yield is justified.

Rental yields on houses are lower, ranging from 3.8% to 4.5%. For houses there is little relationship between size and rental return.

Prices per square metre range for apartments in the city centre itself range from around €7,900 to €8,900 per square metre (sq. m.). Prices for apartments further out can be as low as €4,500 per sq. m. Prices in the Grand Duchy for houses range from around €3,600 to €4,000 per sq.m..

Round trip transaction costs are high in Luxembourg, by European standards. See our Property transaction costs for Luxembourg and Property transaction costs in Luxembourg, compared to the rest of Europe.
High taxes despite tax-haven reputation
Rental Income: Rental income is taxed at progressive income tax rates ranging from 8% for net annual income exceeding €11,265, to 40% on income above €100,000.

Capital Gains: If the property is held for more than two years, capital gains tax rates are reduced to a maximum of 19.475%.

Inheritance: Inheritance of the spouse and children are exempt from taxation.

Residents: Residents of Luxembourg are taxed on their worldwide income at progressive rates, from 8% to 40%.
Buying costs are moderate in Luxembourg
Total roundtrip transaction cost, i.e., the cost of buying and selling, is between 12.21% and 16.41%, inclusive of registration fees (6% to10.2%) and estate agent's commission (3% plus 17% VAT).
Luxembourg has strong tenant protection laws

Luxemourg's rental market is strongly pro-tenant.

Rent: Rent control limits the amount of returns a landlord can receive. Rent can only be increased every three years.

Tenant Security: If evicted, the tenant is usually awarded generous compensation and more than sufficient time to look for an alternative dwelling.
Robust economic growth continues in 2017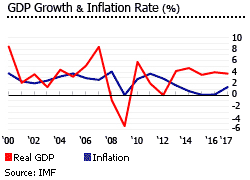 Luxembourg's economy has enjoyed robust economic growth during the past four years. In 2016, the country's GDP expanded by 4.2%, slightly above its 4% GDP expansion the previous year, according to STATEC.
Luxembourg had an average annual GDP growth of 5% from 1999 to 2007. However, it entered recession and its GDP fell 1.3% during 2008. The recession worsened in 2009, when the economy contracted by 4.4%. Its subsequent recovery was cut short by the eurozone crisis which dragged the economy back into recession in 2012. That year's 0.4% GDP contraction was followed by robust GDP growth of 4% in 2013, 5.6% in 2014, and 4% in 2015.
In 2017 "The national and European indicators continued to send out very positive signals," according to STATEC. The EC forecasts that the tax reform will significantly improve households' disposable incomes and purchasing power this year, causing a rebound in domestic demand.
The legacy of the recession years is relatively high unemployment. In March 2017, Luxembourg's unemployment rate was 6%, down from 6.5% in March 2016, according to STATEC. Unemployment is expected to decline further. "The buoyant economic environment will support job creation, which is projected to remain robust both in 2017 and 2018," according to STATEC.
In April 2017, annual inflation was at 1.9%, up from 1.8% in March and from 0.07% the same month last year. The EC predicts that this year's inflation will be close to 2% due to the recovery of oil prices and other domestic factors.