---
House prices rising rapidly in Luxembourg
May 09, 2014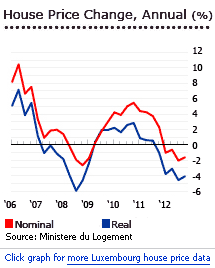 After a short-lived drop in 2012, Luxembourg's property market is surging again, amidst a recovering economy. During 2013, the average selling price of houses soared by 10.32% (8.9% inflation-adjusted), the biggest annual house price increase since Q2 2006, based on figures from Ministere du Logement.
On a quarterly basis, house sales prices rose by 2.4% (2.02% inflation-adjusted) during the fourth quarter of 2013.
On the other hand, figures from Statec Luxembourg showed lower increases. In 2013, the acquisition prices for apartments rose by 2.26% (0.94% inflation-adjusted) from a year earlier, to an average of €4,625 per square meter (sq. m.).
By property type:
The average acquisition price for existing apartments increased by 2.6% y-o-y to €4,230 per sq. m. in 2013
The average acquisition price for new apartments rose by 7.4% to €5,408 per sq. m. in 2013 from a year earlier
By region, the Center has the most expensive housing, with an average apartment price of €435,598 in 2013, followed by the West (€392,777), and the East (€337,736).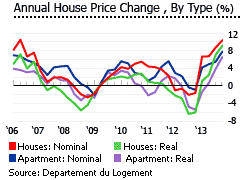 Residential construction activity is also rising. The total number of permits for one dwelling residential buildings increased by 7.4% y-o-y in 2013, to 1,357 buildings, in sharp contrast with the annual decline of 9.3% in 2012, according to Statec Luxembourg.
However, it is not all good news. Property transactions dropped slightly by 2% to 3,869 units in 2013 from a year earlier, according to Statec Luxembourg.
The housing market is projected to remain robust in 2014. In 2013, the economy grew by 1.96%. The country's real GDP growth rate is expected to be 2.1% this year and at 1.9% in 2015, according to the IMF.
Record low interest rates are powering Luxembourg's house price takeoff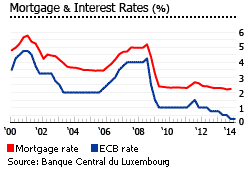 Interest rates for mortgage lending in Luxembourg fell slightly to 2.23% in Q4 2013, from 2.28% in Q2 2013, according to the Banque Centrale du Luxembourg (BCL). The rate drop was in line with the November 2013 ECB base rate cut of 25 basis points, from 0.5% to 0.25%, and is a long way below the 5.2% peak of 2008.
Most loans in Luxembourg are variable rate, rendering households very sensitive to interest rate changes. The average loan-to-value ratio stands at more than 85%, with around 50% of all mortgages having loan maturities of 25 years and over.
Luxembourg's mortgage market still growing
Luxembourg's mortgage debt-to-GDP ratio doubled between 1999 and 2013, from 22.4% of GDP to 47.1% of GDP. From 2000 to 2007, loans for house purchases enjoyed double digit annual growth rates, averaging 15.3% per annum.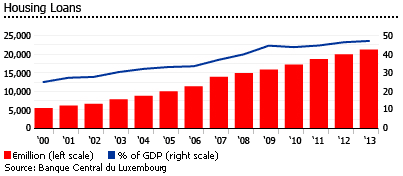 Despite the economic downturn in 2008 and 2009, mortgage market growth continued, albeit at a slower pace. The value of loans for house purchases rose by 6.6% in 2013, a slight drop from the 6.9% mortgage growth in 2012.
Luxembourg has low rental yields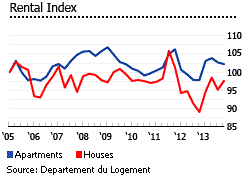 Average house rents in Luxembourg rose by 9.53% during 2013, according to the Ministere du Logement. Apartment rents rose by 4.41%.
Yet Luxembourg is not a city where you can expect to make your fortune by owning and renting out property. Rental yields are low. Based on the Global Property Guide research in March 2013, rental yields in Luxembourg ranged from 3.40% to 3.85%, with smaller apartments having the highest yields.
Mostly people live owner-occupied properties, with an owner-occupancy rate of 68.1% in 2010, according to the European Mortgage Federation (EMF). Tenants' rights are well protected. Most property is rented unfurnished, but for furnished properties, the rent cannot be more than double the previous rate. Rents can only be increased every three years.
Although the number of rental ads for both houses and apartments fell sharply during Q4 2013, the drop was much lower for apartments (-75%) than houses (-67%).
Supply up for houses, down for apartments
In 2013, the total number of dwelling permits fell by 12.7% y-o-y to 3,761 units, according to the National Statistical Institute (STATEC). Apartment permits fell sharply (by 23.6%), while permits for houses rose by 7.4%.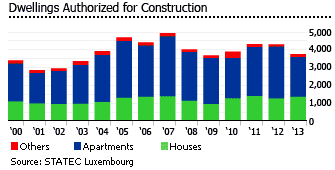 Mostly dwellings authorized for construction in 2013 were apartments (59.3%). Dwelling permits for houses were about 36.1% of the total, other types around 4.6%.
Strong economic growth expected in 2014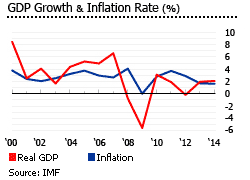 Luxembourg bounced back from the 2012 recession with one of the eurozone's strongest recoveries. Its economy grew by 2.1% in 2013, driven by non-financial services, manufacturing and construction, according to the National Statistical Institute (STATEC).
Luxembourg had enjoyed average annual growth of 5.1% from 1999 to 2007. However, it entered recession during the last quarter of 2008 (-3.6% q-o-q), and its GDP fell 0.7% during the whole year of 2008. The recession worsened in 2009, when the economy contracted by 5.6%.
In 2010, Luxembourg emerged from recession. Economic growth was 2.9% in 2010, and 1.7% in 2011, but the eurozone crisis pulled it back into recession in 2012.
Luxembourg's economic outlook for 2014 is positive. STATEC predicts that the economy will grow by 2.7% in 2014, with the aid of robust domestic demand.
The legacy of the recession years is relatively high unemployment. In March 2014 there was 7.1% unemployment, the highest level in the past three decades, according to the IMF. In March 2014, annual inflation was 0.84%.
Luxembourg - More data and information