Income tax in Luxembourg
July 26, 2017
INDIVIDUAL TAXATION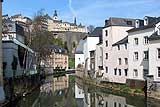 Luxembourg residents are liable to tax on their worldwide income. Married couples can file jointly or separately.
INCOME TAX
There are several categories of income: (1) trade or business income, (2) income from agriculture and forestry, (3) income from self-employment, (4) income from employment, (5) income from pensions and annuities, (6) income from movable property, (7) rental income, and (8) miscellaneous income.
There are two ways by which the taxes are levied: withholding at source and assessment. Income is generally taxed at progressive rates.
Income Tax 2016

TAXABLE INCOME (€)
TAX RATE
Up to €11,265
0%
€11,265 – €100,000
8% - 39%
€100,000 – €150,000
40%
€150,000 – €200,003
41%
Over €200,003
42%
Source: Global Property Guide
The payable income tax is then adapted to the taxpayer's personal circumstances by his classification in a particular tax class. The taxpayers are classified as follows:
Class 1 taxpayers are single individuals or those who live alone. They are taxed at the general tax rates without any deductions.
Class 1a taxpayers are individuals in reduced circumstances (because they are widowed, or over 65 years of age, or because they are living alone with dependants in their household). For class 1a taxpayers, the first €39,000 is taxed at normal tax rates and only half (50%) of their income exceeding €39,000 is further subject to tax.
Class 2 taxpayers are jointly assessed married couples that use the split tariff (the tax rates in tax class 2 are the same as one half the income in tax class 1). This removes the effect of the progressive rates in the upper income brackets. After a legal separation or spouse's death, the taxpayer continues to be classified as a Class 2 taxpayer for the subsequent three years and will be reclassified into Class 1 thereafter.
The tax amount which resulted from the above computation is further adjusted through a combination of proportional, linear, and degraded deductions and rebates.
Residents are entitles to the following allowances and deductions:
Insurance premiums for life, death, accident, sickness, disability, third-party liability: maximum of €672 per member of household
Contributions to individual pension schemes: from €1,500 to €3,200 per taxpayer
Alimonies paid to divorced spouse: maximum of €23,400
Alimonies paid to children: maximum of €3,480 per child
Charitable contributions: minimum of €120 and maximum of €1 million or 20% of taxable income
Mortgage interest on principal residence: from €750 to €1,500 per member of household, depending on length of occupation
Contributions to home saving and loan schemes: maximum of €672 per member of household
Debit interest (on private loans, credit cards, debit bank accounts): maximum of €672 per member of household
Abatement for childcare and housekeeping costs: maximum of €3,600 per year
RENTAL INCOME
Taxable rental income realized from leasing properties may be computed in either of the two ways:
Itemized Deduction. All expenses related to property such as management agent's commission, maintenance and repair costs, insurance, mortgage and interest payments, property tax, and insurance premiums are deducted from the gross rent. Straight-line depreciation is also deductible, though land is not depreciable. Rates of depreciation are between 2% to 6%.
Standard Deduction. A standard deduction of 35% of the gross annual rental income with a maximum of €2,700 is available instead. This deduction includes maintenance and repair costs, insurance premiums, and depreciation (not including debt interest on loans used to finance the property).
Owner-Occupied Property
Property owners living on their own property are still liable to pay tax. For private properties, the tax is levied on the "rental value" of the property which is based on the property's "unit value" (generally 1% to 2% of the property's market value).
The only deduction allowable in relation to this "rental income" is interest on loan used to acquire property. The maximum deduction varies between €750 and €1,500, which depends on how long the owner has owned the property.
CAPITAL GAINS
Capital gains realized through selling the real property within two years of acquisition are considered speculative gains and are taxed as miscellaneous income at progressive income tax rates. The taxable gain is computed by deducting the acquisition price and incidental costs (agents' commissions, fees to notaries, surveyors, advisers, etc.) from the selling price. No other deductions are allowed.
If the property is held for more than two years, the tax rates are reduced to half of the ordinary tax rate. The taxable gain is computed by deducting the acquisition price and incidental costs from the selling price. In this case, the purchase price is adjusted by official coefficients to account for inflation during the period of ownership.
Furthermore, a single taxpayer will be entitled to a deduction of €50,000 for non-speculative capital gains. The amount is doubled if the property is owned by a married couple filing jointly. This allowance is available every ten years.
If the property was obtained by inheritance (direct line), the tax deduction can be increased by €75,000. The taxpayers can also defer the payment of capital gains tax if they decide to re-invest the money in a new property that will be rented out.
Capital gains realized from the sale of a resident taxpayer's primary residence are exempt from taxation.
PROPERTY TAX
Municipal Ground Tax
A property in Luxembourg is subject to municipal ground tax which is levied annually at 0.7% to 1% of its assessed unit value (usually lower than its actual market value). The tax amount based from the preceding computation is further multiplied by a municipal coefficient that is between 120% and 900% depending on the municipality. The property's unit value, basic tax rate and the municipal coefficients depend on the property's classification such as size, age, site, and economic use.
CORPORATE TAXATION
INCOME TAX
Income and capital gains earned by companies are subject to corporate income tax at a flat rate of 21%, if taxable income exceeds €15,000.Companies with taxable income less than €15,000 are subject to corporate income tax at a flat rate of 20%.Income-generating expenses are deductible when calculating taxable income.
Municipal Business Tax
Companies are liable to pay municipal business tax at varying rates, depending on the company's location. The municipal business tax is levied at 6.75% in the city of Luxembourg.
Luxembourg - More data and information