Italy's housing market is recovering gradually, despite the country's struggling economy. Demand is now rising. Residential construction activity is increasing. And the market outlook is improving.

The nationwide house price index fell by 0.8% (-2.25% inflation-adjusted) during the year to Q3 2018, according to the European Central Bank (ECB). Quarter-on-quarter, house prices increased 0.6% in Q3 2018 but actually 1.4% when adjusted for inflation.

Prices of new houses increased 1.41% (-0.1% inflation-adjusted) y-o-y in Q3 2018 while existing house prices dropped 1.31% (-2.75% inflation-adjusted) over the same period, according to ISTAT.

The average price of new houses in Italy stood at €4,500 (US$5,085) per square metre (sq. m.) in Q3 2018, according to the real estate portal Idealista.it. The average price of new houses is about 24% higher as compared to that of existing houses.

Both demand and supply are increasing.  Residential property sales in Italy rose by 2.3% during the first three quarters of 2018, from the same period last year, according to Centro Studi di Abitare Co. It took an average of 4.9 months to sell a new house in Italy in Q3 2018, an improvement from the previous year's 6.5 months.

During the first half of 2018, the number and area of new dwelling permits rose by 4.7% and 5.9% respectively, according to ISTAT.

"The residential real estate market for new buildings has confirmed its positive cyclical trend in 2018," said Alessandro Ghisolfi of Centro Studi di Abitare Co. "In comparison to the demand, today the supply is still very underestimated, and this encourages a shortening of sales times that up until three years ago were unthinkable. For 2019, the signs remain positive..."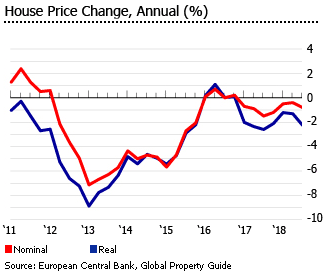 Italy's economy expanded by 0.9% in 2018, a slowdown from a growth of 1.6% in 2017, according to ISTAT. The economy registered quarterly declines in the last two quarters of 2018, throwing the euro zone's third largest economy into a technical recession. The economy is expected to remain weak this year, with some forecasting a full-year contraction.