House prices in Italy may still be depressed, but things are looking up for the country's housing market in 2017, at least as seen in the rising trend of residential property sales in the recent years. "The general tendency remains positive," says Luca Dondi, Nomisma's general manager. Dondi noted that Nomisma saw a 16.3% y-o-y rise in transactions in 2016 and predicts a 7% increase in sales in 2017.

Property sales are one thing, but prices are another.  House prices in Italy have been declining for around eight years, falling by around 16.9% (23.8% inflation-adjusted) from Q3 2008 to Q4 2016, based on ECB figures.   In Q1 2017, prices of second-hand homes in Italy dropped by 5.7% y-o-y to €1,869 (US$ 2,048.61) per square metre (sq. m.), according to the real estate portal Idealista.it.   The more comprehensive house price index produced by the European Central Bank (ECB) was slightly up by 0.21% during the year to Q4 2016. When adjusted for inflation, the index still fell by 0.01%.

Rome, the country's capital, saw an annual house price decline of 2.5% in Q1 2015, according to Idealista.it. Out of Italy's regions, only Basilicata saw a y-o-y price hike by around 3.1%, while the region of Molise saw no y-o-y price movement in Q1 2017. The regions of Lombardy (-9.2%), Umbria (-8.5%), Puglia (-6.8%), Piedmont (-6.7%), Campania (-6.7%), and Sicily (-6%), had the sharpest y-o-y price drops in Q1 2017.

Trieste (4.6%), Bologna (2.1%), and Florence (1.1%) were the only major cities that experienced annual price increases in Q1 2017. In contrast, huge y-o-y price drops were seen in the cities of Bari (-11.7%), Perugia (-10.1%), Palermo (-9.8%), Brescia (-9.4%), Vicenza (-8.7%), Genoa (-8.4%), Ancona (-8.2%), and Turin (-7.5%).

House prices in Milan and Naples also dropped, but at smaller rates of 2.3% and 4% y-o-y, respectively.

Italy's most expensive houses - on average - can be found in Venice, with an average house price of around €4,401 (US$ 4,823.94) per sq. m., according to Idealista.it. It was followed by Florence with €3,440 (US$ 3,770.58) per sq. m., Bolzano with €3,374 (US$ 3,698.24), Milan with €3,346 (US$ 3,667.55), Rome with €3,274 (US$ 3,588.63), and Naples with €2,790 (US$ 3,058.12).

Home sales in Italy maintained their strong growth for the third consecutive year. Residential property sales surged by 18.9% with about 528,865 residential properties units sold, during the year to 2016, according to Agenzia delle Entrate. All major cities covered by Agenzia delle Entrate had higher sales in 2016. The highest surge was in Turin, with sales rising by 26.4% y-o-y in 2016. Property sales were also strong in these cities: Bologna (up 23.7%), Genoa (22.9%), Milan (21.9%), Naples (17.1%), and Florence (16%). Sales in Rome and Palermo also rose but at a relatively slower pace, by 10.6% and 9.2%, respectively.  

The rise in home sales was accompanied by a surge in the mortgage market, according to Agenzia delle Entrate. In 2016, the number of mortgages rose by 27.3% to 246,182 units, while the total amount of mortgage loans surged by 27.8% to almost €30 billion.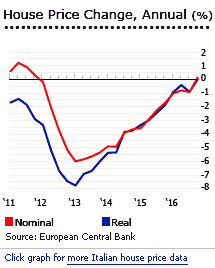 Fitch Ratings expect stabilization of house prices in Italy this year, after several years of price declines. According to Fitch, improved housing demand, low interest rates, and increased credit availability will pull up house prices. However, the ratings company sees a stagnation in the southern areas, which suffered from huge price drops in the last four years, as compared to the northern region.

Scenari Immobiliari also predicts a slight recovery of the Italian real estate market this year, expecting a 4% growth in the sector with sales of residential properties reaching at least 550,000 units. Scenari Immobiliari President Mario Breglia, however, sees unemployment and high taxation as hindrances to the market's real recovery, amid potential demand at approximately 850,000 homes.


Analysis of Italy Residential Property Market »