House prices in Hungary are still rising rapidly, supported by favourable economic conditions, higher wages and employment, and low borrowing rates.  There are also government programs making home buying accessible to more people.

During 2018, the national house price index rose by 18.3% y-o-y (14.5% inflation-adjusted), based on the Hungarian National Bank's (MNB) house price index, following annual rises of 15.1% in 2017, 16.9% in 2016, 18.2% in 2015, and 8% in 2014.

Prices of new dwellings rose by 18.4% y-o-y (14.7% inflation-adjusted) during 2018, while prices of second-hand dwellings went up by 10.8% (7.4% inflation-adjusted), based on figures released by the Hungarian Central Statistical Office (KSH).

Demand continues to rise. The total number of second-hand homes sold rose by 4.7% to 154,599 units in 2018 from a year earlier, the sixth consecutive year of growth, according to KSH. Credits for purchasing second-hand homes surged by 37% y-o-y in 2018, while credits for new homes rose by 27%.

On the supply side, dwelling permits increased slightly by 0.9% to 18,227 units during the first half of 2019 compared to the same period last year. Dwelling completions fell marginally by 0.7% y-o-y to 6,472 units in H1 2019.

The housing market is expected to remain strong this year, amidst robust economic growth. The economy grew by 4.9% in Q2 2019 from a year earlier. The economy is expected to expand by 4.4% this year, its seventh consecutive year of robust growth, based on projections from the European Commission.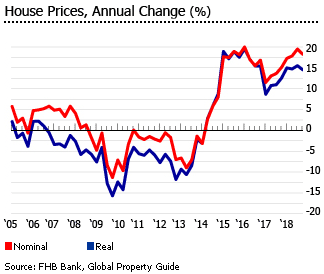 Hungarian law requires that real estate purchases shall be concluded through private contract (purchase agreement) countersigned by a lawyer. Non-Hungarian citizens must gain the approval of the relevant Administrative Office to purchase property as a private person. According to regulations most foreigners should receive a permit within 2-3 months.

Most lawyers advise foreign nationals to set up a company registered in Hungary in order to purchase property. In this case, no permit is needed. This is a fairly swift and easy procedure (taking 1-2 days), and all expenses can be written off.