After nine years of falling house prices, the Greek housing market is now growing strongly again amidst improving economic conditions and market expansionary measures.

In Greece's urban areas, house prices rose by 9.32% during the year to Q3 2019, far higher than the previous year's 2.35% growth and the highest annual increase in house prices since Q4 2006, according to the Bank of Greece. When adjusted for inflation, house prices increased by 9.39%. Quarter-on-quarter, house prices in urban areas were up 2.23% in Q3 2019 (3.46% in real terms).

This sharp improvement was also seen in the major cities:

Athens led with an annual house price increase of 11.91% in Q3 2019 (11.99% in real terms), the capital's best performance since Q2 2006. During the latest quarter, house prices rose by 2.21% (3.43% in real terms).
In Thessaloniki, the country's second largest city, house prices rose by 8.52% (8.59% in real terms) y-o-y in Q3 2019, a sharp improvement from last year's 1.32% annual rise - the highest growth since Q2 2007. Quarter-on-quarter, prices increased by 0.7% (1.9% in real terms) in Q3 2019.
In other cities (excluding Athens and Thessaloniki), house prices rose 6.87% (6.94% in real terms) during the year to Q3 2019, an improvement from y-o-y rise of 0.8% a year earlier. During the latest quarter, prices increased 2.5% (3.7% in real terms) in Q3 2019.

Greek residential property prices fell 40.8% (-45.1% in real terms) from 2008 to 2018.

Demand is now surging, with residential property transfers in Athens rising by double-digit figures in the past four years. Construction permits soared 24.5% to 11,744 units during the first nine months of 2019, following annual rises of 10.1% in 2018 and 9% in 2017, according to the Hellenic Statistical Authority, though the total remains far below the 70,000 to 80,000 permits issued annually from 2004 to 2007.

To revive the housing market, the Greek government has offered residence to non-EU investors purchasing or renting property worth over €250,000, similar to Hungary, Spain and Portugal. The plan is valid for five years and is open to renewal.

Other measures introduced by newly elected Prime Minister KyriakosMitsotakis of the centre-right New Democracy party:

Suspension of VAT payments on new building permits:PM Mitsotakis announced in October 2019 a three-year suspension of VAT payments on any new building permits and unsold properties built after January 1, 2006.
Reduction of the single property tax (ENFIA):  The ENFIA for individuals was reduced last year: 30% reduction for properties valued up to €60,000; 27% for those valued up to €70,000; 25% for those valued up to €80,000; 20% for those valued up to €1 million; and 10% for properties valued more than €1 million. A further 10% reduction, on average, will apply on all property owners from the year 2020.

High property taxes had discouraged many potential buyers, because property taxes had increased seven times since the global financial crisis. In 2018, ENFIA tax revenues amounted to €3.15 billion, up from €500 million in 2009.

Reducing taxes has been one of the priorities of the Mitsotakis government.

The Greek economy grew by around 2% in 2019, according to the International Monetary Fund (IMF) – slightly up from last year's 1.9% expansion and the highest growth since 2007.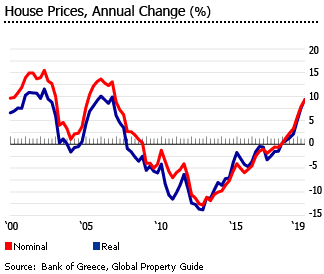 After a short-lived recovery in 2014, Greece's economy returned to recession in 2015, with GDP contracting by 0.4% and by another 0.2% in 2016. The country's real GDP had contracted by 3.2% in 2013, 7.3% in 2012, 9.1% in 2011, 5.5% in 2010, 4.3% in 2009 and 0.3% in 2008.

The IMF expects Greek GDP to grow by.2% this year but the European Commission is slightly more optimistic, projecting 2.3% growth.