After more than four years of strong house price rises, Germany's housing market remains very strong. In a country where the housing market has historically been extraordinarily stable, this is a significant shift.

The reasons? decade-long economic growth, more than 1 million refugees, high work-related immigration, record-low unemployment, weak construction supply and low interest rates.

The German hedonic price index rose by 9.01% (7.6% inflation-adjusted) in May 2019 from a year earlier (hedonic indices attempt to compare like-for-like exactly, so are the best measure of house price trends), based on Europace figures. It was the highest growth since December 2016.

During the year to May 2019:

Apartment prices rose by 10.22% (8.79% inflation-adjusted), up from a y-o-y rises of 4.8% in May 2018 and the highest growth in almost six years.
New home prices rose by 7.95% (6.55% inflation-adjusted), up from a y-o-y rise of 5.44% in a year earlier and the biggest increase since July 2017.
Existing home prices rose by 8.91% (7.49% inflation-adjusted), slightly down from the previous year's 9.03% growth.

The German housing market was one of the few that avoided a slump in the wake of the 2008-2009 global financial crisis.
Extremely low interest rates and bond yields have encouraged persistently growing demand, despite the fact that most German mortgage borrowers borrow on long-term interest rates, which are higher than "tracker" rates.

Residential property transaction volumes in Germany amounted to €15.1 billion (US$16.9 billion) in 2018, down 3% from the previous year, according to Savills. Despite this, it remains the third highest transaction volume in the last ten years. There were about 121,823 units traded during 2018, down 4% from a year earlier.

Low construction activity is another reason for the continued increase in house prices. Housing supply is not keeping up with demand. In 2018, dwelling permits dropped slightly by 0.2% y-o-y to 347,292 while dwelling completions rose by a minuscule 0.9% y-o-y to 287,352 units, according to Destatis. This is insufficient, due to a rising urban population and surge of migrants. In the medium term, the country needs to build around 400,000 flats annually to prevent housing shortages in cities, according to HDB President Thomas Bauer. In Q1 2019, dwelling permits fell by 2.8% to 75,600 units compared to the same period last year.

The migration crisis has added to the pressure. It was estimated that there are currently more than one million refugees in Germany.

Despite the price rises, Deutsche Bundesbank, Germany's central bank, has ruled out the existence of a full-blown property bubble - at least not yet.

"The good news is that there is currently no real estate bubble that threatens financial stability in Germany," said Bundesbank's chief banking supervisor Andreas Dombret. "But the traffic light is clearly on yellow."

This view is supported by Michael Voigtlaender of Cologne Institute of Economic Research. "Rising prices on their own aren't enough to create a bubble - you have to look at the fundamentals," said Voiglaender. "We have a stable mortgage market with steady equity ratios, and fairly moderate levels of home construction."

"Market crashes are typically caused by too much construction, and the opposite is true in many German cities," Voigtlaender added.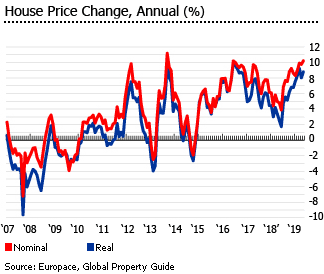 Strong house price rises are expected to continue in the coming years. "Led by immigration and the continuous labour market uptrend, house prices and rents will likely continue to rise. Even at current levels, the willingness to take out loans ought to persist, due to low interest rates. The nationwide cycle looks set to continue until 2022 or beyond," said Deutsche Bank.

However Germany's economy is now slowing. In 2018, the economy registered a lacklustre growth of just 1.4%, down from 2.2% in 2017 and the weakest expansion in five years, according to Destatis. Europe's largest economy continues to struggle this year, with GDP rising by a meagre 0.4% y-o-y in Q1 2019. As such, the government recently cuts its growth projection this year to 0.5%, half the pace previously forecast.