French house prices continue to rise modestly, despite continued social unrest and broader eurozone slowdown. In Metropolitan France, house prices rose by a modest 3% during the year to Q1 2019 (1.8% inflation-adjusted), at par with the previous year's growth, according to the National Institute for Statistical and Economic Studies (INSEE). It was the thirteenth consecutive quarter of year-on-year price hikes. Quarter-on-quarter, house prices increased 0.7% in Q1 2019 (0.9% inflation-adjusted).

Paris saw a significantly stronger house price increase than the wider nation. The average price of existing apartments in the capital city rose by 6.5% (5.2% inflation-adjusted) to €9,680 (US$11,000) per square metre (sq. m.) during the year to Q1 2019, according to the La Chambre des Notaires de Paris.

In Île-de-France, the country's wealthiest and most populated region, the average apartment price rose by 4.5% y-o-y (3.3% inflation-adjusted) to €6,010 (US$ 6,830) per sq. m. to Q1 2019.
In the Petite Couronne (Small Crown), the average price of apartments rose by 4.4% y-o-y (3.2% inflation-adjusted) to €4,730 (US$ 5,375) per sq. m.
In the Grande Couronne (Great Crown), the average price of apartments increased by a meager 0.3% y-o-y (fell by 0.9 when adjusted for inflation) to €2,970 (US$ 3,375) per sq. m.
In Hauts-de-Seine, one of the country's most populous department, apartment prices increased 4.3% y-o-y (3.1% inflation-adjusted) to €5,800 (US$ 6,591) per sq. m.

During the long housing boom which lasted from 1997 to 2007, French house prices surged by 150% (112.5% inflation-adjusted).

The housing market started to weaken in 2008, but price falls have been moderate. After falling by an annual average of 1.7% in 2012-2015, house prices started to rise again in 2016.

While the short-term outlook remains positive, the market seems poised for a pause. Perhaps house prices have been pushed too high by low interest rates relative to rents?

Existing home sales rose by 2.6% to an annualized 985,000 units in Q1 2019, according to the General Council for the Environment and Sustainable Development (CGEDD). In contrast, new home sales fell slightly by 0.4% to 30,863 units in Q1 2019 from a year earlier.

Residential construction is now falling. During the first four months of 2019, dwellings authorized fell by 7.3% y-o-y to 134,400 units while dwelling starts dropped 5% y-o-y to 124,400 units, according to the Ministry of Ecological and Solidarity Transition.

France's economic growth is slowing. The economy grew by 1.6% in 2018, a slowdown from the prior year's 2.2% growth. The growth was primarily driven by exports, which helped offset a slowdown in consumer spending after violent "yellow vest" protests forced many stores in Paris to close on key year-end shopping days. On an annual basis, GDP rose by 1.2% during Q1 2019, at the same pace as the previous quarter.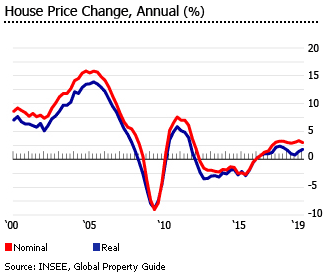 Economic growth is expected to slow further to 1.3% this year, according to the European Commission.

There are no restrictions on foreign ownership in France. Most property is freehold. Apartments are mostly held in two forms of freehold: co-ownership (which has meetings of co-owners, with votes taken and accounts kept), and volumes, adapted mostly for mixed-use developments. There are also leaseholds, for up to 99 years.