Danish house price rises continue, unabated!
June 30, 2017

Negative interest rates continue to work their dangerous magic. In Denmark they actually pay you to borrow money, and the IMF is not happy with the effects on the property market.  During the year to February 2017, the price index of owner-occupied flats in Denmarkrose by 6.5% (5.45% when adjusted for inflation), according to Statistics Denmark. During the latest quarterhouse prices rose by 3.19% (2.38% inflation-adjusted).

The average price of owner-occupied flats stood at DKK24,550 (EUR3,300) per square metre (sq. m).
Detached/terraced houses were priced at an average of DKK12,482 (EUR1,678) per sq. m.
Holiday homes were priced at an average of DKK13,848 (EUR1,861) per sq. m.

By region, during 2016:

In the Capital region, i.e. Copenhagen and its hinterland, the average price of owner-occupied flats rose by 9% y-o-y to DKK30,858 (EUR4,148) per sq. m.
In Zealand region, house prices rose by 1o% y-o-y to an average of DKK14,884 (EUR2,001) per sq. m.
In Southern Denmark, house prices increased modestly by 3.9% to an average of DKK14,093 (EUR1,894) per sq. m.
In Central Denmark, house prices increased 6.8% y-o-y to DKK20,870 (EUR2,805) per sq. m.
In North Zutland, house prices rose by 6.9% y-o-y to an average of DKK16,573 (EUR2,228) per sq. m.

The International Monetary Fund (IMF) recently urged the Danish government to reverse its negative interest rates mandate and introduce new policies, such as zoning rules and relaxing rental market regulations, to avoid a disastrous housing bubble.

"We strongly encourage the authorities to take early action to lean against the wind on house price increases," said David Hofman of the IMF.

However a recent study by Simon JuulHviid of DanmarksNationalBank, Denmark's central bank, concludes that the house price increases in Copenhagen from 2012 to 2016 were mainly driven by fundamental economic factors and not by speculative behavior.

Danish house prices are expected to continue rising this year.

"We expect the housing market will continue to grow overall, with house prices rising 3.5% this year and next," said Danske Bank in its recent report. "We have also noted a recent increase in housing market activity, with the number of apartment and house sales rising and more property showings indicating a solid appetite for home buying going into the spring."

Despite Denmark's association with liberalism, it is not easy to acquire property here.

Nonresidents may not purchase real property here unless the person:

Has previously resided in Denmark for at least five years;
Is an EU national working in Denmark; or,
If a non-EU national, has a valid residence or business permit.

There are some special restrictions on foreign ownership in some areas, especially when buying summer holiday homes. This is particularly prevalent in coastal areas. These are popularly known as the 'anti-German rules'; because they are designed to prevent coastal areas from being overrun by German second home owners.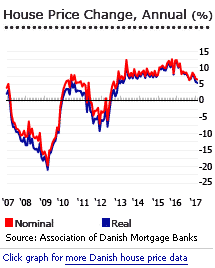 However, the purchase of "all-year-round" properties, which are not located in popular areas along the coast, is possible as long as you satisfy the aforementioned requirements.

The Danish economy grew by a meagre 1.1% in 2016, after growing 1.6% in 2015, 1.7% in 2014, 0.9% in 2013, 0.2% in 2012 and 1.3% in 2011, according to the IMF. The economy is expected to expand by 1.7% this year and by another 1.8% in 2018, according to the European Commission.