Czech house prices are rising strongly, as demand continues to outstrip supply. The average price of apartments in the Czech Republic surged by 8.75% (6.21% inflation-adjusted) during the year to Q3 2018, after y-o-y rises of 8.06% in Q2 2018, 7.57% in Q1 2018, 8.42% in Q4 2017 and 12.53% in Q3 2017, according to the European Central Bank (ECB).

During the first half of 2018:

The average price of new dwellings soared by 13.23% (10.72% inflation-adjusted), according to the Bank for International Settlements (BIS) -  almost 40% higher than the previous Q3 2008 peak.
The average price of existing dwellings rose by 6.73% (4.36% inflation-adjusted) from a year earlier, or 22.7% above the previous Q3 2008 peak.

The strong growth was mainly driven by the country's favourable lending conditions, a growing economy, and rising real wages.

This was supported by figures from consultancy Deloitte, showing sales prices of flats in Czech Republic's regional capitals, including Prague, rose by 10.1% in Q3 2018 from a year earlier, to an average of CZK 56,800 (US$ 2,500) per square metre (sq. m.).

In Prague the average price of flats increased 6.5% y-o-y in Q3 2018, to CZK76,500 (US$3,366) per sq. m., according to Deloitte. Prague accounts for about two-thirds of the country's total property sales volumes.

Demand remains strong. In the first half of 2018, about 2,817 apartments were sold in new buildings and fully refurbished projects in Prague, up from sales of just below 2,500 units in H2 2017, according to Jones Lang La Salle.

"Demand has been driven mainly by migration within the country and strong demand for prime properties by foreigners; demand for investment properties is also believed to play a significant role," according to a 2018 report released by the International Monetary Fund (IMF).

Residential construction activity is increasing rapidly, but is still below peak levels. In 2018, dwelling completions rose by 18.5% to 33,868 units from the previous year, following annual increases of 4.6% in 2017, 8.9% in 2016 and 4.8% in 2015, according to the Czech Statistical Office (CZSO). Likewise, dwelling starts were up 5.1% to 33,121 units in 2018.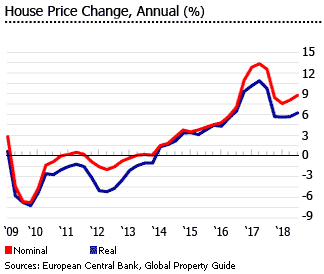 "Demand has consistently outstripped supply, especially in Prague," said the IMF. "Planning and zoning laws contribute to housing supply constraints that add to pressures on prices. Some progress has been made in streamlining procedures for building permits, but construction levels remain below pre-crisis highs."

The Czech Republic's housing market is expected to remain tight in the coming years, with house prices projected to continue rising strongly.

The Czech economy is believed to have expanded by 3% in 2018, and is expected to grow further by another 3% this year, according to the IMF.