Czech Republic: happiness is a rising house price
March 05, 2015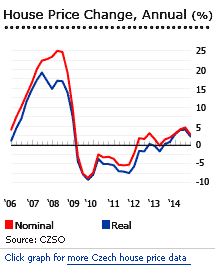 Economic growth is back, mortgage demand is exploding, housing completions remain low, and mortgage interest rates are as low as they´ve ever been.  It´s looking good!
The average price of apartments in the Czech Republic rose by 2.74% in 2014 (2.26% in real terms), the sixth consecutive quarter of moderate price increases, according to the Czech Statistical Office (CZSO).
During the year to Q3 2014:
The average price of new dwellings sold increased 2.8% (3% in real terms).  This is down by 2.2% from market´s all-time high in Q3 2008, according to the Czech National Bank (CNB) (-6.4% in real terms).
The average price of existing dwellings sold rose by 3% (3.2% in real terms), down by 6.4% from the peak in Q3 2008 (-10.5% in real terms).
Demand is rising sharply. In 2014, property developers sold a record 6,000 new flats in Prague, surpassing pre-crisis levels seen in 2007, according to the daily Hospodarske noviny.
Sales in Q4 were particularly strong, partly due to increased interest from foreign homebuyers, low interest rates and increasing confidence in the Czech economy. The Czech Republic's real estate market, which is perceived as one of the most established in the Central and Eastern European (CEE) region, continues to attract Russian and Ukrainian investors.
Centrally situated apartments in Prague, especially those in historic buildings close to the Vltava River, are the most expensive. Their average price stood at CZK150,00o (€5,453) per square metre (sq. m.), but can go as high as CZK250,000 (€9,089) per sq. m., says Ondrej Novotny of Jones Lang LaSalle.
The Czech Republic´s GDP growth was 2% in 2014, after contractions of 0.7% both in 2012 and 2013, according to the CZSO.
A little housing market history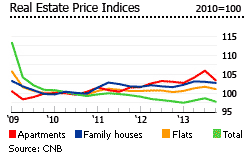 The 1998-2003 boom. From 1998 to 2003 the Czech Republic's house price index rose 64% in anticipation of EU entry in 2004, according to the CNB, and encouraged by a government-led spending binge, with rising public deficits. Partly as a result of these deficits, the Czech Republic never joined the Eurozone. Apartment block prices rose most during this period, at 118%; followed by individual apartments, at 91%. The price of single family houses rose 58%, while building plot prices rose only 31%.
Stagnation from 2004-2005. After long and intense parliamentary discussions, it was decided that even EU citizens, if they were not Czech residents, would be restricted from buying property for a 7 years transition period, i.e., until 2009. The housing market stagnated from 2004 to 2005, with measures to cut the budget deficit probably the key factor. The average price of flats dropped by 2.7% in 2004, a 5.2% fall in real terms. This was followed by a 2.7% increase in 2005, a 0.5% fall in real terms.
Brief boom 2006-2008. Thanks to lower interest rates in 2006, the house price index rose by 8.4% (5.7% in real terms). Housing completions shot up in 2007 by almost 38% to 41,649 units anticipating a VAT increase from 5% to 19%, and the house price index skyrocketed by 31.2% (27.1% real) in 2007.
The crisis bites 2009-2011. In 2009 apartment prices fell 12.3% (-13.3% in real terms), after 17.1% (10.5% real) y-o-y growth in 2008, due to the global financial crisis. Dwelling starts fell by 14.3% y-o-y. Nevertheless there was a substantial completions overhang. Completions during that year and in 2008 were still higher than in the years prior 2007. In 2010 dwelling starts fell by 24.6% to 28,135 units and to 27,535 units in 2011. House prices fell by 3.13% (-5.1% in real terms) in 2010 and by another 5.26% (-7.5% in real terms) in 2011, based on figures from the CZSO.
Moderate growth since 2012. Finally, the property market returned to growth in 2012, with the house price index rising by 3.1% (0.26% in real terms), despite depressed economy. The property market has recorded modest house price rises since then.
Residential construction activity recovery!
In 2014, housing starts rose by 10.15% to 24,251 units, after declining by an average of 10% each year from 2008 to 2013.
On the other hand, housing completions fell by 5.4% y-o-y to 23,881 units, after declining by 14.4% in 2013.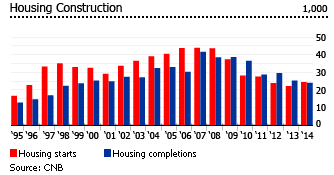 Both housing starts and completions have been in decline since 2007, mainly due to the adverse impact of the global financial meltdown and the Eurozone debt crisis.
Mortgage interest rates continue to fall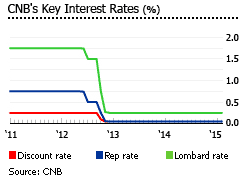 The CNB has continuously lowered its key interest rate since 2009.
From above 3% before the crisis, the CNB slashed its 2-week repo rate many times to reach a record low of 0.05% in December 2012. This remains unchanged, along with the discount rate (at 0.05%) and the Lombard rate (at 0.25%), to buoy the economy and discourage an appreciation of the koruna (CZK).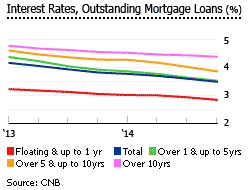 The average interest rate for new mortgage loans fell to 2.56% in December 2014, from 3.26% a year earlier:
The average interest rate for new mortgage loans with IRF of up to 1 year fell to 2.37%, from 3.15% the previous year, and from a peak of 6.13% in August 2009.
The average interest rate for loans with IRF of between 1 to 5 years was at 2.75%, a decline from 3.25% in December 2013 and 5.68% in December 2009.
Loans with IRF of 5-10 years have an average interest rate of 2.69%, down from 3.51% in the same month last year.
The average interest rate for loans with IRF of 10 years and up dropped to 3.62% from 4.28% a year earlier.
Wow! Look at all those new Czech mortgages!
The Czech Republic´s mortgage market is relatively small, but is expanding rapidly.
New mortgage loans skyrocketed by 58.4% to CZK109.22 billion (€3.97 billion) in 2014.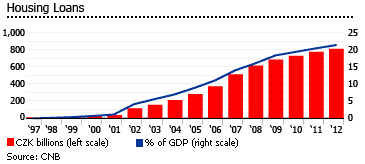 Total outstanding mortgage loans rose 8.9% to CZK1,172.53 billion (€42.6 billion), based on figures from CNB. Total mortgage loans were around 29.2% of GDP in 2014, up from 21% in 2012.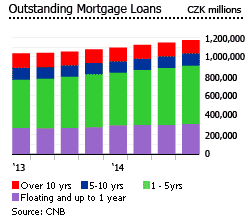 Out of the total new mortgage loans in 2014, loans with interest rate fixation (IRF) of up to 1 year had the highest share at around 52.4%, followed by loans with IRFs of between 1 and 5 years with a 37.6% market share of the new housing loan market. New loans with IRF of 5 to 10 years have an 8.3% market share, while loans with IRF of more than 10 years had lowest share at just 1.8%.
However, for the total outstanding mortgage loans, IRFs of between 1 and 5 years have a dominant share of about 51.4% in 2014.
Mortgage loans in the Czech Republic are typically granted with 20 year maturities, the maximum LTV ratio being 85%.
Recovering rental market, moderate rental yields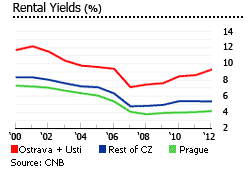 The residential rental market is now gradually recovering. Foreign buyers are returning to the market to purchase properties for investment purposes. A higher proportion of luxury buyers recently were either Czechs or Russians, according to Jones Lang LaSalle's Iva Novakova. Svoboda & Williams, a luxury estate agency, states that around 75% of their clients are Czechs, while around half of the remaining 25% are Russians.
Gross rental yields in Prague remain less than attractive, based on the Global Property Guide research released in May 2014. A 200 sq. m. apartment has an average yield of 3.83%, while a 120 sq. m. apartment has a rental yield of 4.18%. Smaller apartments at around 50 sq. m. to 85 sq. m. have an average yield ranging from 4.05% to 4.32% - still not great for investment.
Apartments in Prague have monthly rents ranging from €11.8 per sq. m. to €12.5 per sq. m.
Current yields are lower then the yields during 2000-2005, when the average rental yield in Prague was 6.8%, or around 10.8% in Ostrava and Ústí nad Labem, and 7.8% in the rest of Czech Republic, according to the CNB figures.
The end of rent regulation
In 2006, the rent deregulation law (Act No.107/2006) was passed to equalize the rent levels of formerly regulated apartments with free-market ones by 2011. The Czech Republic's rental market was regulated since the 1980s, causing a significant difference between rent prices of regulated and non-regulated units.
Regulated rents used to cover about around 80% of all rented apartments (around 750,000 apartments). Around 300,000 affected units were privately-owned, while the rest are owned by municipalities.
Most cities and municipalities ended their deregulation process on December 31, 2011, while the Central Bohemian region (which includes Prague) as well as cities with over 100,000 inhabitants, were deregulated on December 31, 2012. While the end of rent regulation had been expected to boost rental market returns, this process has taken a long time, due to weak economic growth.
Another VAT increase
To keep Czech Republic's budget deficit below 3% of GDP, in January 2013 VAT rates were increased by 1% to 21% for the standard VAT rate, and 15% for the reduced rate. The lower rate applies to goods such as food, medicines, books, new housing and housing-related expenses (water and heating).
The period for which property transfers (i.e. non-residential space, new buildings and flats) are subject to VAT was extended from 3 years to 5 years.
Better economic outlook in 2015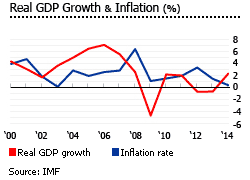 The Czech Republic's economy returned to growth in 2014, with a real GDP growth rate of about 2%, after contracting by 0.7% both in 2012 and 2013, according to the CZSO. This was mainly attributed to a growth in foreign demand, supported by increased in gross capital formation, and by household and government final consumption expenditure.
In the last quarter of 2014, the economy grew by an annualized 1.5%, after growth rates of 2.2% in Q3, 2.1% in Q2 and 2.3% in Q1 2014.
The economy is expected to expand by 2.6% this year and by another 3% in 2016, based on CNB forecasts.
GDP fell by 4.7% in 2009 due to the global economic crisis. Fortunately, it bounced back immediately in 2010, registering a modest real GDP growth rate of 2.1%, followed by another growth of 2% in 2011. However, the economy became depressed again in 2012-13 due to weak domestic demand as well as foreign demand for fixed capital. The Czech Republic enjoyed an average growth rate of 6% from 2004 to 2007.
Due to the spending package launched in the wake of the global crisis, the Czech Republic´s budget deficit rose to 5.5% in 2009, but was cut to 4.4% in 2010, and to 2.9% in 2011, but then rose again to 4% in 2012. Because of this, the government implemented budget cuts and other measures to bring down the country's budget deficit. The government spending cuts also put pressure on the housing market.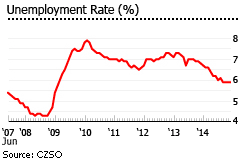 Having a low budget is one of the criteria needed to in order to be accepted in the Eurozone. In 2013, Czech Republic posted a budget deficit of just 1.3% of GDP, well below the European Union's limit of 3%. In 2014, the budget deficit was estimated at 1.2% of GDP.
Despite the broadly sceptical attitude of the Czech population towards European initiatives, Prime Minister Petr Nečas has recently pledged to increase efforts to finally join the Eurozone.
"This country will do everything it can to be ready in four years," said Nečas.
Unemployment stood at 6.2% in 2014, down from 7% in 2012-13, according to the CNB. The country's unemployment rate is projected to drop to 5.7% this year and to 5.5% in 2016.
Inflation continues to fall. In 2014, The Czech Republic's overall inflation rate slowed to 0.4%.
Czech Republic - More data and information