Robust house price rises in Czech Republic
January 30, 2017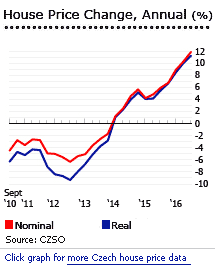 Wow!  The average price of apartments in the Czech Republic surged by 11.87% (11.24% inflation-adjusted) during the year to Q3 2016, the country´s eleventh consecutive quarter of strong price hikes, according to the Czech Statistical Office (CZSO), boosted by favourable lending conditions, a growing economy, and rising real wages.
Prague posted an 8.34% (7.73% inflation-adjusted) rise in the average price of second-hand flats y-o-y in Q3 2016, according to the CZSO. Excluding Prague, Czech Republic flat prices rose by 13.05% y-o-y (12.42% inflation-adjusted).
During the year to Q3 2016:
The average price of new dwellings sold rose by 5.98% (5.39% inflation-adjusted), according to the Czech National Bank (CNB).  This was 9.47% higher that the average price at the previous Q3 2008 peak, so the primary housing market has fully recovered from the crisis.
The average price of existing dwellings also exceeded the all time high in Q3 2008 by 4.13%.
There was a sharp rise in demand in the first half of 2016.  The number of new apartments and villas sold was 11% higher than during the same period last year at 3,960, according to Jones Lang LaSalle (JLL) Czech Republic. Most apartments sold cost US$ 1,764 to US$ 2,156 per square metre (sq. m.).
"The current interest rate is below 2%", says JLL Czech Republic´s Head of Research, Blanka Vačkova.  "The volume of granted mortgages this year (2016) will hit the decade´s maximum."
Dwelling starts rose by 8.3% y-o-y in 2015, while dwelling completions were up by 4.8% y-o-y, according to the CZSO. By end-2016 Prague dwelling completions reached the highest figure since the 2009 real estate crisis, at around 6,500 units, according to the JLL Czech Republic.
Yet despite increased construction, during the first half of 2016 the number of available units for sale fell 23% y-o-y, due to the slow issuance of building permits in cities such as Prague and Brno, according to Czech Point 101.
"It is now typically unclear how long the permitting process will take and whether it is likely to be successful in the end," says JLL Czech Republic´s Head of Residential Agency, Anthony Mathieu. "Thanks to favourable mortgage rates and general lending conditions, demand for new housing is high and supply, due to the current administrative processes, is going to be smaller and smaller,"
On November 1, 2016, the responsibility of paying the real estate transfer tax (currently 4%) was changed from the seller to the buyer. This new rule does not apply to the first sale of a newly constructed flat, only to transfers after that. Homebuyers tried to complete their house purchases before the implementation of the new rule, which drove prices up in the third quarter of 2016.
Yet with low interest rates, strong economic growth, and increasing real wages, and a good economic outlook, property price rises are expected to continue, according to Czech Point 101. 
A little housing market history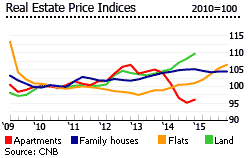 The 1998-2003 boom. From 1998 to 2003 the Czech Republic's house price index rose 64% in anticipation of EU entry in 2004, according to the CNB, and encouraged by a government-led spending binge, with rising public deficits. Partly as a result of these deficits, the Czech Republic never joined the Eurozone. Apartment block prices rose most during this period, at 118%; followed by individual apartments, at 91%. The price of single family houses rose 58%, while building plot prices rose only 31%.
Stagnation from 2004-2005. After long and intense parliamentary discussions, it was decided that even EU citizens, if they were not Czech residents, would be restricted from buying property for a 7 years transition period, i.e., until 2009. The housing market stagnated from 2004 to 2005, with measures to cut the budget deficit probably the key factor. The average price of flats dropped by 2.7% in 2004, a 5.2% fall in real terms. This was followed by a 2.7% increase in 2005, a 0.5% fall in real terms.
Brief boom 2006-2008. Thanks to lower interest rates in 2006, the house price index rose by 8.4% (5.7% in real terms). Housing completions shot up in 2007 by almost 38% to 41,649 units anticipating a VAT increase from 5% to 19%, and the house price index skyrocketed by 31.2% (27.1% real) in 2007.
The crisis bites 2009-2013. In 2009 apartment prices fell 12.3% (-13.3% in real terms), after 17.1% (10.5% real) y-o-y growth in 2008, due to the global financial crisis. Dwelling starts fell by 14.3% y-o-y. Nevertheless there was a substantial completions overhang. Completions during that year and in 2008 were still higher than in the years prior 2007. In 2010 dwelling starts fell by 24.6% to 28,135 units and to 27,535 units in 2011. House prices fell by 2.74% (-4.68% in real terms) in 2010 and by 4.92% (-7.18% in real terms) in 2011, based on figures from the CZSO. In 2013, house prices dropped 1.68% (-2.80% in real terms), after falling by 5.39% (-7.97% in real terms) in 2012.
Housing market recovery 2014-Q3 2016. The property market finally recovered 2014, with the house price index rising by 5.68% (5.17% in real terms), amidst improving economy. It was followed by another robust growth of 6.77% (6.69% in real terms) in 2015. The property market has recorded modest house price rises since then.
Increased residential construction activity
Both housing starts and completions had been in decline since 2007, mainly due to the adverse impact of the global financial meltdown and the Eurozone debt crisis. However, as the economy recovers, investors are now returning to the housing market.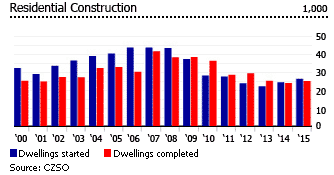 In 2016 dwelling completions were up by 4.8% from the previous year, following annual declines of 5.1% in 2014 and 14.4% in 2015, according to the Czech Statistical Office (CZSO).
Likewise, dwelling starts increased 8.3% in 2015, the second year of strong growth, following a sharp rise of 10.2% in 2014. From 2008 to 2013, starts declined by an average of 10.4% annually.
Historic low mortgage interest rates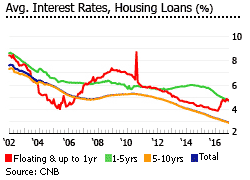 The average interest rate for outstanding mortgage loans fell to 2.92% in November 2016, from 2.96% during the previous month and 3.32% the previous year, according to the Czech National Bank (CNB).
In November 2016:
The average interest rate for outstanding mortgage loans with IRF of up to 1 year rose to 4.72%, from 3.98% last year, but still down from a peak of 7.37% in December 2008.
The average interest rate for loans with IRF of 1 to 5 years fell to 4.68%, from 5.4% the previous year and 6.15% in December 2008.
The average interest rate for loans with IRF of 5 years and above was at 2.9%, a decline from 3.3% in November 2015, and 5.16% in December 2008.
The CNB has continuously lowered its key interest rate since 2009. From above 3% before the crisis, the CNB slashed its 2-week repo rate many times to reach a record low of 0.05% in December 2012. This remains unchanged, along with the discount rate (at 0.05%) and the Lombard rate (at 0.25%), to buoy the economy and discourage an appreciation of the koruna (CZK).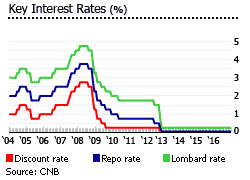 A new consumer loan law was passed in the Czech Republic and became effective on December 1, 2016, in response to the EU directive 2014/17/EU, according to  Czech Point 101. Some of the new rules under this law related to mortgages include:
Early repayment penalties are now limited for new mortgages starting December 1, 2016 or for existing mortgages with fixation renewed after December 1, 2016.
Banks should now inform their clients of their renewal offers on fixed length mortgages 3 months before the fixation ends.
Banks are also obliged to show the total cost of mortgage or APR (annual percentage rate) to clients.
These new regulations entail costs to banks, which they then pass onto the consumers. Major banks imposed an increase in their mortgage interest rates of up to 0.5%, as a result of the new regulations.
Expanding mortgage market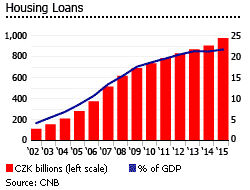 In 2015, the size of the mortgage market was around 21.33% of GDP, up from 15.27% in 2008, and 4.18% in 2002.
In Q3 2016, new housing loans surged by 16% to CZK 29.1 billion (US$ 1.13 billion) from the same quarter last year, according to the CNB. Total outstanding housing loans rose by 8.28% to CZK 1.035 trillion (US$ 39.96 billion) during the year to Q3 2016.
Loans with interest rate fixation (IRF) of between 1 and 5 years dominate the new loan market (52.95% market share in Q3 2016), followed by loans with IRF of between 5 to 10 years (26.83% market share). New loans with IRF of up to 1 year have a 17.13% market share, while loans with IRF of more than 10 years had just 3.09% market share.
Shares of outstanding mortgage loans are very similar, with IRFs of between 1 and 5 years dominant (59.91% of the market), followed by loans with IRF of up to 1 year (20.85%).
Mortgage loans in the Czech Republic are typically granted with 20 year maturities, the maximum LTV ratio being 85%.
Poor rental yields; foreigners buy-to-let
Prague has poor gross rental yields, based on Global Property Guide research released in May 2016. A 120 sq. m. apartment has an average yield of 3.74%, while a smaller apartment of around 70 sq. m. has a slightly lower rental yield of 3.61%.
Apartments in Prague have monthly rental yields ranging from €11.15 (US$ 11.58) to €11.95 (US$ 12.41) per sq. m. as of May 2016, according to the Global Property Guide.
Current yields are lower than the yields during 2000-2005, when the average rental yield in Prague was 6.8%, or around 10.8% in Ostrava and Ústí nad Labem, and 7.8% in the rest of Czech Republic, according to CNB figures.
In the recent years, foreign buyers have returned to the market to purchase properties for investment purposes. A high proportion of luxury buyers recently were either Czechs or Russians, according to Jones Lang LaSalle's Iva Novakova. Svoboda & Williams, a luxury estate agency, states that around 75% of their clients are Czechs, while around half of the remaining 25% are Russians.
"Retail property in the Czech Republic is traditionally popular with buyers from Russia and other CIS countries," said Anna Kurianovich Tranio Commercial Investment Expert in OPP.Today.  "However, more recently we have seen them switch their attention to buy-to-let residential, especially flats for short-term (e.g., holiday) rentals."
Getberg Sales Manager Ekaterina Chipera said: "Residential property in the capital's centre was particularly popular with Russian and CIS buyers but now fewer of them are trying to find residential property for their own use. Most of them buy properties that they can rent out, both flats and homes alike. The average budget of clients from Russia and other CIS buying flats in Prague ranges from €100,000 to €300,000. The budget for homes starts at €350,000 and can reach €1.5 million or more for prime property."
The end of rent regulation
In 2006, the rent deregulation law (Act No.107/2006) was passed to equalize the rent levels of formerly regulated apartments with free-market ones by 2011. The Czech Republic's rental market was regulated since the 1980s, causing a significant difference between rent prices of regulated and non-regulated units.
Regulated rents used to cover about around 80% of all rented apartments (around 750,000 apartments). Around 300,000 affected units were privately-owned, while the rest are owned by municipalities.
Most cities and municipalities ended their deregulation process on December 31, 2011, while the Central Bohemian region (which includes Prague) as well as cities with over 100,000 inhabitants, were deregulated on December 31, 2012. While the end of rent regulation had been expected to boost rental market returns, this process has taken a long time, due to weak economic growth in recent years.
Modest economic growth in 2017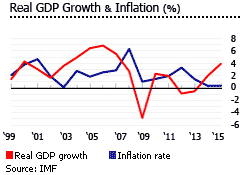 The Czech economy is believed to have expanded by 2.8% in 2016, and is expected to grow further by 2.9% in 2017, according to the Czech National Bank (CNB).
In 2014, the Czech Republic´s economy posted 2.7% growth, after economic contractions of 0.5% in 2013 and 0.8% in 2012, according to the IMF. The economic recovery in 2014 was followed by a robust growth of 4.5% in 2015, the highest level for eight years, thanks to increased private consumption and robust growth in the real estate market.
The Czech Republic enjoyed an average growth rate of 6% from 2004 to 2007. GDP fell by 4.8% in 2009. but bounced back immediately in 2010, registering growth of 2.3%, followed by 2% in 2011. However, the economy fell in recession in 2012-13 due to weak domestic demand. 
Having a low budget deficit is a criteria for acceptance in the Eurozone. In 2013, Czech Republic posted a budget deficit of just 1.3% of GDP, well below the European Union's limit of 3%. The country´s budget deficit in 2015 was estimated at around 0.6%, down from the 1.9% in 2014, according to the Czech Statistical Office (CZSO). In 2016, the country´s budget balance is expected to be zero and is predicted to have a 0.2% deficit in 2017, according to the European Commission.
Unemployment in the Czech Republic was 3.9% in October 2016, down from 4.7% during the same period last year, according to the CZSO.  As of October 2016, there were 204,400 unemployed persons in Czech Republic, 15.6% lower than last year.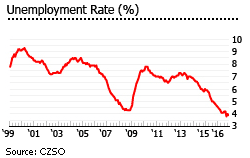 In November 2016, inflation rose to 1.5%, the highest rate in three years, from 0.8% in October. This increase was still within the CNB´s target range between 1% to 3%. For the past two years, the country has recorded very low inflation rates of 0.3% in 2015 and 0.4% in 2014, according to the IMF. The CNB predicts inflation of 1.9% in 2017. 
In July 2016, President Milos Zeman called for a referendum on Czech Republic´s membership of the European Union (EU) and North Atlantic Treaty Organization (NATO), a few months after the Brexit.
"I disagree with those who are for leaving the European Union," Czech Radio quoted Zeman as saying. "But I will do everything for them to have a referendum and be able to express themselves. And the same goes for a NATO exit too."
However, President Zeman´s suggestion is quite unlikely to happen. "The government is not considering taking any steps which would question in any way our membership and the long-term orientation of the Czech Republic´s foreign policy. Therefore it does not envisage any referendum," according to a statement by Prime Minister Bohuslav Sobotka´s spokesman.
Czech Republic - More data and information